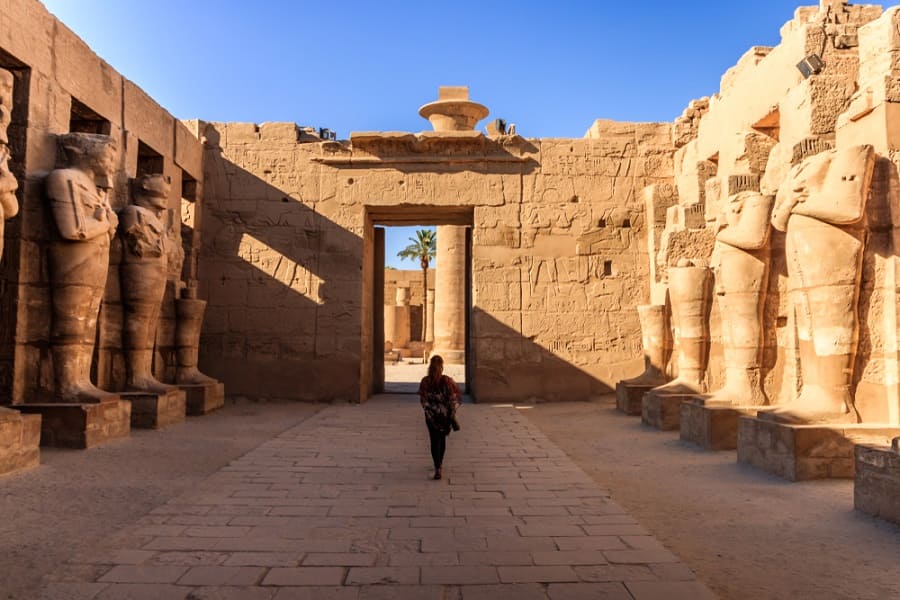 If you're considering a cruise with a port stop in Egypt (such as Norwegian's Africa cruises, Asia cruises, and Europe cruises), it's important to ensure that you pack the proper attire, especially if you plan to visit any mosques. Norwegian Cruise Line itineraries that stop in Egypt also stop in other Muslim countries that have similar dress codes. You'll want options that can be worn in multiple destinations.
The struggle with packing for Egypt and other nearby destinations is the extreme heat. It does get hot, and while it might be comfortable to wear skimpy shorts and tank tops, Egypt is a very conservative country.
To get you started on your Egypt cruise, here are eight packing tips to get you from the port to your designated landmarks while remaining comfortable and respecting local culture.
1. Dress for the Season
The weather in Egypt can vary widely depending on what time of year you're visiting. November through March is the cooler season, when you can expect temperatures to range from 50 to 70 degrees Fahrenheit. Be sure to bring a rain jacket, as there is a chance of rain during this time depending on what part of Egypt you'll be exploring.
If you plan to travel to Egypt in April, May, September, or October, the weather will be warmer but not horribly hot. June through August is when temperatures peak, and you'll find most people escape the heat by visiting the beaches or hanging out by the pool.
2. Bring Along Conservative Clothes
Both Egyptian men and women dress conservatively, whether they are Islamic or Christian. You typically won't see local men in jeans or t-shirts. They often wear dressier shirts, long pants, and leather shoes.
Most Egyptian women cover themselves and wear abayas, which are the loose garments worn over their regular clothing. If you want to blend in more, you can purchase your own abaya at a souvenir shop.
Depending on where you are in the country, shorts may be ok. This is especially true in beach spots that are populated with a lot of tourists, like Sharm el-Sheikh or Hurghada.
The main thing to remember is that if you plan to visit religious sites in Egypt, you must have your knees and shoulders covered. Women must also cover their cleavage. You generally do not have to wear a headscarf, but you may be asked to depending on where you are. if you do want one just in case, consider buying one locally, as they are not only inexpensive but quite beautiful as well. Otherwise, a regular scarf could work.
3. Pack Swimsuits for the Beach
Norwegian Cruise Line Egypt itineraries stop in Safaga, which is along the coast. If you plan to stick around the beaches, you'll definitely want to bring a swimsuit.
4. Bring Plenty of Sun Protection
Egypt is a desert and can be hot year-round. Sunscreen is crucial when you're exploring historical sites with no shade or type of cover. Sunscreen can be expensive if you need to purchase it locally, and it's not always easy to find, since locals don't typically use it.
Your lips also need some protection. If they don't get cracked and dry from the desert air, they may be getting sunburned. Lip protection with SPF is the best choice to protect from both the desert air and the hot sun.
Hats are also ok to wear and are even recommended for the hot desert sun. You can opt for baseball caps if you really want, but they don't protect your neck from the sun, and you'll stand out more.
5. Pack Comfortable Shoes
If you plan to explore any of Egypt's historical sites, you'll be doing a lot of walking in the heat. Bring comfortable shoes, and it's best if you bring more than one pair. If you have blisters from a lot of walking in port the day before, you aren't going to feel good walking around for hours in shoes that are rubbing in the exact same place.
Also, closed-toe shoes are best. Even if you are planning an excursion on seemingly level ground, there are still sand and rocks near temples and pyramids. Save your flip flops for the beach, as the sand is extremely hot to walk on.
Remember, you cannot wear shoes in a mosque either. You'll want to have shoes that are easy to get on and off, and you may want to consider bringing an extra pair of socks along if you don't want to walk barefoot.