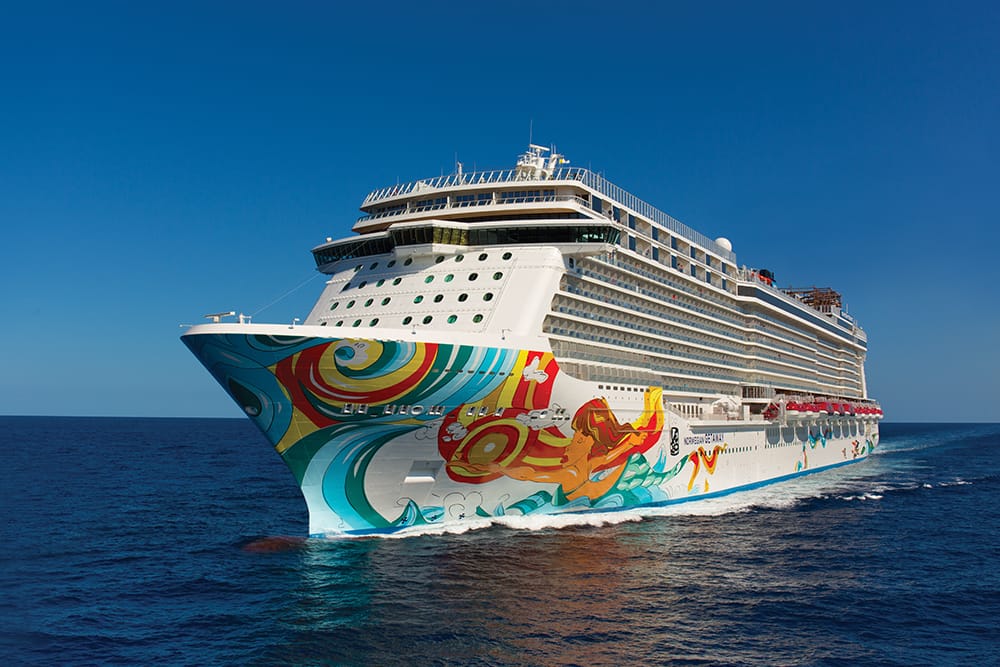 We want your time on Norwegian Getaway to be as exciting as the destinations you visit. Stroll the Waterfront, indulge in 20 dining options, and experience three levels of action-packed activities in the sports complex. The excitement and entertainment continues with Broadway musical Million Dollar Quartet.
Are you curious about the activities, dining, and entertainment options onboard? Discover some of the top things to do on Norwegian Getaway.
Ready to start planning? Explore all Norwegian Getaway cruises.
Get Soaked at the Aqua Park
While some Norwegian ships have two waterslides, Norwegian Getaway has five multistory waterslides, plus two pools and four hot tubs. Check out the fastest waterslide at sea, Free Fall. This waterslide is one of two drop slides, sending you down at 4G speed. Experience The Whip, two side-by-side racing slides that are ideal for some light-hearted competitive fun. You'll also enjoy the family fun slide at the Aqua Park.
Norwegian Getaway also features the Aqua Park for young cruise guests. Here your kids can splash around in a shallow pool immersed in a pirate-themed environment.
Wander Along The Waterfront
The Waterfront is a quarter-mile oceanfront promenade. Wander along while enjoying the ocean breeze and stunning views. You'll find plenty of restaurants and bars here, including La Cucina and Ocean Blue.
Watch a Tony Award-winning Musical
If it's Broadway-style entertainment you're after, don't miss "Million Dollar Quartet." The Tony award-winning musical showcases the circumstances that brought extraordinary musicians Elvis Presley, Johnny Cash, Carl Perkins, and Jerry Lee Lewis together. Settle in your seat for an incredible night of rhythm and blues, gospel, rock 'n' roll, and country hits.
Beat the Odds at the Getaway Casino
Casino Player Magazine have rated Norwegian the "Best Cruise Line Casino" of any cruise line for more than 10 years, while Porthole Magazine has named it "Best Cruise Line Casino." This incredible gaming spot is one of the largest casinos at sea. You'll find all your favorites, including slots and table games such as Texas Hold'em, craps, roulette, and blackjack.
Visit an Irish Pub
Do you crave some of your favorite Irish pub foods, such as fish 'n' chips or shepherd's pie? O'Sheehan's Bar & Grill is open 24 hours a day, serving your favorite draft beers and plenty of hearty comfort foods.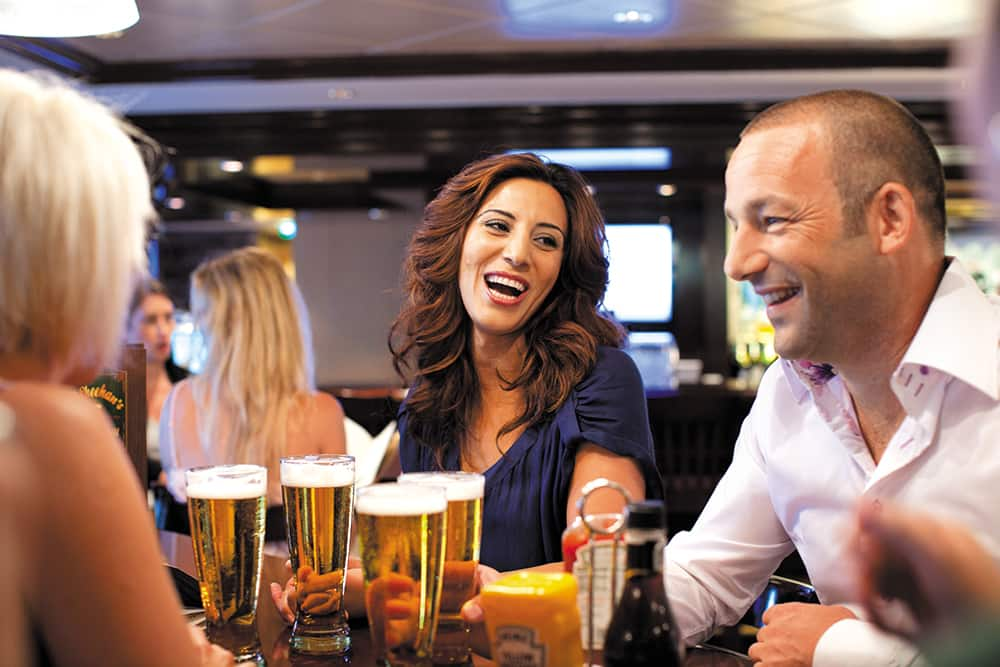 Catch the Sunset at Sunset Bar
If you're looking for a front-row seat for a fantastic sunset, head to the Sunset Bar. This intimate bar offers an excellent selection of drinks, making it the best place to toast to another beautiful day onboard Norwegian Getaway.
Eat Brazilian Churrascaria
Norwegian Getaway offers several specialty dining options, including Moderno Churrascaria. Here you can enjoy an authentic Brazilian churrascaria with a staggering 43-item salad bar. The main attraction is the 12 slow-roasted types of meat carved tableside.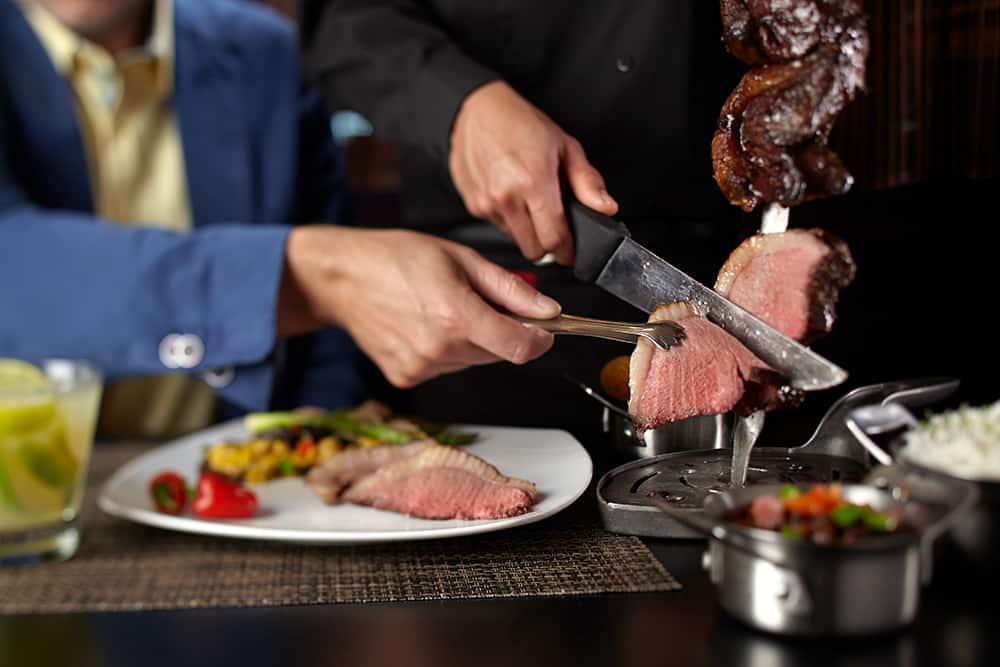 Listen to Live Music at Syd Norman's Pour House
Syd Norman's Pour House is the perfect spot to jam out and sing along to your favorite rock hits. The decor and gritty brick walls will make you feel like you're hanging out in one of the legendary rock clubs of Los Angeles. Syd Norman's Pour House is a relatively newer addition to Norwegian Getaway, replacing Fat Cats in 2019.
Enjoy Drinks at an Ice Bar
Norwegian Getaway features the Skyy Vodka Ice Bar, which offers a similar experience to what you would experience at an ice hotel in Scandinavia. This arctic-like chamber features ice everywhere, including the bar, seats, and glasses. There is no chance to thaw out when the bar remains a constant icy 17 degrees Fahrenheit.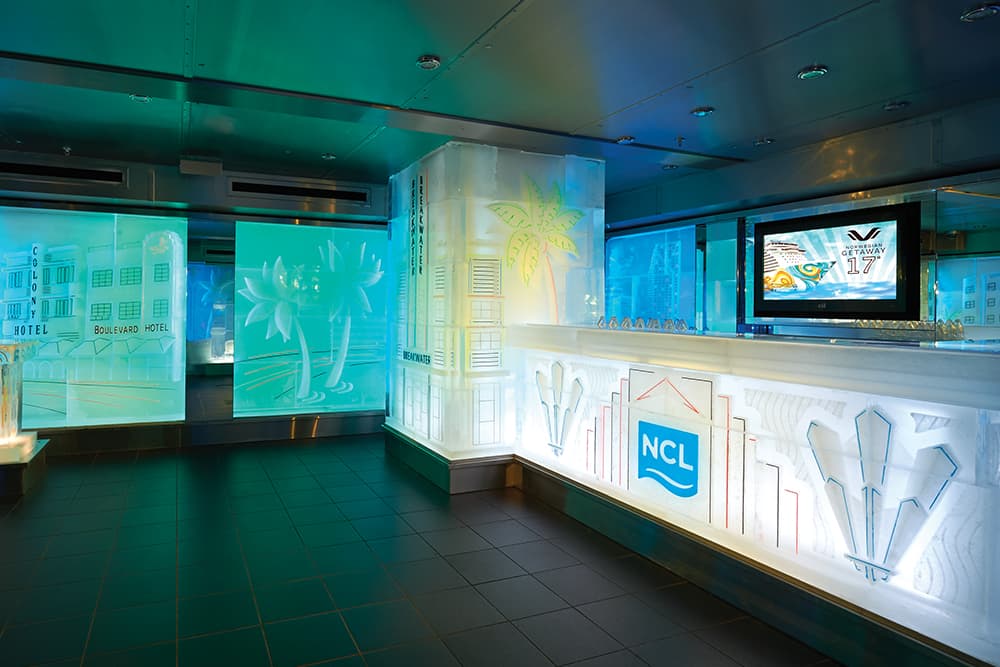 Engage in Various Sports Activities at the Sports Complex
If you want to stay active but prefer to avoid the gym, the Sports Complex is perfect for you. Test your endurance on the most extensive ropes course at sea, where you have the chance to conquer more than 40 elements. You can also participate in traditional sports such as basketball.
Stay Up Late at Bliss Ultra Lounge
Party until late into the night at Bliss Ultra Lounge. The vibe starts when you walk into the lit tunnel and hear the music. Grab a drink at the bar and head to the dance floor to enjoy the electric beats.
Relax at an Adults-Only Beach Club
If you want to get away and disconnect, consider purchasing a pass for the adults-only Vibe Beach Club. You'll have spectacular ocean views, comfortable loungers, an oversized hot tub, chilled towels, water spritzers, fruit skewers, and more.
Grab Some Delicious Asian Cuisine
Shanghai's Noodle Bar is one of Norwegian's many complimentary dining options, featuring delicious freshly prepared noodle dishes, traditional wok-fried items, and authentic Asian soups.
Are you comparing cruises on Norwegian Getaway? If you're in the early stages of planning your next Norwegian cruise vacation, be sure to sign up for Norwegian's newsletter. You'll get all the latest news and special deals delivered to your inbox. This way, you won't miss out on any upcoming offers when you are ready to book.
Where are you cruising next? Let us know in the comments!