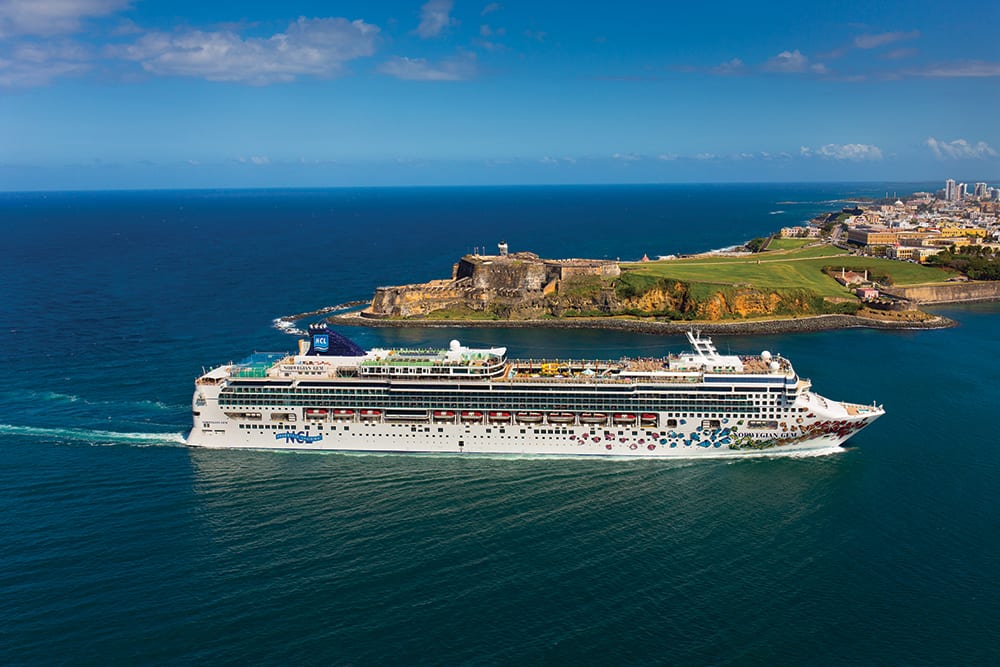 Norwegian Gem offers an ideal cruise ship for year-round cruises to picturesque destinations, including numerous islands in The Caribbean and the Mediterranean.
If you're considering a cruise vacation on Norwegian Gem, discover some of the top things to experience onboard!
Ready to start planning? Explore all Norwegian Gem cruises.
Norwegian Gem's Specialty Restaurants
If you're planning a special night out, consider reserving a table at one of Norwegian Gem's specialty restaurants. One of the most popular options is Moderno Churrascaria, an authentic Brazilian churrascaria experience. Start your meal at the salad bar with 43 different options, but be sure to save room for the 12 slow-roasted types of meat carved tableside.
Other specialty dining options include Italian cuisine at La Cucina, Certified Angus Beef steaks at Cagney's Steakhouse, French specialties at Le Bistro, and Asian cuisine at either the Teppanyaki grill or sushi bar.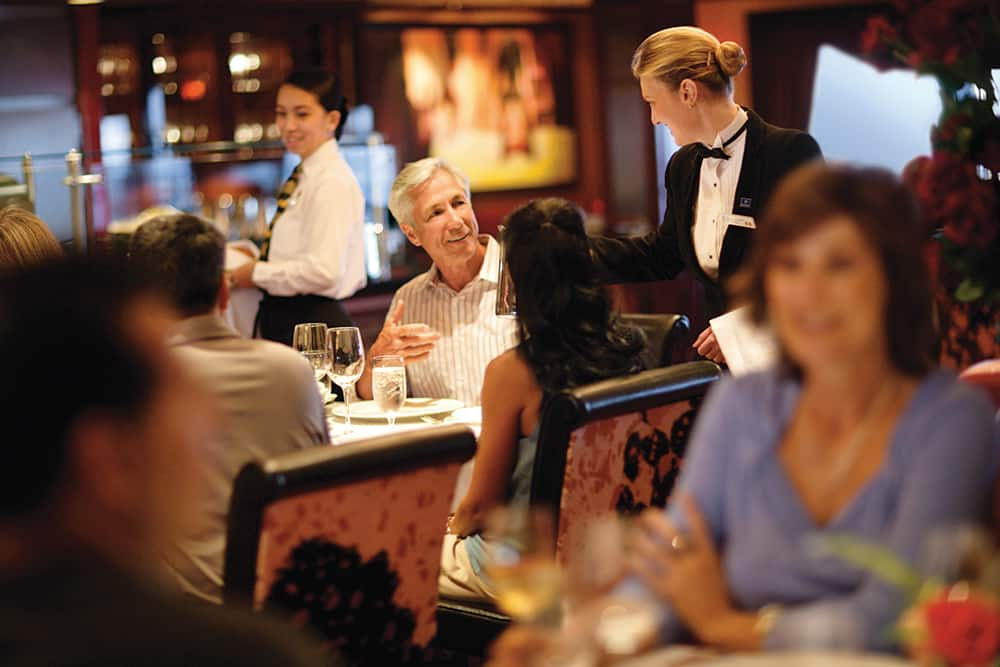 Catch a Live Show
Music fans will enjoy the live show options on Norwegian Gem. Country music enthusiasts won't miss "Blazing Boots,"a pop-country tribute with your favorite songs from artists such as Carrie Underwood, Taylor Swift, Shania Twain, Luke Bryan, Miranda Lambert, and more. Dance to your favorites, ranging from heartfelt ballads to up-tempo hits. Blazing Boots is a full-scale production show that showcases a mix of creative choreography, stellar vocals, and dazzling music video visuals.
Don't miss "Get Down Tonight" if you prefer some retro tunes from the 1970s. This dynamic production takes you down memory lane, bringing back all your favorite songs of the '70s. Dance and sing along to the best from The Who; Earth, Wind & Fire; and many more!
Book a Spa Treatment
Norwegian's Mandara Spa offers more than 50 treatments, from massages to teeth whitening. Book a salt scrub cleansing treatment or deep tissue massage. You can also schedule a nutritional consultation, personal training session, or Chinese acupuncture.
Couples looking to add a little romance to their cruise vacation can book a couples massage package. Unique men-only treatments further complement the cruise experience. Consider an express shave, an ELEMIS deep cleanse grooming treatment followed by a shave, or a pro-collagen grooming treatment.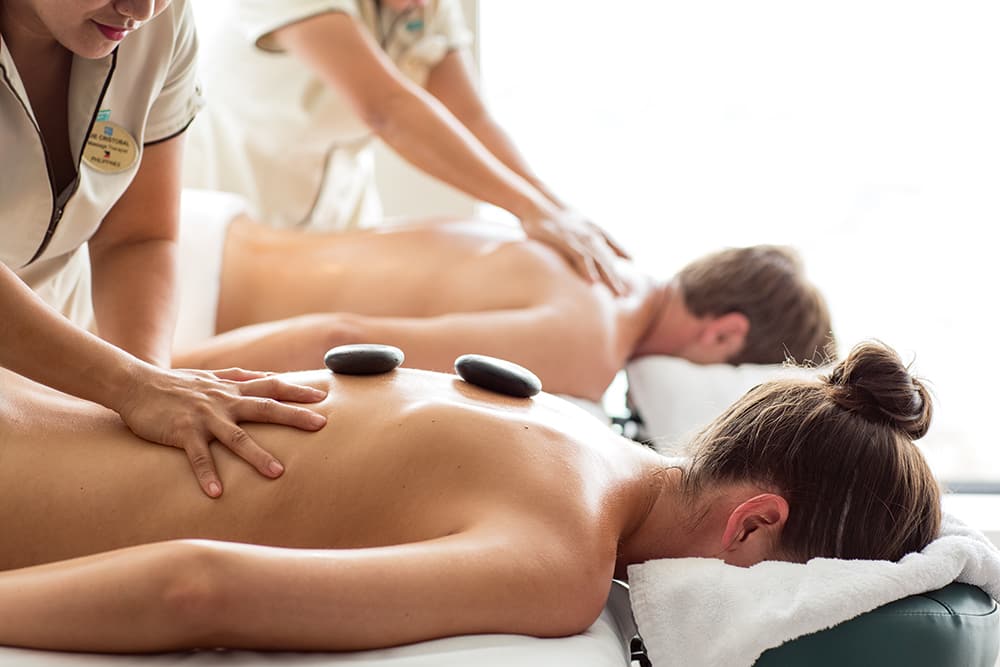 Enjoy Drinks at a Specialty Lounge
You'll find plenty of bars and lounges on Norwegian Gem. If you are a cigar connoisseur or want to learn more about the world of cigars, stop by Corona Cigar Club. Enjoy a rolled premium cigar with a glass of cognac or whiskey. Grab a craft beer at Maltings Beer & Whiskey Bar, or head to O'Sheehan's Neighborhood Bar & Grill for Irish pub classics and a pint of draft beer.
Shakers Martini & Cocktail Bar is the spot for craft cocktails in a fun and funky setting with James Bond-inspired graphic backdrops. Grab a freshly muddled mojito at Sugarcane Mojito Bar, Japanese sake at the Sake Bar, or a glass of Champagne at Magnum's Champagne & Wine Bar.
Dance the Night Away
If you want to wear your dancing shoes, head to Spinnaker Lounge. This lounge features a dance floor at night and has plenty of engaging music to get you out on the dance floor. Then head to Bliss Ultra Lounge & Night Club for a late night out. This lounge takes its inspiration from outer space and features ultraviolet artwork.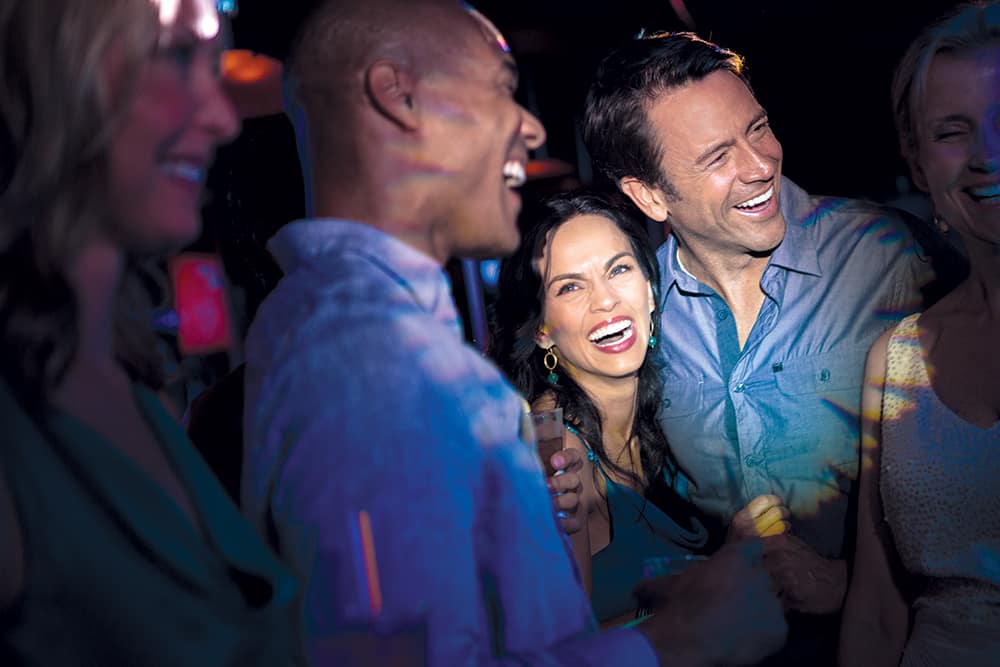 Let Your Kids Explore Norwegian Gem
Norwegian Gem has plenty to do for children if you're traveling with young ones. Kids can spend time in the Splash Academy with arts and crafts, active games, and open space. Look for the kid's pool, perfect for pint-size playing, splashing, and paddling. Your kids can play pinball, race cars, fly fighter jets, and enjoy other fun games in the video arcade.
Get a Pass for the Spa Thermal Suite
For the ultimate spa experience, book a pass for the Spa Thermal Suite. This therapy is perfect for those who want to focus on body and mind benefits. Enjoy the radiant warmth of heated mosaic lounge chairs and feel the effect of weightlessness in the Thalassotherapy Pool.
Move to the hot tub where you can relax in the warm water and help improve your circulation and soothe any stiff muscles. The steam room will help boost your immune system and relieve stiff joints. Finish with a session in the sauna. The dry heat is excellent for detoxing your body as your sweat glands works to purify your body of toxins.
Do Some Onboard Shopping
Norwegian Gem has plenty of onboard shopping options waiting for you when you need some retail therapy. Visit the Tradewinds Shopping Galleria, offering a vast range of duty-free merchandise and must-have items, and save money compared to U.S. domestic prices.If you want a distinctive piece of jewelry, explore Effy Jewelry. You'll find beautifully crafted items from Effy Hematian, a famous New York Diamond District designer.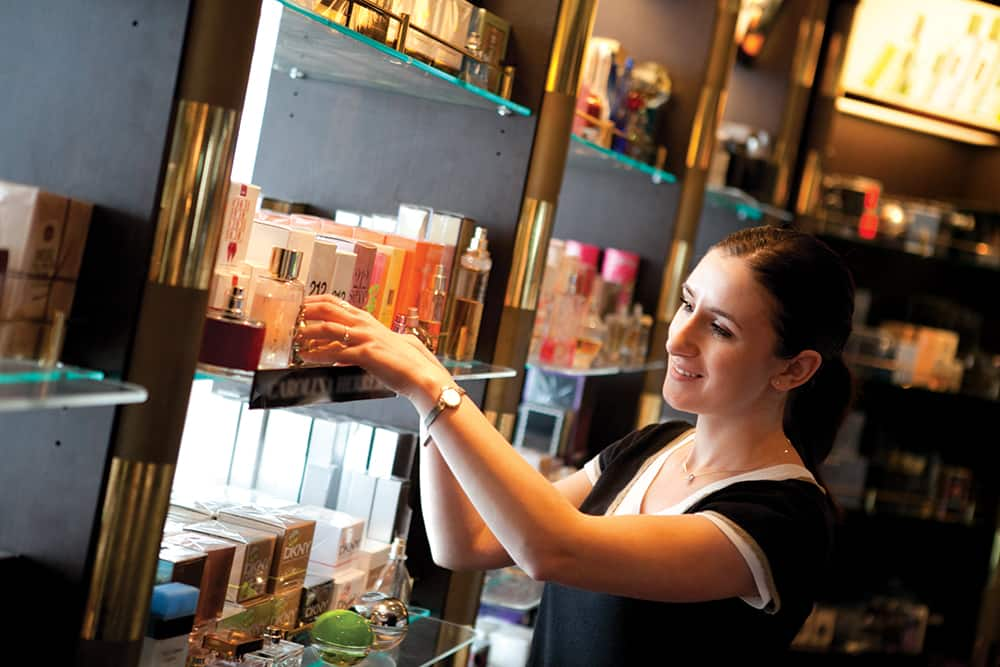 Are you still deciding which Norwegian Gem cruise vacation is suited for you? Don't forget to sign up for Norwegian's cruise deals to get the latest news and specials delivered to your inbox.
Where are you cruising next? Let us know in the comments!