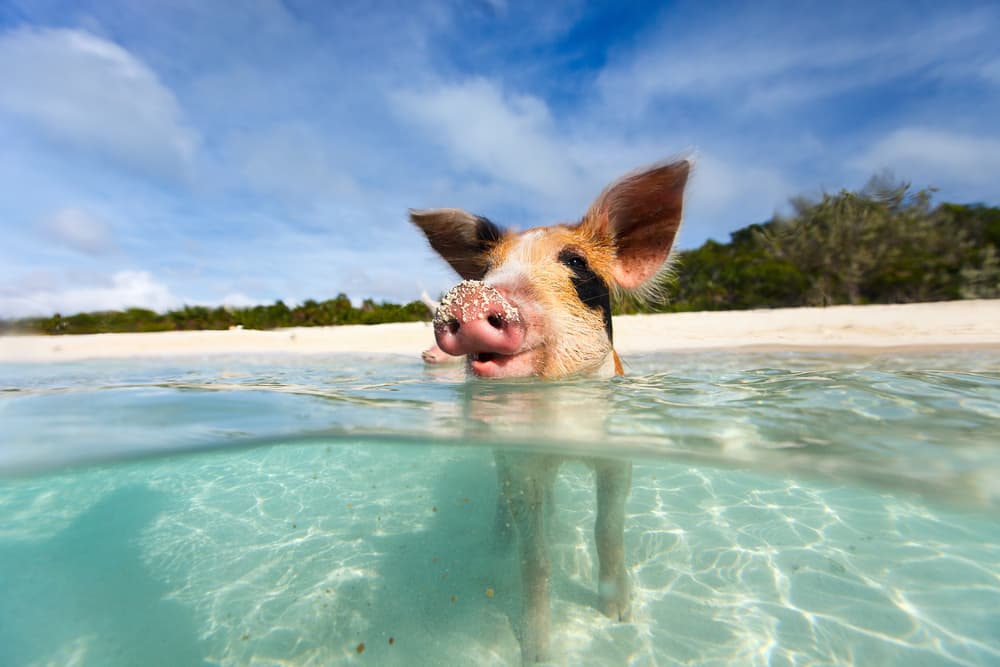 Crystal-clear waters, soft-sand beaches, tasty frozen concoctions…and adorable pigs? If you think swimming with Bahamian wildlife is all about stingrays and dolphins, think again! Thanks to recent TV-shows and growing popularity on social media, swimming with the pigs is quickly becoming "the" coolest thing you can do while cruising to The Bahamas. Of course, when you take a Bahamas cruise with Norwegian, it becomes that much easier to do!
About Pig Beach in The Bahamas
The "original" Pig Beach in The Bahamas is located on the uninhabited island of Big Major Cay. Due to its distance from large Bahamian ports, it's not the easiest or fastest place to get to. Up until recently, you'd have to endure an hours-long journey by tiny boat from Nassau or George Town for a chance to play with some piggies in the waves. Not so when you're on a Bahamas cruise with Norwegian!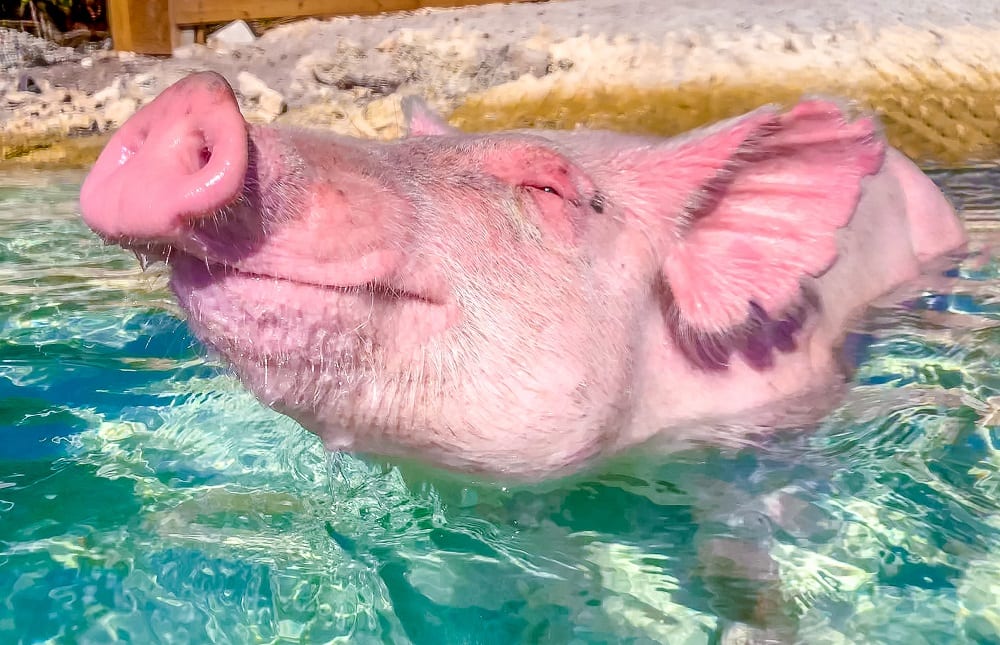 The Swimming Pigs of Treasure Island
Located just a short 10-minute boat ride from Norwegian's private island, Great Stirrup Cay, are the Swimming Pigs of Treasure Island! Available for purchase through Norwegian, this shore excursion starts at the small marina at Great Stirrup Cay. After boarding a speedboat, you're quickly whisked away to Treasure Island, a small speck of land within eyesight of Norwegian's private island.
After disembarking, you're taken up to an expansive wooden deck, complete with ample tables & seating, for an introduction and safety briefing. Although the pigs are as gentle as they are cute, they still require a sufficient level of awareness and respect from visitors. Hard pig hoofs and soft human toes don't mix! Visitors also learn a little about the pigs themselves. Did you know that pigs are smarter than dogs? Who knew!
Swimming Pigs: What to Expect
The pigs at Treasure Island are good natured and fairly curious creatures. Some of the more active pigs will trot up to you on the beach, or swim up to you in the shallows, and give you a few sniffs with their snouts. Of course, certain interactions with the pigs are encouraged. Seeing a pig flash you a big smile when you rub their belly is a surprisingly rewarding experience!
However, what really gets these pigs going is feeding them! As part of the excursion, sticks and apples are distributed to visitors. After some instruction on how to feed them, you can feed the pigs to your heart's content. Did you know that pigs can eat more than five pounds of food a day? Little bits of apple, distributed by staff, are plentiful and always within easy reach!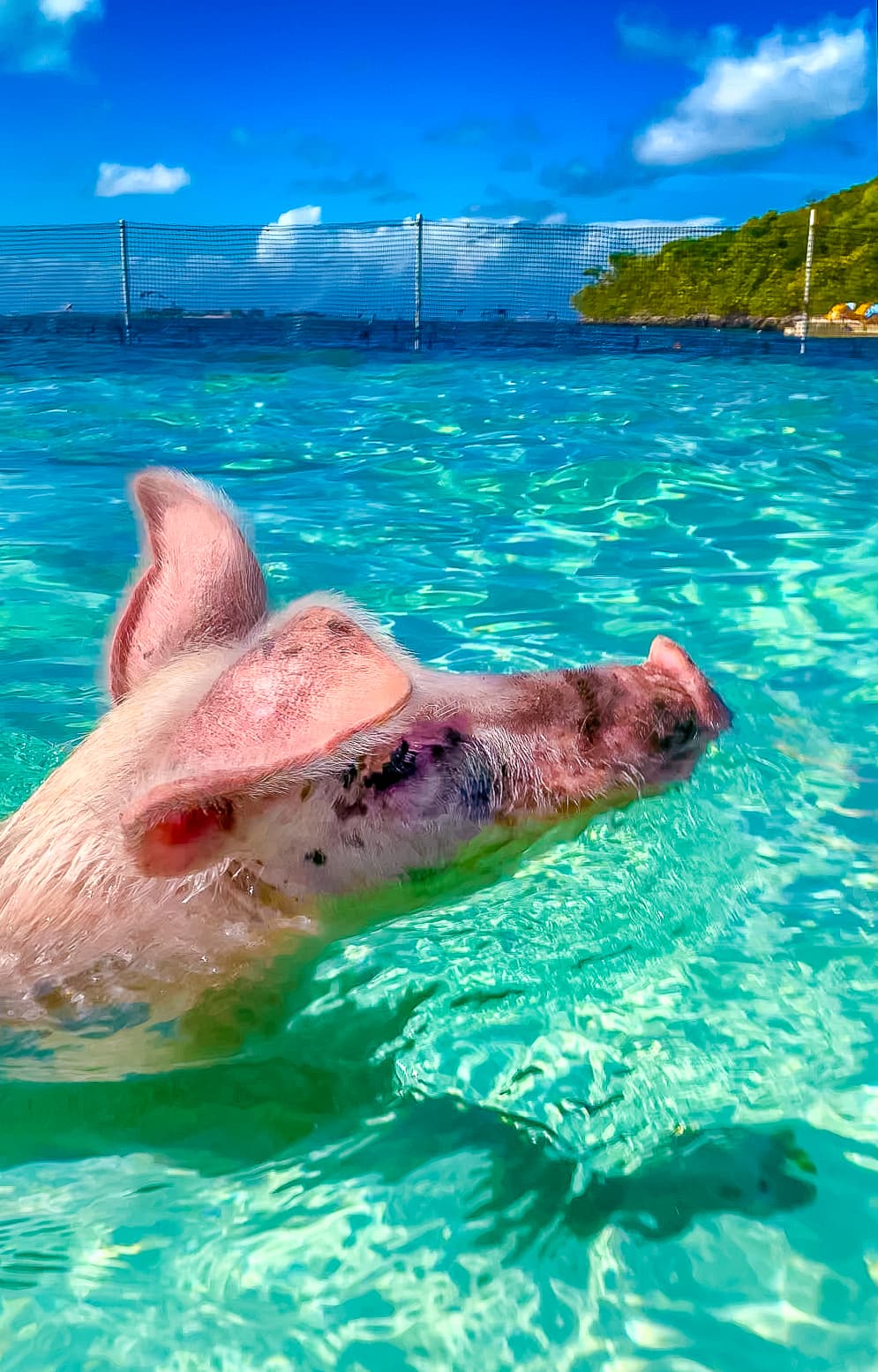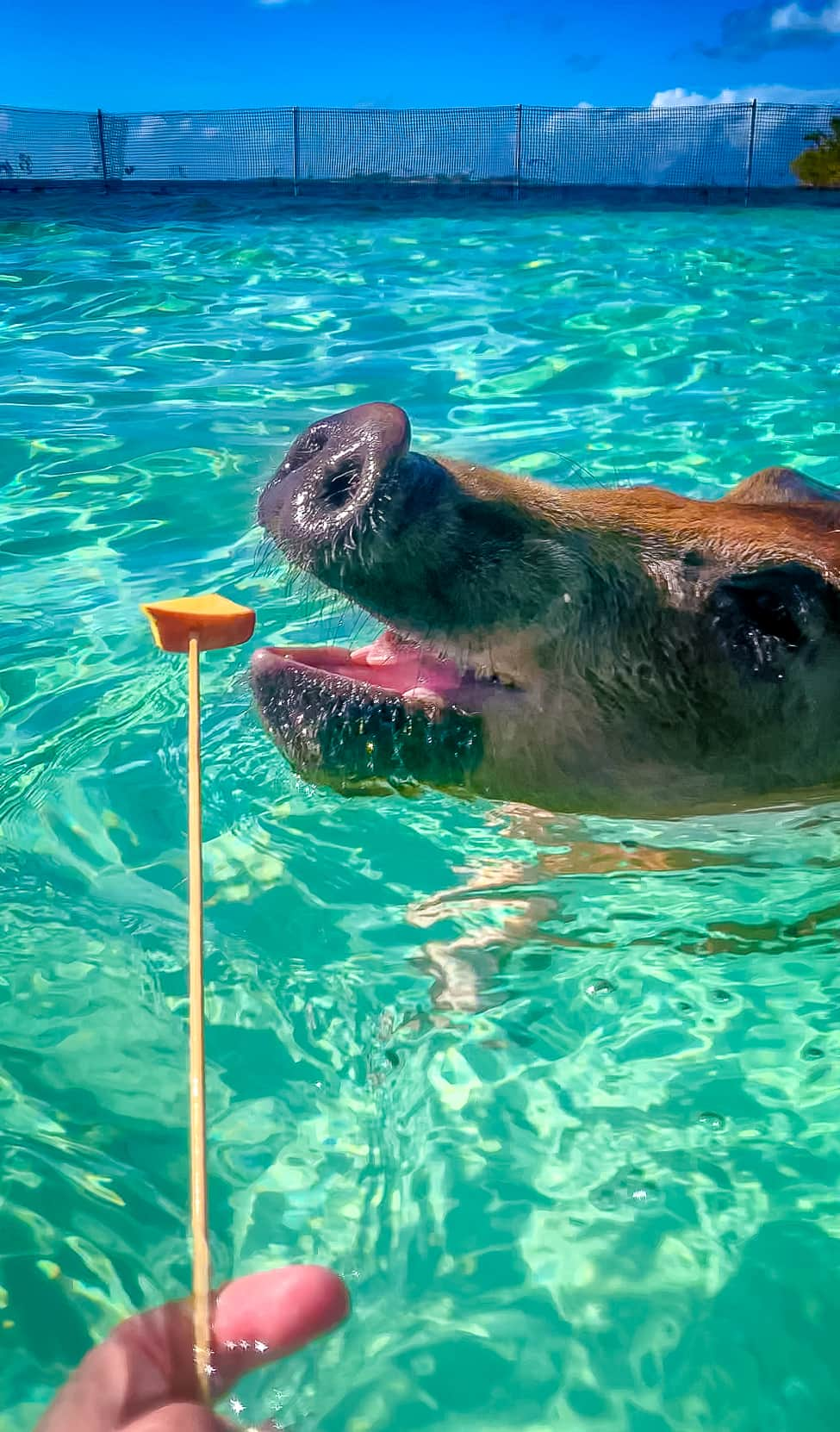 When your heart is as full as a pig's belly, it's time to head back to Great Stirrup Cay and induce some serious swine envy amongst your friends and family!
Have you been swimming with the pigs? What's your favorite excursion on Great Stirrup Cay?
Photo credit: All images except header courtesy of Tom Roesser.
EDITOR'S NOTE: This article was originally published on Dec. 14, 2018. It has been updated to show related itineraries.