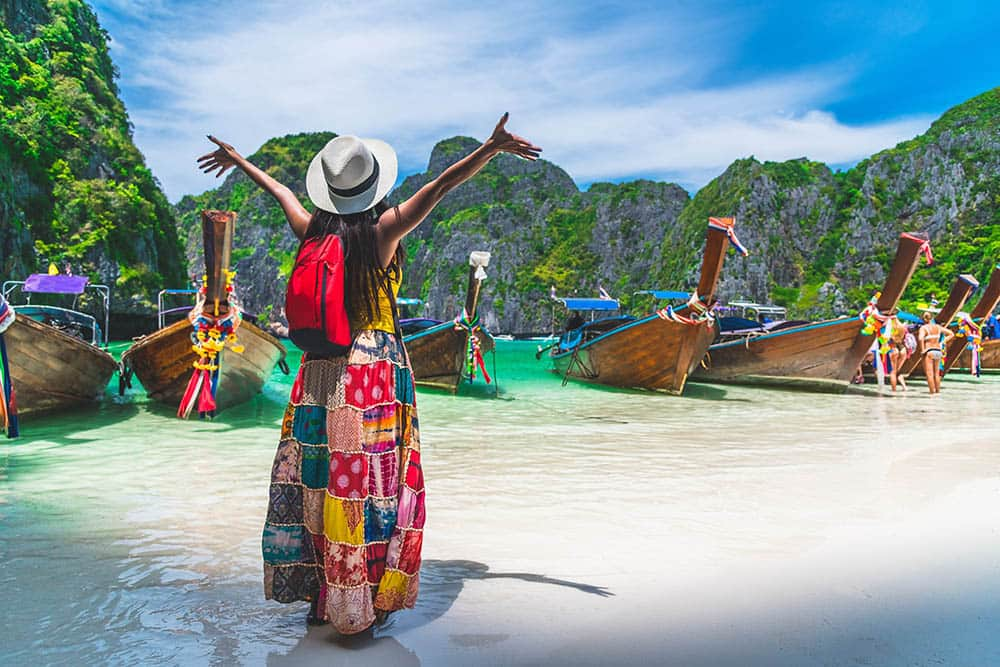 If you're researching a cruise to Thailand, now is the ideal time to book. When you book an Asia cruise with Norwegian, Phuket might be one of your ports of call. Are you wondering how to spend your day? Discover eight things to do in Phuket on your cruise to Asia.
Ready to start planning? Explore all 2022 Asia cruises.
1. Visit an Important Buddhist Temple
Phuket has nearly 30 Buddhist monasteries. Wat Chalong is the largest and the most ornate of the temples here. You'll encounter a shrine to the deity Brahma as well as a museum and lighthouse on the cape. The temple, constructed more than 100 years ago, includes sculptures of Wat Chalong's three former abbots. One of these is Luang Pho Chaem, the individual responsible for leading Phuket residents to fight the rebellion in 1876. Don't forget to follow special rules when visiting temples in Thailand. You will need to remove your shoes and dress modestly (no short skirts or beachwear).
The views from Wat Chalong are stunning. Promthep Cape features sea views in every direction, along with a lighthouse and museum.
2. Go Snorkeling
Phuket is known for its beautiful beaches and clear waters. You can snorkel among coral reefs teeming with schools of beautiful fish. Depending on your schedule and budget, you can stay close to Phuket. Alternatively, you can ride on a boat to some neighboring islands for snorkeling or diving.
3. Travel to James Bond Island
Another famous movie had its roots here - the 1974 film, "The Man with the Golden Colt." The island's official name is Koh Tapu, but is mostly known as the James Bond Island to expat-foreigners.
4.Visit an Ethical Elephant Sanctuary
Visiting an elephant sanctuary is one of the top attractions in Thailand. However, not all sanctuaries are created equal. Spend your day in Phuket visiting an ethical sanctuary where elephants roam free around 30 acres of tropical land that borders the Khao Phra Thaeo National Park. Elephants here are rescues, and this sanctuary will be their final home. The Phuket Elephant Sanctuary also features veterinary care for injured and old elephants here.
5. Taste the Local Cuisine
Cuisine in Phuket is varied, given that it was one of Thailand's leading commercial ports involved in trading centuries ago. Chinese and Malay influences are recognizable in some dishes, which can range from sweet to very spicy. You'll find soy sauce and pork from Chinese influences, while the Malay connection introduced dishes from England, India, and Portugal.
Try Apong, similar to a South Indian appom, a crepe-like flatbread. Phuket's version is a bit sweeter and typically served as a sweet snack or breakfast. Hokkein mee is a Chinese-influenced "Hokkein-style noodles" dish made with wheat and egg noodles. It also includes slices of pork, seafood, greens, and a broth that is more akin to gravy. When you need to cool down from Thailand's hot temperatures, look for oh eaw. Oh eaw is Phuket's answer to shaved ice desserts. The brightly colored ice treat usually has gelatinous cubes made from banana starch and kidney beans.
6. Explore Khao Phra Thaeo National Park
Phuket's Khao Phra Thaeo National Park is the last virgin rainforest on the island. Here you'll find approximately 100 species of birds, many wild animals, and beautiful forest vegetation. Explore multiple hiking trails, including shorter ones that only take around one to two hours to complete. If you want to see the famous Bang Pae Waterfall, you'll want an experienced guide and at least four hours to do the hike. Closer to the park headquarters, you'll find Ton Sai Waterfall. While smaller than Bang Pae, Ton Sai Waterfall is still beautiful and perfect for photos.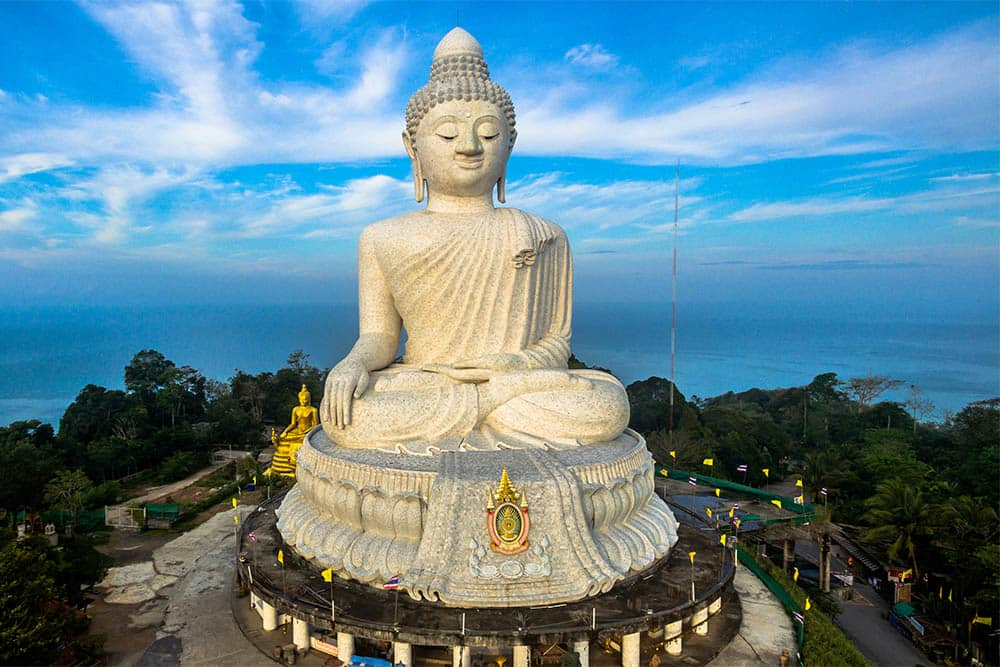 7. Visit the Big Buddha
You can also visit the 147-foot-tall marble Buddha perched on one of the peaks at Khao Nakkerd Hill. You can see the Buddha from many places when you're in the southern part of Phuket, but it's worth going up close to visit it as well. Remember, Thailand has strict dress code requirements when visiting a religious site. You can't wear beachwear or short skirts. The temple will allow you to borrow a sarong free of charge if you don't meet the visiting guidelines.
8. Take a Boat Ride to the Phi Phi Islands
Visiting the Phi Phi Islands is a must-do for many travelers on Phuket cruises. Two of the main islands are Phi Phi Leh and Ko Phi Phi Leh, a 45-minute speedboat ride from Phuket or about 90 minutes on a Thai longboat. Ko Phi Phi is known for its lively party vibe and turquoise waters. The islands became famous after the movie "The Beach" was filmed at Maya Bay. Due to an explosion of tourism, Thailand closed Phi Phi Leh's Maya Bay temporarily in 2018 to give the ecosystem a chance to recover. Cruise along the beautiful limestone cliffs, go snorkeling, or relax on the beach.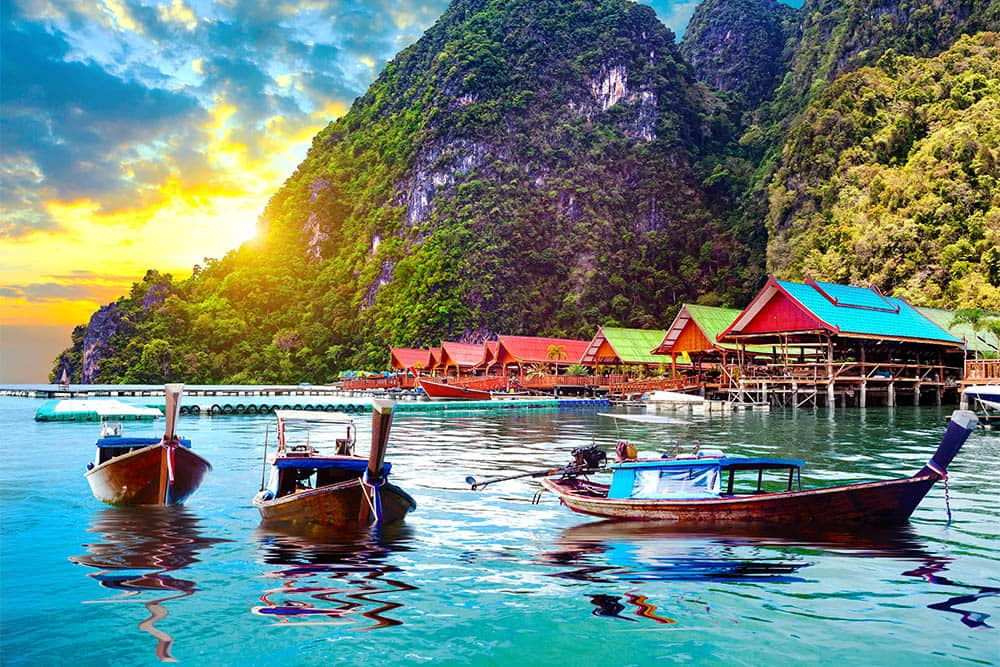 Are you trying to narrow down which cruise to Thailand is right for you? In the meantime, be sure to sign up for emails and check out Norwegian's cruise deals to get the latest specials sent right to your inbox.