Avid cruisers know that if you are looking for the best views and ship location at the best value available, you cannot go wrong with a balcony stateroom. If you are still undecided or are not sure whether upgrading is worth it for you, keep reading to discover why you should cruise in a balcony stateroom.
Benefits of Cruising in a Balcony Stateroom
You'll get the most out of your cruise by beginning every day with a cup of coffee as you enjoy a new destination or perfect ocean views from your very own outdoor space.
If you're worried about the size of your stateroom, you will quickly notice that the large floor-to-ceiling windows make your room look bigger and brighter.
Speaking of space, you will never feel cramped. The outdoor balcony is an extension of your stateroom's living area, which means you're getting extra space at a great value.
If the sun deck is particularly busy, you know that you always have the perfect spot from where to watch the sunset — your very own balcony!
Looking for some quiet and privacy? Your private balcony is the perfect place to settle down with a book while listening to the calming ocean waves.

Did you know that fresh saltwater air may be beneficial to your health? Check out the details at: 6 Reasons Why You Should Take a Cruise.
Pro tip: Nothing says "I'm on Vacation" like getting room service and enjoying breakfast on your private balcony. We definitely recommend it!
How Big is a Balcony Stateroom?
Wondering what the difference is between a balcony and other staterooms? A balcony stateroom provides extra room, spectacular views and privacy, all at the best price possible. For your reference, on average: a studio cabin comes in at 100-square-feet in size; an inside cabin is 142-square-feet; and an oceanview is 160-square-feet. Balcony staterooms start at 200-square feet and come with all the standard amenities such as a TV, mini fridge, and a coffee maker; plus a bonus spacious sitting area.
Average Stateroom Size Comparison
Studio
Inside
Oceanview
Balcony
100 sq. ft.
142 sq. ft.
161 sq. ft.
205 sq. ft.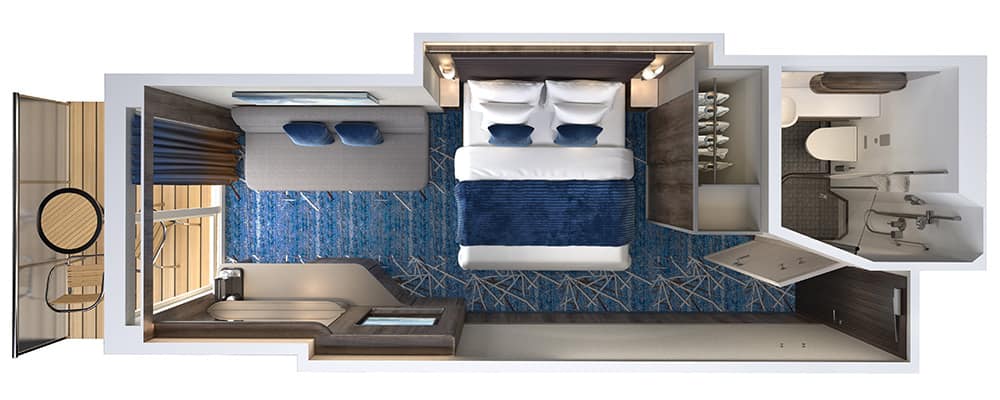 Spacious Balconies: Room for the Whole Family
Accommodating 3-4 guests, a balcony stateroom offers plenty of space for the whole family to move around and relax. If you are in need for extra room to stretch out, you can also book connecting balcony staterooms. This will allow everyone to have their own space while still being close by.
How to Choose a Balcony Stateroom
Due to the design of the ship, most balcony staterooms are located on higher decks. Cabins situated forward and aft are more likely to feel the sensation of movement as you sail, so if seasickness is a concern, try to stick to the middle of the ship. Popular aft staterooms on the back of the ship provide dramatic water views, while Spa Balcony Staterooms come with easy access to the fitness center and Mandara Spa, as well as complimentary access to the Thermal Suite (available on select ships).