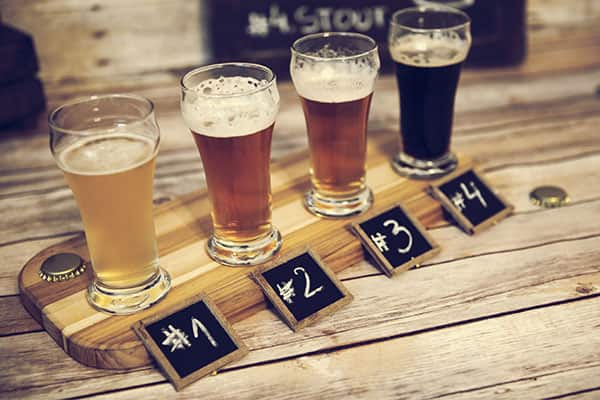 Beer lovers all around can rejoice in the news: Norwegian Escape has a cold pour waiting for you at The District Brew House. With more than 50 bottled beers and 24 draft beers on tap (including local beer from Miami's Wynwood Brewing Company), it's easy to catch up on the craft beer scene at sea. Whether you're a novice or an expert, knowing the beer you're drinking and how it's made is part of the craft beer experience. So before you sip and sail on your next cruise holiday, discover everything you need to know about the basics of craft beer.
Ready to start planning? Explore all Norwegian Escape cruise vacations.
WHAT IS A CRAFT BEER?
If you're wondering what sets craft beers apart from others, much larger breweries and their products, the distinction lies in three key factors: their annual production is less than 6 million barrels, less than 25% of the brewery is owned by a non-craft brewer, and more than half of their product comes from all-malt beer, which essentially means they use higher quality ingredients.
DIFFERENT TYPES OF CRAFT BEER
BLONDES: Ranging in colour from straw to gold and with a light to medium hop profile, these ales will be most familiar to the traditional American lager drinker. Many breweries release their summer beers at the top of the season, many of which are blondes, because of their light body and appropriateness for warm-weather drinking. This is the kind of beer you can have poolside or at the beach for a refresher.
WHEAT ALES: If they aren't blonde, then the rest of the summer beers rolling in are wheat beers. Often, these beers have a banana undertone to them with a hint of clove and vanilla taste.
PALE ALES & IPAS: These beers usually range from amber to copper in colour with an emphasis on hops. This is the classic ale style. If you enjoy drinking brut champagne and dryer, crisper wines, this is likely the flavour for you. Included in this category are India Pale Ales, the most-entered category in the pinnacle of beer competitions, The Great America Beer Festival.
BELGIANS: Whilst Belgian chocolates are iconic, it's beer that puts Belgium on the map. Famed for the monasteries and Trappist style of beers, these guys make so much of it they get their own category. Of particular interest are the quintessential Delirium brand of beers and the fruity lambics. If you're a fan of fruity or mixed cocktails, then Belgians may have what you're looking for. For a beer twist on the classic, try a fruity Belgian brew with champagne as a Sunday brunch beverage.
PORTERS AND STOUTS: Don't be afraid of the dark. These beers have great taste, with coffee and chocolate commonly present in the blend. Some are lighter on the body, but with an emphasis on hops. Others have more body, richer flavour, and higher alcohol content.
This covers the basics to begin your sampling with most craft beer varieties. And, as with most food and beverage ventures, sampling is key. Try ordering a beer flight next time you're on board the Norwegian Escape and see which flavour fits you best. With the variety of unique flavours being developed in both local and national micro-breweries, there's bound to be a perfect fit for everyone. Cheers!
EDITOR'S NOTE: This article was originally published on Dec. 18, 2015. It has been updated to show related itineraries.