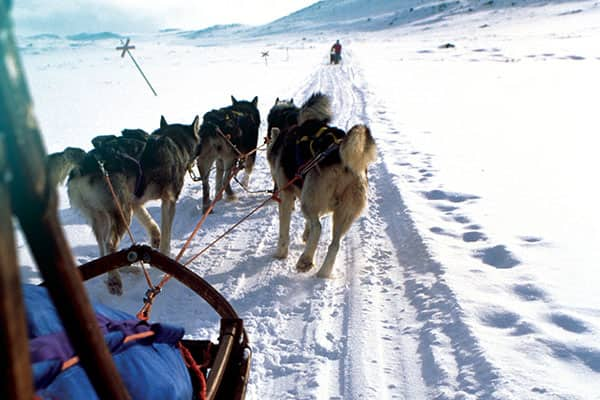 When is the best time to take a Norwegian Alaska Cruise? Sooner rather than later. Life is short, you know. An Alaskan cruise exploring North America's greatest frontiers, towering fjords, and lush coastal forests should be on everyone's bucket list.
So, now that we're in agreement, let's narrow down your calendar this year. Summer may seem like the most obvious time, when the weather is warm (50s˚ to 70s˚ average temperature) and the nights are long (as in the celebrated almost-24 hours of sun). With Norwegian's diverse land and sea packages, the summer season presents access to some of Alaska's most enthralling wilderness adventures.
However, you may also want to consider cruising early or late in the season, especially for those travelling without children. You'll find some of the best values in May or September, as well as a more mature atmosphere. September's dark skies will offer the best chance of observing Alaska's mystical Aurora Borealis.
Midnight Sun? Aurora Borealis? If you're only vaguely or somewhat familiar with these Alaskan phenomena, keep reading. They are just a few of the once-in-a-life time experiences you don't want to miss on your Norwegian Alaskan Cruise.
Bright Lights, Big Cruise Sights
Aurora Borealis is the magical bands of neon green light that spontaneously burst and dance in the sky. The Borealis is actually composed of solar particles shooting into the magnetic field of the earth, and appear more than 60 miles above the earth's surface. Natives have believed the lights have a mystical force, or even marked the appearance of spirits who have passed on.
The lights are best viewed from Fairbanks, Alaska, which is one of the highlights of a Cruise Tour. You'll have the greatest chance of witnessing the Borealis' emergence in September, when skies are so much darker than during the summer cruise season.
Midnight Sun
Alaska's extremely high latitude means that the sun travels along a more horizontal than vertical path, resulting in long days and an extended stretch of twilight. Imagine it's 11:00 p.m. at night and you're still gazing across the twinkling glaciers. Local towns celebrate with all kinds of midnight sun activities, from dance festivals to baseball games. Maximum sunlight appears on June 21. It's a most magical entry to the summer season.
Denali National Park
Imagine 6 million acres of Alaskan wildlife, a 20,000 foot mountain peak, and unlimited access to viewing glaciers, spruce forests, and vast tundra, not to mention the new friends you will meet: grizzlies, wolves, moose, and caribou, to name a few. The best of of day to see wildlife would be in the early mornings, and the summer season is always optimal since many animals migrate south in winter (Come September, the park could be subject to close due to snowfall). Norwegian offers diverse Denali Shore Excursions. You can access the park with a grand railroad tour between the park and Talkeetna, add on dogsledding adventures, or a city tour of Anchorage. Just how big is your bucket list?
Mt. Robert Tramway
In Juneau, you must make a point to visit the Mt. Robert Tramway, which travels 1800 feet right from the cruise dock and into the mountain. Below your tramcar, you'll have a bird eye perspective of lush rainforest and vast meadows. You can also hike the scenic trails, filled with vibrant-coloured wildflowers, and visit the Mountain House to see the bald eagle display. The peak of summer season (July and August) is optimal for a ride on the tramway, when weather conditions are optimal and the wildflowers emerge in full bloom.
Ketchikan
When visiting the small port town of Ketchikan, you'll have a real appreciation for what it must be like to live in Alaska as a local resident along the wild coastal region. The town, once considered to be the salmon capital of the world, still centres its entire economy around fishing (And by the way, Ketchikan bears simply adore a salmon feast as much as tourists do!). You'll want to wander down Creek Street, the centre of commerce, and a hub or Alaskan history. Here is where you can cultivate a rich collection of native art and treasures, from jewellery to furs, or even a totem to take home.
There's one catch to Ketchikan: You'll want to be prepared for a shower or two. The average rainfall is 160 inches per year, although summer is the driest season - or rather, drier. But don't let a few rainclouds deter you from experiencing one of the most unique coastal towns along the Great Frontier.
The Pacific Northwest Mainland
Norwegian cruises embark from Seattle, Washington or Vancouver, Canada. If you haven't explored these cities, you should definitely add a few days before or after your cruise. These urban destinations known for their outstanding food and multicultural offerings, and filled with storied histories of explorers, pioneers, immigrants, and indigenous people, are renowned holiday destinations in their own right. In Seattle, foodies don't want to miss the famous Pike Place Fish Market, where fish mongers are also part performers, tossing their catch before a captive audience.
In Vancouver, Granville Food Public Market offers every variation of salmon to sample, from jerky to burgers. Just outside Vancouver (and very close to the airport), the suburb of Richmond is home to a mostly Asian population and some of the best dim sum offerings in North America.
When visiting the Pacific Northwest and the Alaskan wilds, it may seem as if traditions and time have stood still for centuries. Yet our day-to-day lives are constantly full of change and uncertainty. Which is why you should never put off the Alaskan cruise and land adventures that we know you're longing to book this summer.