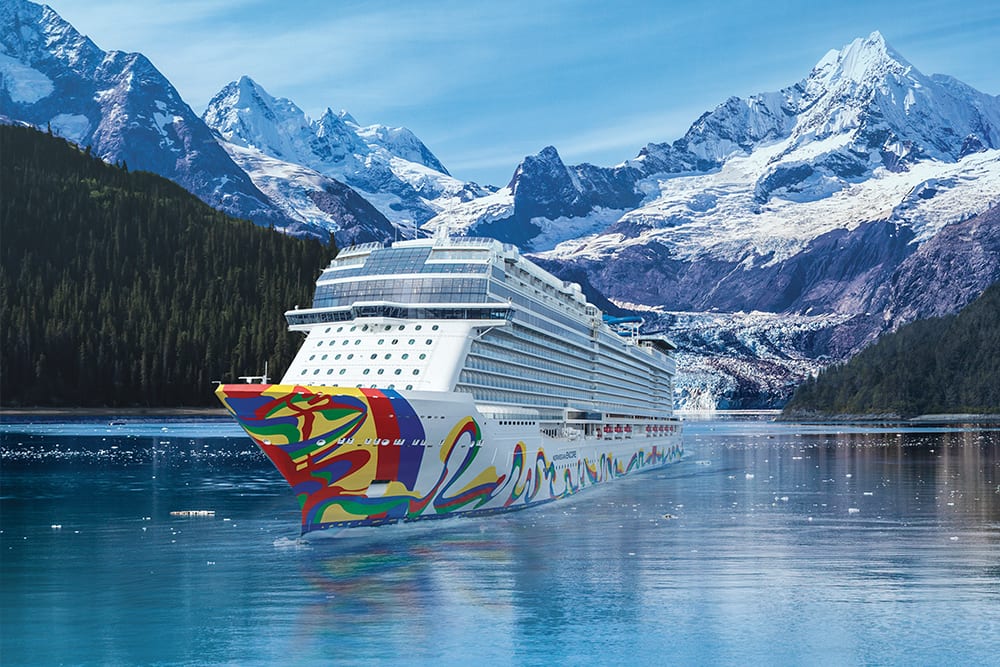 Brought to life in partnership with Voyij.com

With their vibrant shade of icy blue towering over the surrounding seas, glaciers are awe-inspiring natural formations that stimulate the senses.
Being in their presence will impress even the most seasoned travelers. Especially when you can experience them from up close and watch pieces the size of buildings break down and fall into the sea!
If seeing a glacier up close and personal is on your bucket list, you are in the right place since Alaska is home to the most glaciers in the United States. With over 27,000 glaciers, The Last Frontier is one of the best places to see these majestic pieces of nature up close on an Alaska cruise.
Ready to start planning? Explore all Alaska cruises.
What is a Glacier?
Most people know what glaciers look like, but do you know how they are formed?
Glaciers are formed on land when the snow gets compressed into large, thickened masses of ice over many centuries. These colossal pieces of ice are slowly moving downward thanks to the pull of gravity.
Glacial ice has a unique crystalline structure that absorbs and reflects light, giving them its notorious ice-blue color. The color is very noticeable in crevasses or where the ice breaks or "calves," and they tend to pop on rainy or overcast days (which are very common in Alaska).
Before embarking on a once-in-a-lifetime Alaska cruise, here are the top 10 glaciers you don't want to miss!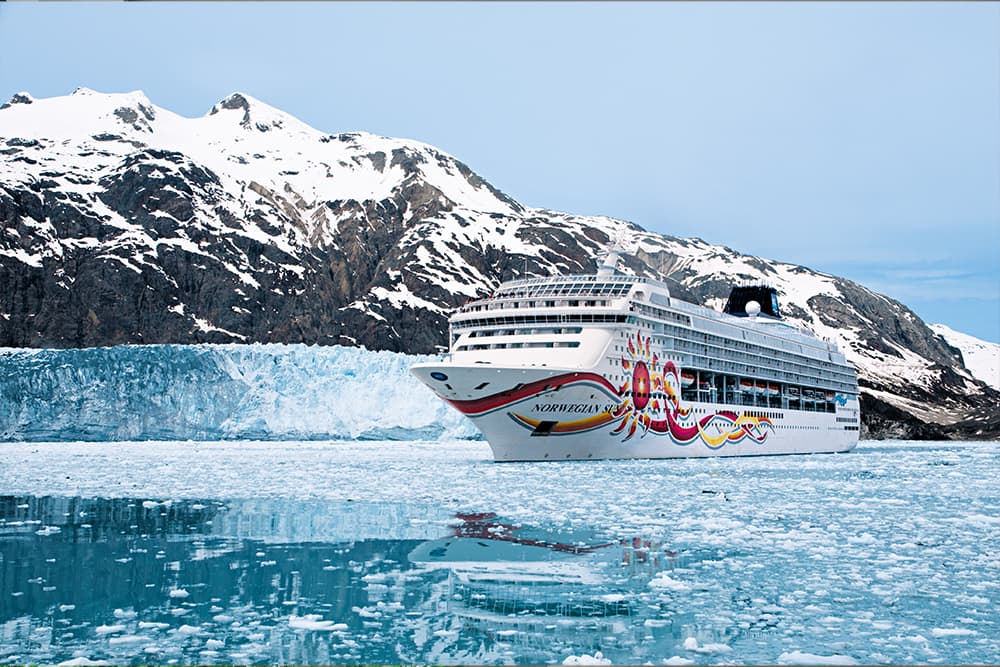 1. Columbia Glacier
Located on the eastern side of Prince William Sound, this glacier is 200-400 feet tall. It is also one of the fastest-moving glaciers in the world, retreating at an average rate of 0.37 miles per year (which is really fast in glacier terms).
Columbia Glacier is also extremely active in calving, making it tricky for tour boats navigating close to the glacier. If you want to see this amazing glacier up close, we recommend you take a boat tour from Valdez.
2. Hubbard Glacier (Lingít: Sít'Sít' Tlein)
With a length of 76 miles, a width of 6 miles, and ice cliffs as tall as a 30-story building, Hubbard Glacier is the largest tidewater glacier in North America.
Located in Disenchantment Bay 200 miles NW of Juneau, this active glacier known as the "Galloping Glacier" has been growing in thickness and advancing towards the Gulf of Alaska since 1885. Compared to other glaciers that have been receding during the past century, Hubbard is so active that in 2002 the glacier blocked Russel Fjord for two and a half months!
The best part is that cruise ships can get within half a mile of the face of the glacier! Giving you the perfect view of the glacier calving, which happens about every fifteen to twenty minutes during the summer.
Sailing towards Hubbard Glacier is also quite an experience since while navigating through Disenchantment Bay, you will see 5 of the 10 tallest mountain peaks in all of North America.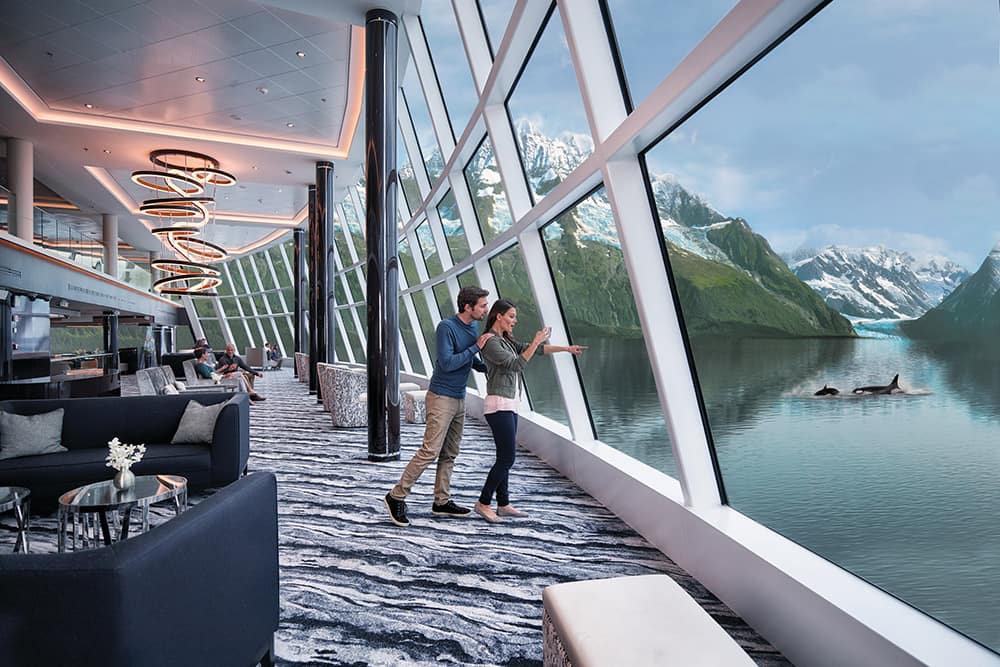 3. Valdez Glacier
This valley glacier, located in the Chugach mountains, is easily accessible from the town of Valdez and is the perfect glacier to explore by kayak or canoe. As you make your way through the lake, you will admire the icebergs that have broken off and are floating in the middle. But hurry up since this glacier is rapidly thinning and retreating! If kayaking is not your thing, don't worry, you can still get amazing views from a distance!
4. Worthington Glacier
If you want snow, visiting the Worthington Glacier is a must. Located 28 miles from Valdez, this glacier is the snowiest place in Alaska and one of the easiest "walk-ups." A short, paved path to hike will take you to a viewing platform where you can take the views and snap amazing pictures of the glacier.
5. Glacier Bay
Glacier Bay is where you want to go if you want to see some glacier calving action. With dozens of glaciers and all sorts of Alaskan wildlife, this place is a paradise for glacier lovers and photographers. Margerie Glacier is one of the most impressive glaciers since it advances 12-14 feet every day and calves frequently! Other well-known glaciers in the bay include Reid, Carroll, and John Hopkins.
The best part is you can experience all these glaciers directly from your cabin's balcony. Just make sure to have your camera and binoculars ready! Cruises that navigate through Glacier Bay typically spend the whole day there, so you will have plenty of time to admire these magnificent creations of mother nature.
6. Mendenhall Glacier ("Sit" in Tlingit Language)
Mendenhall is the most famous glacier in Juneau. Stretching 13 miles from the Juneau Icefield to Mendenhall Lake, it ranges from 300 to 1,800 feet deep. At its widest point, Mendenhall Glacier is over half a mile wide! If you want to explore the glacier, there are several trails, including the "Trail of Time," which is 0.5 miles with signs marking the glacier's recession through time. If you don't mind a moderate hike, the West Glacier Trial follows the edge of the lake and glacier and provides access to the ice itself.
Best of all, you can easily access this glacier since it's just 12 miles outside of Juneau, making it accessible by road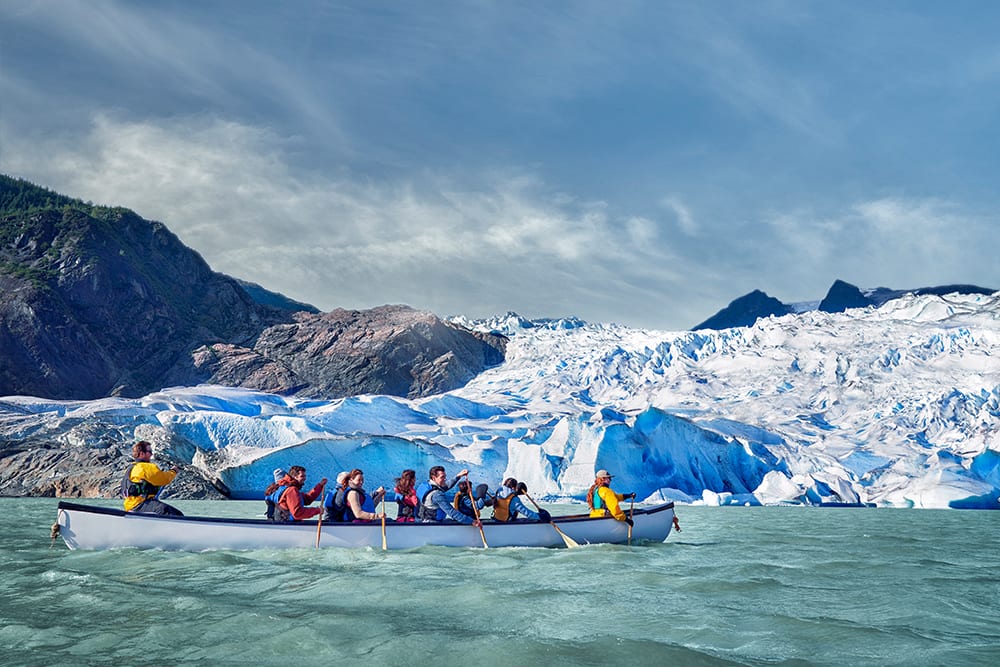 7. Sawyer Glacier
The twin North Sawyer and South Sawyer glaciers are in Tracy Arm, 45 miles south of Juneau. The North Glacier is the most accessible and easy to spot since it is located at the end of Tracy Arm Fjord.
The face of the glacier is a sight to behold with its incredible cobalt blue as it extends deep under the ocean's surface. If you are lucky, you might see some calving action! These calving sections range in size from a small chunk to a colossal piece the size of a cruise ship! Be sure to take your binoculars to catch a glimpse of wildlife atop the glacier. If you are lucky, you might spot some bald eagles.
8. Denver Glacier
If your cruise stops in Skagway, you need to visit this snowcapped glacier 6 miles into the coastal rainforest of Alaska. The glacier is accessible by taking a short train ride from Skagway to the Denver trailhead, where you can walk to the glacier. If you want to take your experience to the next level, snap the best pictures, and experience landing on a glacier, we recommend you book a helicopter tour.
RELATED CRUISES:
7-Day Alaska Round-Trip Seattle: Glacier Bay, Skagway & Juneau
7-Day Alaska Round-trip Seattle: Glacier Bay, Skagway & Juneau
7-Day Alaska From Seward to Vancouver: Hubbard Glacier & Skagway
9. Dawes Glacier
The 600-foot tall and mile-wide active Dawes Glacier is quite a show you can admire from the comfort of your cruise ship's deck or your cabin's balcony.
When the ship sails near this glacier at the end of Endicott Arm Fjord (50 miles SE of Juneau), you will hear the "white thunder," a sound produced when a colossal piece of ice splashes into the water.
Endicott Arm, which is part of Tracy Arm-Fjords, is also a great destination to view other natural wonders, including granite cliffs, falling icebergs, and plenty of Alaskan wildlife like bears, Harbor seals, and eagles!
10. Portage Glacier
Located south of Portage Lake on the Kenai Peninsula, around 60 miles from downtown Anchorage, this active glacier has been quickly receding and can no longer be seen from the visitor center. To admire Portage, we recommend a boat tour, or if you are there in the winter, you can walk on the frozen lake and see the glacier from there.
Honorable Mentions
11. Matanuska Glacier
At 27 miles long by 4 miles wide, it is the largest glacier accessible by car in the United States. Its terminus feeds the Matanuska River. If you are visiting Anchorage, you don't want to miss this amazing blue maze of ice. The glacier lies south of Glacier Park, near the Glenn Highway, about 100 miles northeast of Anchorage.
12. Exit Glacier
Located in the Kenai Fjords National Park, just 15 minutes from Seward, Exit Glacier is one of the most visited glaciers in Alaska and one of the few you can easily drive or hike to and experience the magnificent blue ice while listening to it crackle.
Are you ready to see these magnificent glaciers and fjords up close and personal? Browse Alaska cruises to book this once-in-a-lifetime experience and don't forget to sign up for Norwegian's cruise deals to get the latest specials and discounts delivered to your inbox.
EDITOR'S NOTE: This article was originally published on December 6, 2022. It has been updated to show related content and itineraries.