Alaska Cruisetours:

12-Day Denali/Fairbanks Explorer
12-Day Denali/Fairbanks Explorer
7-Day Cruise / 5-Day Escorted Motorcoach and Railroad Tour
2 Nights Fairbanks / 2 Nights Denali
(Offered before the 7-Day Southbound Cruise or after the Northbound Cruise.)

The Norwegian Difference
Fairbanks city tour
Riverboat discovery cruise
Alaska Railroad – Dome Class – Fairbanks to Denali National Park
Tundra wilderness tour, all Cruisetours feature 2 nights in Denali
Iditarod musher's kennel tour
Tour the Alaska Wildlife Conservation Centre where you will see the animals of Alaska in a natural setting
Fully escorted by local Alaskan tour director
Airport Meet and Greet by representative
Deluxe motorcoach transportation
Book This Cruisetour Online
Tour Itinerary
Day 1 Fairbanks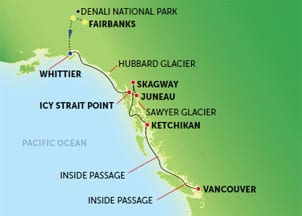 The transfer between the Fairbanks airport and the hotel is included in the base tour. Overnight Fairbanks.
Fairbanks Highlights:
Gold Rush history • Alaska Pipeline • Riverboat Discovery • Downtown Riverwalk • University of Alaska Fairbanks campus and Museum • Morris Thompson Visitors Centre • Midnight Sun • Close to Arctic
Day 2 Fairbanks
Your Norwegian Tour Director will greet you at the Fairbanks hotel for a group orientation meeting. Today enjoy a city tour of Fairbanks where you'll visit the oil pipeline and hear about the gold mining heritage of this community. Also enjoy a ride on the Riverboat Discovery cruise where the boat will stop at a recreated Athabascan Indian Village. Open evening in Fairbanks. Overnight a second night in Fairbanks. (Itinerary may be altered to do afternoon Riverboat Cruise)
Day 3 Fairbanks/Denali
Ride on the world famous Alaska Railroad from Fairbanks to Denali. Open afternoon and evening in Denali for optional activities. Overnight Denali for two nights.
Alaska Railroad Highlights:
Historic travel experience • Peaceful, Comfortable Extra-large seats in Adventure Class • Local Alaskan Conductor • Dedicated Local Alaskan Railroad Tour Guide • Wandering-style Scenic Gazing from the Vista Dome Railcar • Lighter Meals Available Anytime or Fine Dining Available in the Dining Car • Drinks and Cocktails Available Trainwide
Day 4 Denali
Today travel into Denali National Park on the included seven hour Tundra Wilderness Tour bus tour. Additional free time in Denali for optional activities. Overnight Denali. (Itinerary may be altered to do Morning Tundra Wilderness Tour)
Denali Highlights:
Mt McKinley • Wildlife Viewing Opportunities • Denali National Park • Hiking Trails • Lots of Optional Tours: Rafting, Fly Fishing, Golfing, Flightseeing, Dog Demonstrations, Jetboats • Murie Science Centre • Denali Visitors Centre • Bus Tours
Day 5 Denali/Whittier
Travel today in the deluxe motorcoach from Denali to Whittier. Stop enroute at an Iditarod Sled Dog Mushers home for a private visit and learn about the Last Great Race. Brief city tour of Anchorage as you are driving through town. This afternoon transfer via motorcoach to Whittier to board Norwegian Sun for your 7-Day Sawyer Glacier cruise.
Alaska Dog Mushing Highlights:
Hear tales of mushing at sub-zero temperatures from an actual musher of Alaska's State Sport. See puppies!
*Northbound tours operate in reverse. Guests may depart at any time on Day 5.
866-234-7350
Call your travel agent
Call us at
be first
to get the best cruise deals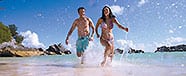 Let the perfect cruise find you! Be in the know about the hottest deals, new ships, new itineraries and so much more!