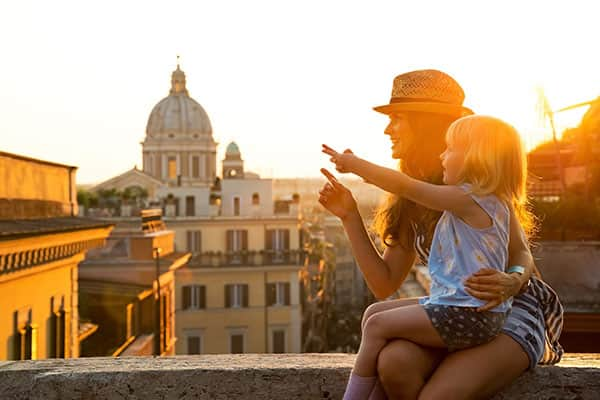 Few things are as romantic as the notion of cruising from Rome. The Eternal City offers some of the most iconic landmarks any traveller could hope for. With the Colosseum, the Pantheon, and the Trevi Fountain nearby (to name just a few), photo opportunities abound, making instant postcards for friends and family back home. Whether you're an adventurer, a sightseer, or even a casual wanderer, a cruise to Rome has plenty of options to satisfy your vacation to-do list. When in Rome, cruise as the Romans cruise -- with plenty of history right under your feet. Read on for a variety of must-see and do options to consider on your Rome cruise.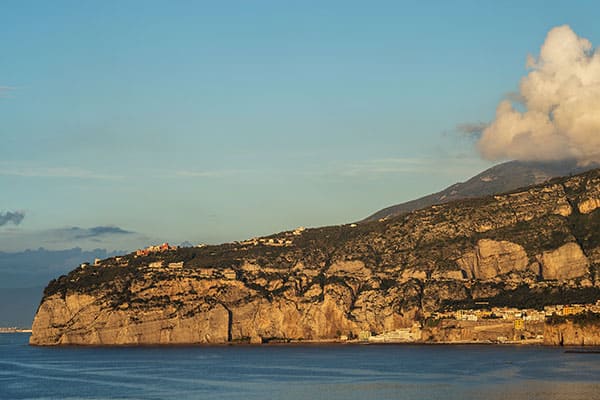 Following a visit to Pompeii, the civilization buried under 20 feet of ash and pumice 1,700 years ago, is a stop at the cliff-top town of Sorrento where you'll enjoy lunch on a family-owned farm that produces olive oil and homemade mozzarella.
In its day, the iconic Colosseum could hold 50,000 eager spectators who'd come to cheer on the gladiators in physical combat. Built in 70 A.D., the structure (also known as the Flavian Amphitheatre) still stands as a reminder of the historic celebrations and events it hosted for ancient Rome. Be sure to check out the Colosseum on your next European cruise.
Among Rome's most visited spots is the Pantheon, a temple easily recognized at first glance for its towering marble columns and impressive dome. The name derives from Greek, translating to "every god," a testament to its history as a temple dedicated to the gods of pagan ancient Rome.
Breathtaking views await those who make the trek to the hilltop city of Orvieto. The journey itself is rewarded with charming villages, Medieval castles and churches along the hills. Arriving at the 9th century B.C. village unveils a stunning cathedral with a Gothic facade.
Housed within the Vatican City is one of the most renowned works of art, the ceiling of the Sistine Chapel, painted by Michelangelo between 1508 and 1512 to showcase scenes from the book of Genesis as well as The Last Judgment. The chapel itself still holds papal elections in conclave.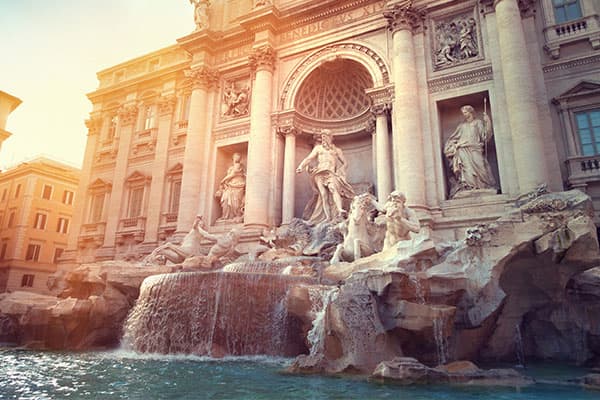 This Roman landmark has enjoyed its fair share of attention, making it a common occurrence on the big screen in movies such as Fellini's La Dolce Vita and Roman Holiday, made famous by Audrey Hepburn. Now, following its recent multimillion dollar renovation, the Trevi Fountain is sure to enjoy many more glory days ahead. Be sure to stop in and make it the backdrop for your own iconic (home) movie moment to remember your European cruise.
Within the Vatican City lies St. Peter's Basilica, listed among the world's largest churches. Known just as easily for its beauty and renaissance splendour as it is for its history, the impressive structure has stood for five centuries and continues to draw visitors admiring its intricate facade and decadent interiors.
Just outside of Rome lies Tarquinia, which was once considered one of the most powerful Etruscan (ancient Italian) cities. What remains today are palaces and 15th century Gothic style architecture to admire. A visit to the Necropolis, just outside of Tarquinia, offers an opportunity to explore historic sarcophagi adorned in Etruscan artwork.
To become fully immersed in the culture, a taste of local fare is an absolute must. Drive through Rome's wine region and stop in at a neighbouring farmhouse to learn how to make pasta from the locals. Then sip on wine and enjoy your home cooked meal. Nothing is more authentic than this regional foodie experience.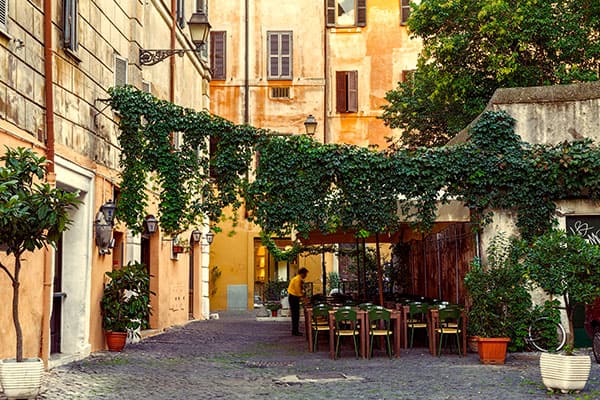 If you're a free spirit with a curious nature, then make some time to explore Rome on your own. With a tour guide in tow, you'll set the pace for sightseeing and shopping. Take a pause in your day to enjoy local cuisine at a sidewalk cafe.