Deciding which part of the Mediterranean you want to visit can feel overwhelming with so many iconic cities and stunning coastlines. Why choose only one destination? Consider a cruise vacation on Norwegian so you can experience the best of the Mediterranean on one holiday. To get your wanderlust fuelled, here's a look at some of the incredible destinations you could explore on a 2023 Mediterranean cruise with Norwegian.
Ready to start planning? Explore all 2023 Mediterranean Cruises.
2023 Mediterranean Departure Ports
Norwegian offers you the flexibility to start your Mediterranean cruise adventure from 11 different ports in 2023. Some departure ports will include stops in other regions, such as the Middle East and Northern Europe, or you can embark on a trans-Atlantic crossing. Departure ports for 2023 are:
2023 Mediterranean Cruise Destinations
Norwegian takes you to the best of the Mediterranean in 2023. Here's a sample of different destinations you could visit and some of the highlights in each port.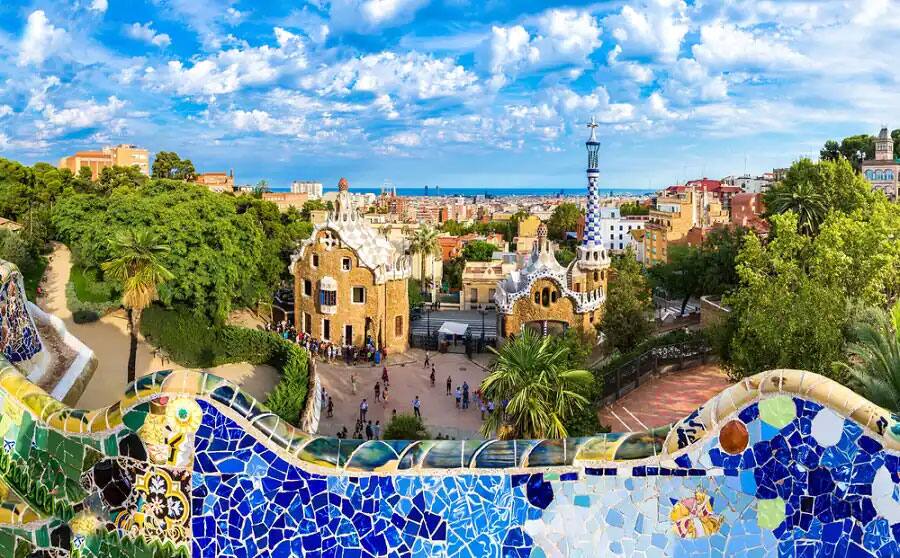 1. Barcelona
If you choose a cruise that departs from or visits Barcelona, there's no shortage of things to see and do. Barcelona is the capital of Catalonia, and it's easy to lose yourself walking by some of the most beautiful sites. Not-to-miss landmarks include La Sagrada Familia, Basilica de Santa Maria del Mar, and La Pedrana. Barcelona easily ranks as one of Europe's great cities when it comes to food. Consider a paella cooking course or an introduction to sparkling Cava.
Book the hop-on-hop-off bus option to stop at the sights that interest you most. If you've been to Barcelona before, consider a tour to Montserrat. This impressive basilica is where villagers allegedly discovered a statue of the Madonna in a grotto a millennium ago. Today, it's a pilgrimage site with some pretty impressive views.
2. Rome
With thousands of years of history, Rome is one of the most iconic cities in the world. There's no shortage of impressive architectural and historical sites to visit. You can also explore parts of the Vatican and see the renowned Sistine Chapel Ceiling in the Vatican Museums. Other top attractions in Rome include the Colosseum, the Pantheon, Trevi Fountain, the Roman Forum, the Spanish Steps, and Piazza Navona.
If it's food you're after, book a food tour that takes you through Lungotevere, one of the oldest sections of Rome. You'll explore an outdoor market, then visit a pizza bakery, a chocolate shop, and a coffee shop that makes its espresso with water sourced from a local ancient aqueduct. Of course, the final stop is for gelato at Rome's potentially oldest gelateria.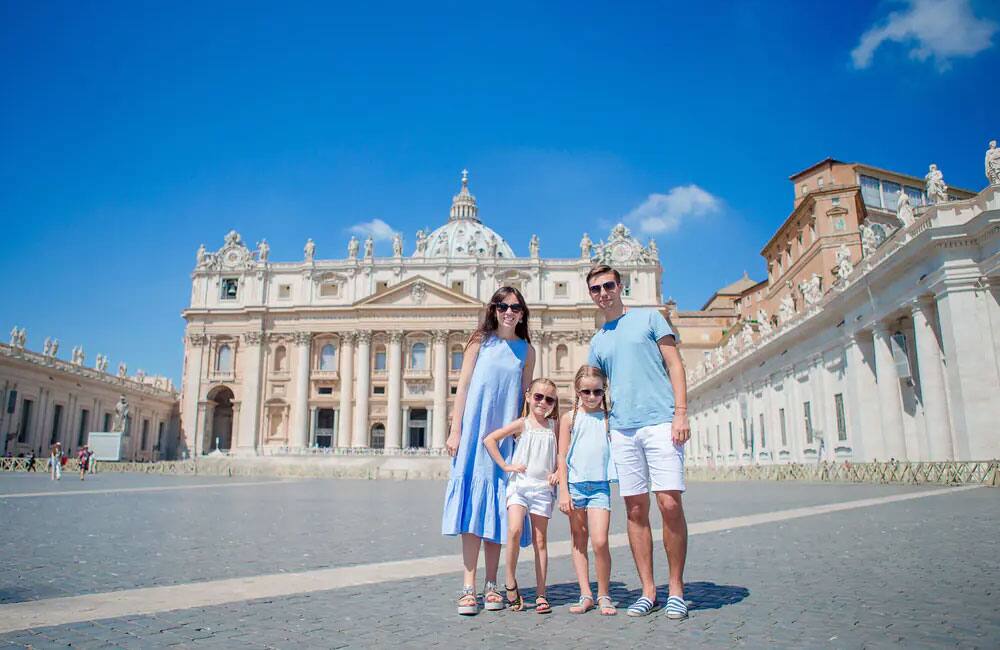 3. Cannes
Cannes is one of the most well-known destinations along the French Riviera, a hot spot for the world's rich and famous. The annual Cannes Film Festival definitely draws an impressive lineup of celebrities each year. Take a walking tour or explore on your own. Don't miss the well-preserved old town and market or the Picasso Museum housed in the chateau museum where Picasso worked and lived in 1946. You can also book various excursions to other nearby iconic destinations such as Nice or Monaco.
4. Santorini
When you see postcard images of Greece, they typically include the jaw-dropping sea cliffs of Santorini. These picture-perfect cliffs resulted from volcanic eruptions over 3,500 years ago. Some people also speculate that Santorini is where the Lost City of Atlantis once was. When it comes to what to do and see in Santorini, don't miss the iconic cliffs in the village of Oia, hang out on one of the beautiful beaches, or visit a local winery. You can even hike the active volcano if you are looking for an adventurous challenge.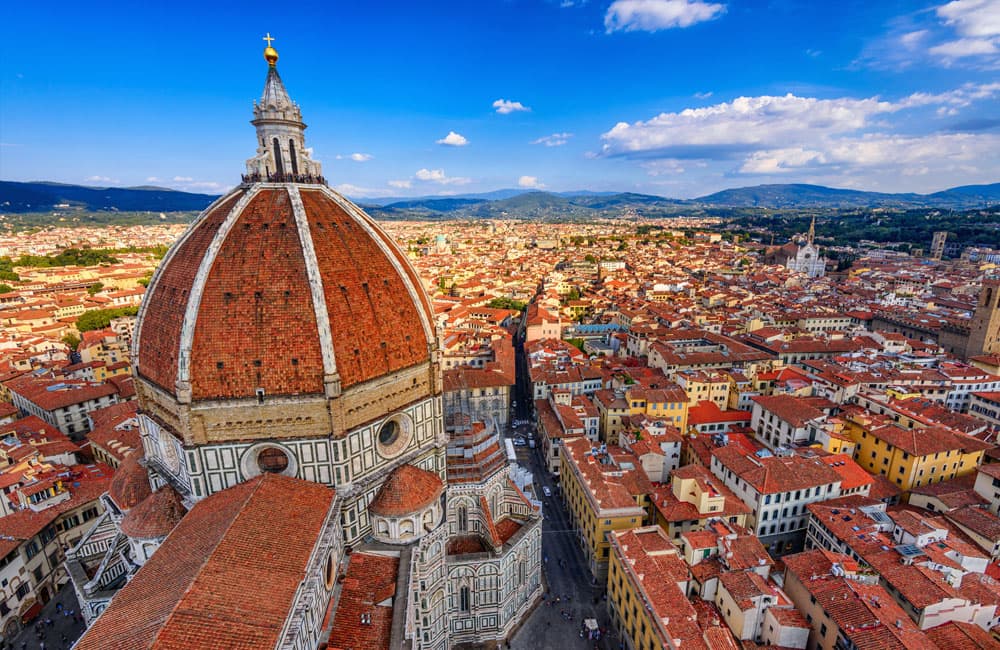 5. Florence/Pisa (Livorno)
If you're interested in visiting the Tuscany region, book a cruise that stops in Livorno. This port is the gateway to Tuscany, Florence, and Pisa. When you visit Florence, the main highlights are all within walking distance. Don't miss the Piazza del Duomo, Santa Croce, and Michelangelo's David sculpture. You'll find plenty of shore excursions headed to other nearby spots as well. Book a wine tasting experience at a Tuscan castle, or head out on an all-day adventure to the UNESCO World Heritage Site of Cinque Terre.
6. Naples
When you opt for a cruise that stops in Naples, you can explore the stunning Amalfi Coast, wander through the well-preserved site of Pompeii, and enjoy some of the best Italian cuisine in downtown Naples. Explore the beautiful island of Capri after getting dropped off by a jetfoil transfer. Another option is Sorrento, a coastal town that faces the Bay of Naples.
The ancient site of Pompeii is very well preserved after being buried by ash from the eruption of Mt. Vesuvius in 79 A.D. Marvel at the beautiful frescoes and mosaic floors you can see in various homes. If you've been to Pompeii, consider visiting the ruins of Herculaneum. Herculaneum was once a fishing village and a summertime resort town for wealthy Romans. Like Pompeii, much of Herculaneum is also well-preserved. Visit homes, baths, shops, and more.
Are you still researching itineraries for a 2023 Mediterranean cruise with Norwegian? Don't forget to sign up for Norwegian's cruise deals to get the latest specials and discounts delivered right to your inbox.