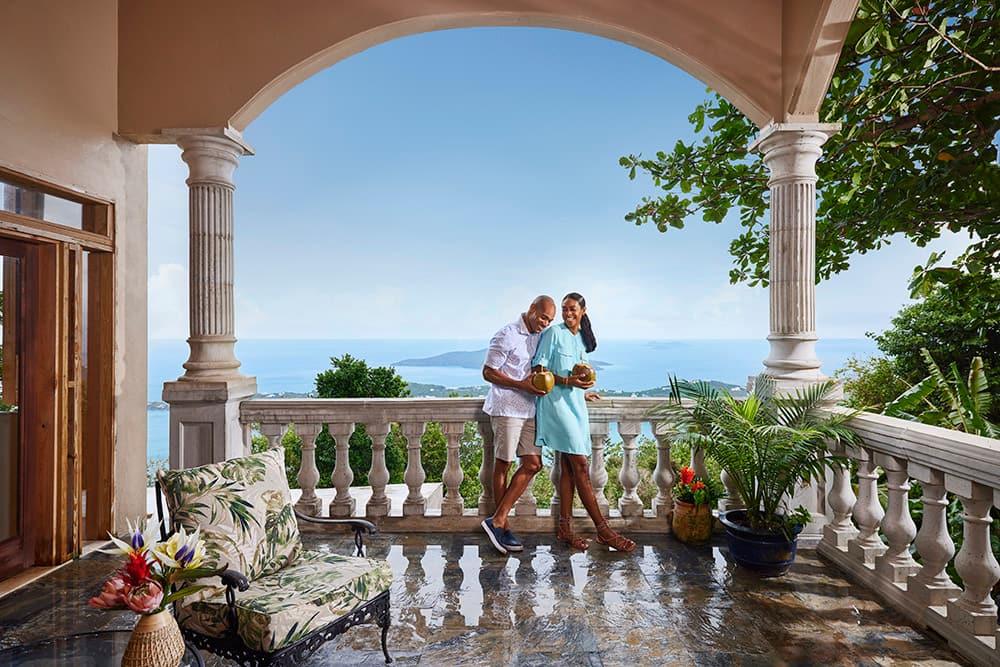 Brought to life in partnership with Conde Nast Traveller

When you think of the Caribbean, what comes to mind? Maybe it's sugar sand beaches or crystalline blue waters, ultimate relaxation or freshly caught seafood. When you sail to the Caribbean with Norwegian, you can expect all that and so much more, from exciting on-shore excursions to perfectly luxurious staterooms and suites to five-star amenities that will make you feel like you're on a floating resort.
The first thing to consider when choosing your cruise is what you're looking for from this trip. You could visit the Eastern Caribbean, which is a favorite among past Norwegian guests, the Southern Caribbean, with highly rated ports and unique itineraries, or the Western Caribbean, with calm waters and weekly sailings year-round. Whatever you're looking for, you'll find it, as there are over 13 ships, 75 unique itineraries, and 35 calling ports to choose from.
With so many stellar options, choosing just one itinerary might feel daunting—luckily, there are no wrong choices when it comes to cruising with Norwegian. If you're looking for a little taste of all the Caribbean has to offer, the 7-day cruise to Great Stirrup Cay and the Dominican Republic is a great choice. Here's everything you need to do, see, and eat during your trip—so pack your bags and get ready to set sail.
Ready to start planning? Explore all Caribbean cruises.
Start by Exploring Miami
Your cruise embarks from Miami, a vibrant city worth exploring in its own right. Spend the afternoon strolling through the art deco District of South Beach for some stellar photo ops, grab a Cuban Sandwich for lunch in the lively Little Havana neighborhood, or do a little last-minute shopping at the high-end boutiques in Design District before you board the ship.
Discover Great Stirrup Cay, Norwegian's Private Island
Your first stop is Great Stirrup Cay, Norwegian's premier private island in the Bahamas. Feel free to spend the full day in this idyllic paradise however you so choose. Stroll through the powdery sand beaches and take a dip in the ocean waters or lounge in a private cabana. When you get hungry, take advantage of the delicious offerings in the new 8,500-square-foot beachside buffet—keep in mind that Norwegian's Onboard beverage package extends to Great Stirrup Cay.
If you're craving a bit of adventure, you can choose from a variety of shore excursions. Do some snorkeling to get an up-close look at the island's marine life, kayak in crystal clear waters, or get your heart thumping with the thrilling Island Zipline Adventure.
Enjoy a Day At Sea
After all that excitement, a day at sea is just what the doctor ordered. Don't be fooled, though, a day at sea can be just as active, or as relaxing, as you want it to be. You might opt to lounge in the privacy of your suite for most of the morning, which is especially luxe if you're staying in the Ocean Haven Penthouse with a balcony. Suites in The Haven are hidden at the very top of the ship and offer unparalleled amenities, such as a 24-hour personal butler and concierge service and access to the Haven Courtyard and Sunroom. You could also book a rejuvenating spa treatment for the ultimate indulgence.
When you're ready for a bit more action, feel free to have dinner at one of the many specialty dining options onboard—don't miss the elevated French fare at Le Bistro. Afterward, catch a performance of the Tony-award-winning musical, Kinky Boots, or take your pick of several other entertainment options to round off your perfect day at sea.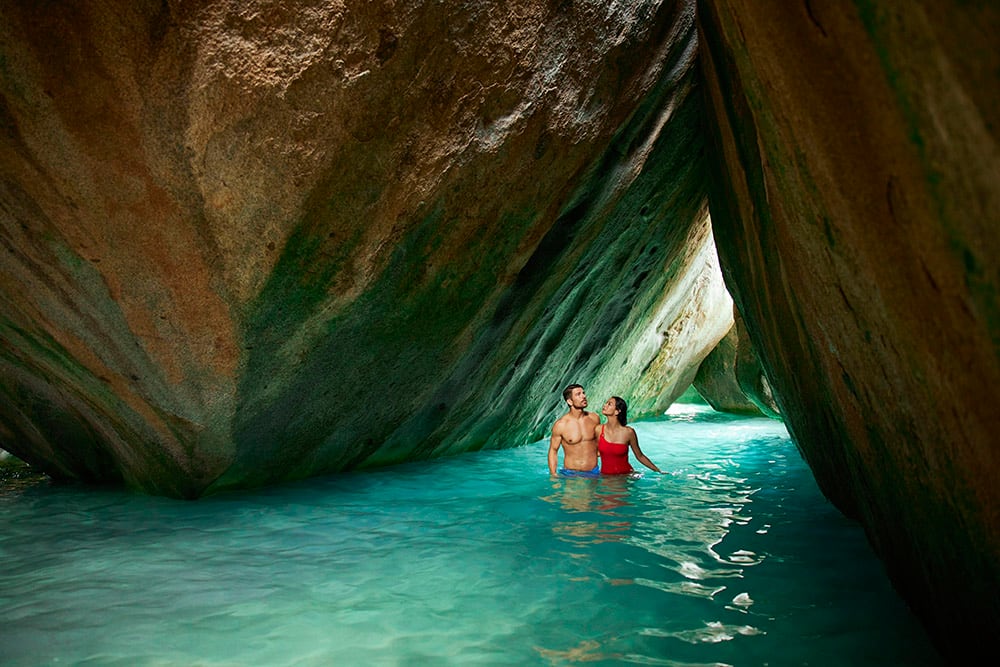 Sail to St. John
There are so many wonderful ways you could spend the day in St. Thomas, but consider making the most of the trip by sailing over to St. John, the most precious and untouched of the US Virgin Islands. With the St. John Champagne Catamaran Sail & Snorkel, you'll sail across Pillsbury Sound to the enchanting island of St. John. At Honeymoon Beach you can snorkel in turquoise waters, stroll along the sugar-white shores, and bask in the bounty of the island's beauty. On the cruise back to St. Thomas, sip flowing champagne and snack on an array of cheeses, freshly baked bread and tropical fruits before heading back to the ship.
Visit the Baths in Tortola, BVI
Your next stop is a paradise that was discovered by Christopher Columbus himself. This peaceful, tropical island is home to marvelous scenery and beaches, all of which you will get to experience with a trip to Virgin Gorda & the Baths. A quick cruise followed by a short drive brings you to Virgin Gorda, a natural playground with pristine beaches, beautiful baths formed from volcanic boulders, caves, and pools. The best part? The entire area is naturally formed; a true testament to the wonders of Mother Nature.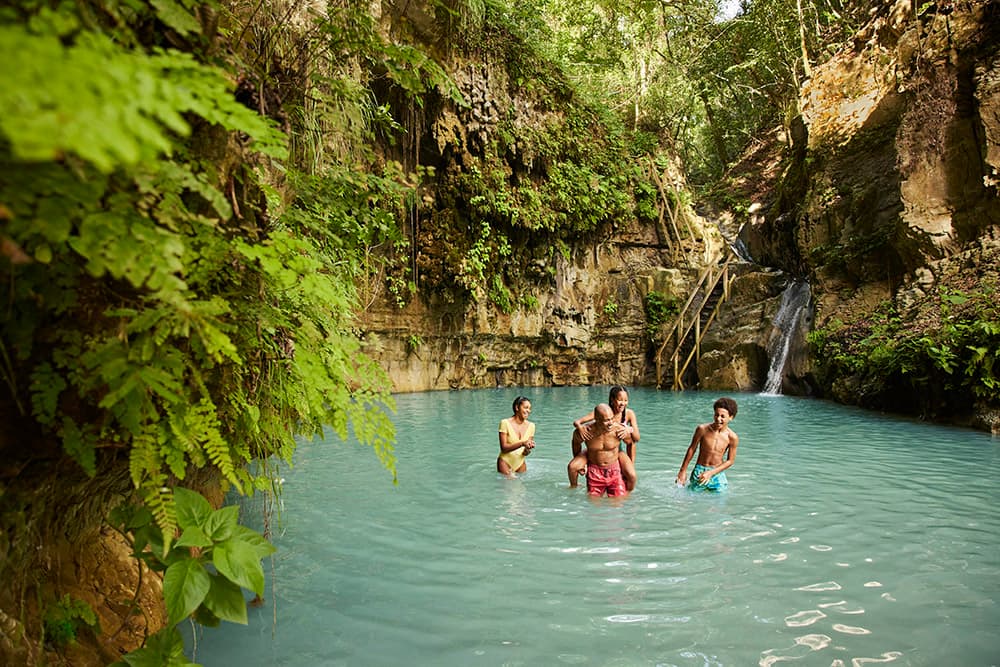 Puerto Plata in the Dominican Republic
Your final stop is Puerto Plata in the Dominican Republic. By now, you can probably already guess that the town is going to be a stunning waterfront paradise, but there's a rich history to be discovered here as well. You might choose to stick to the shore and visit the San Felipe Fortress, which was built in the 16th century and functioned as a prison under the dictatorship of Rafael Trujillo. If you've got little ones with you, don't miss The Amber Museum, housing a unique collection of semi-precious Dominican Amber tree sap that has hardened over millions of years. Kids will be in awe of the many plants, insects, and small creatures that have become fossilized in the amber.
Before you head back to the ship, make it a point to visit one of the rushing waterfalls in Puerto Plata.
Where are you cruising next? Tell us in the comments!