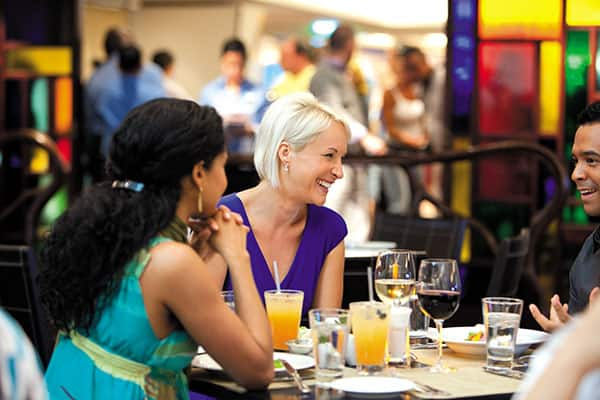 Embark on a cruise and you might find yourself snorkelling an underwater reef in brilliant blue waters, or tackling a rock climbing wall, or sunning by the pool, drink in hand, or belting out your favourite tune in the karaoke bar. What you won't find yourself doing is going hungry. When it comes to dining on board, there's something for everyone, and plenty of it. Not only will you eat on a cruise, but you'll eat well. And just because the cruise food is complimentary, that doesn't mean it has to be boring. Dishes you'd expect to pay a premium for at your favourite restaurants come included in the price of your cruise. And as you might expect from a ship that travels the world, much of the cuisine is internationally inspired. Cruise ship menus present a great opportunity to experience new tastes without breaking the bank. From the main dining room to room service, the complimentary cuisine promises not to disappoint.
Cruise Ship Dining Rooms
Walk into any of the main dining rooms on board, and find yourself in stylish, contemporary surroundings designed to elevate your dining experience. Order from a menu that includes standard fare in addition to signature items worthy of the finest restaurants. Specialties include the Spice Rubbed Beef Tenderloin with Sun-Dried Tomatoes, topped with rich Demi-Glace and served with Creamy Polenta and Sautéed Spinach. If you prefer fish, try the Braised Red Snapper served with Cherry Tomatoes, Zucchini and Fennel Cream.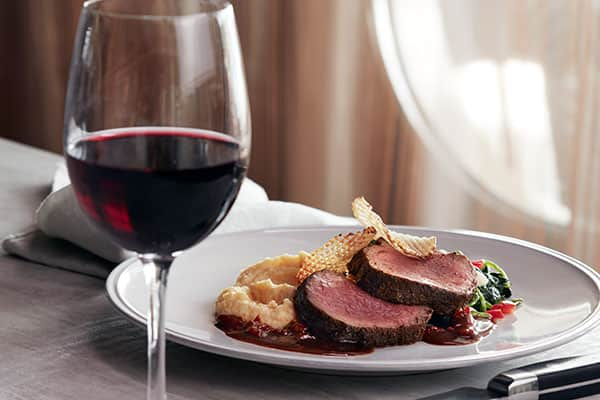 Cruise the Buffet
For a more casual dining experience, the Norwegian cruise buffet offers serve-yourself fare covering all the courses from salad through dessert. As you make your way through the smorgasbord, visit the Carving Station for whole prime rib just like they serve at your favourite steakhouse. The Pasta Station offers a selection of pastas and sauces to rival an Italian restaurant. Mix fresh vegetables with the meat of your choice at the popular Wok Station. Save room for dessert.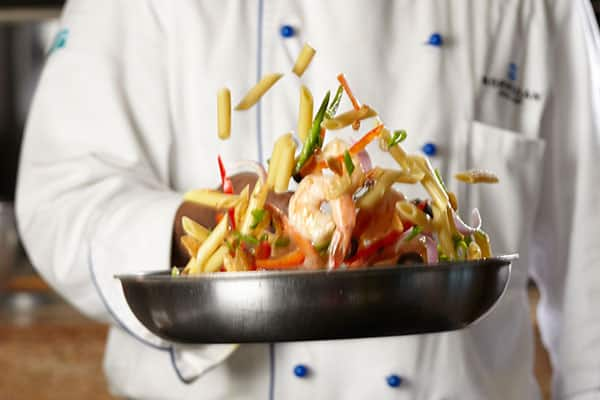 Room Service on a Cruise
Just because it's Room Service doesn't mean it has to be boring. The same level of gourmet fare served in the restaurants is available delivered straight to your room. Try the Skirt Steak with Fried Sweet Plantains, Zucchini, Red Bell Pepper and Chimichurri Sauce. Or try the handmade Pizza Marguerita just like they make it in Italy. Both of these signature dishes are complimentary with your cruise.
Cruise Ship Restaurant Starring Asian Cuisine
You can't call the complimentary cuisine internationally inspired without selections from Asia. On most sailings, the Asian restaurant serves freshly prepared noodles and delicious wok fried dishes like Singapore Noodles, a mouth-watering blend of Rice Noodles, Shrimp, Roast Pork, Bean Sprouts and Yellow Curry.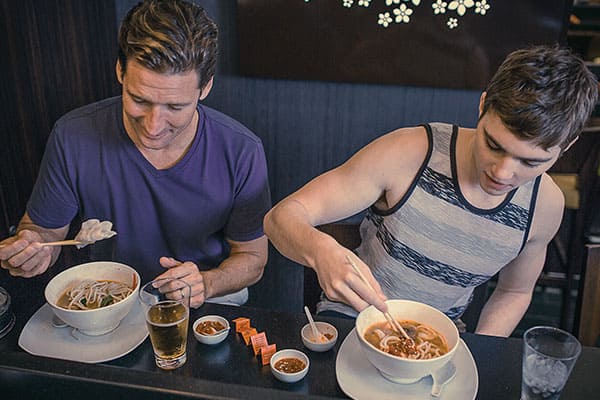 O'Sheehans Irish Pub
Pop into the Irish pub O'Sheehan's on most sailings for traditional pub fare. It wouldn't be authentic without Fish & Chips on the menu and at O'Sheehan's it's a signature dish. The restaurant is decked out with retro American memorabilia and you may feel like you've stepped back in time. Grab a seat at the bar for a pint of Guinness and the complimentary Signature Half Dozen Chicken Wings in your choice of Buffalo, Texas BBQ, Thai Chili or Jamaican Jerk Spice sauce, served with fresh celery and Blue Cheese dip.
The Haven Restaurant
Guests of The Haven on select ships enjoy a private, complimentary, fine-dining experience at The Haven Restaurant. The restaurant's signature entrée is Grilled Sea Bass, but everything on the menu promises to exceed expectations.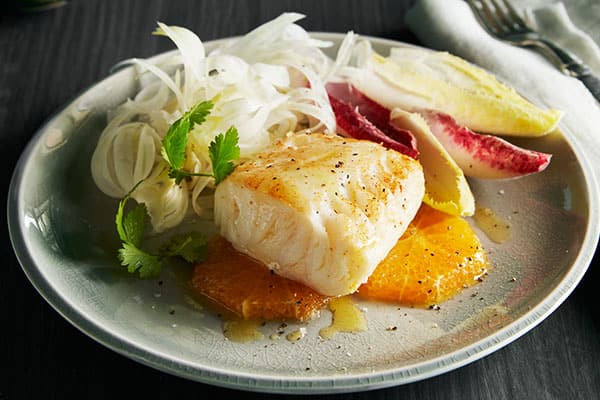 When it comes to your onboard dining experience, complimentary never means second rate.
Is food included on cruises? Find out more about cruise ship food, drinks and more.