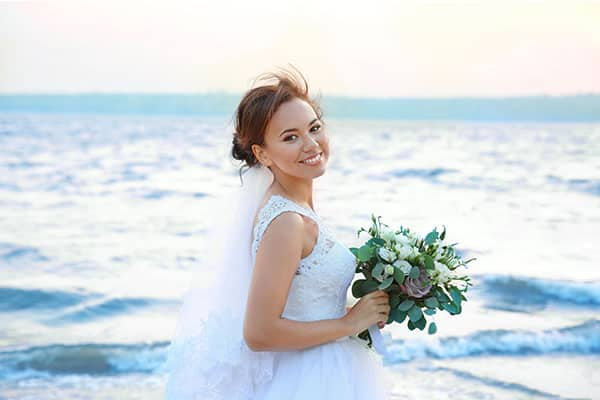 Once you've found that special someone, there's nothing more exciting that planning your dream wedding, especially if it's a cruise wedding. But, with so many things to consider during the planning stages, it can easily get overwhelming. So, what to do? Let the experienced wedding coordinators at Norwegian Cruise Line take care of everything, of course!
A cruise wedding is just as easy to plan as a land-based ceremony, plus it's fully customizable. It's also an affordable way to combine your reception and honeymoon all in one amazing vacation package, often with significant savings over a land-based wedding ceremony and reception.
Here are 5 things to consider when you're planning your cruise wedding, and some tips to ensure it's smooth sailing all the way!
Wedding Ceremony Locations
When you picture your perfect wedding day, what comes to mind? Do you want a ceremony at sea or do you see yourself exchanging vows on a tropical beach or other on-land location? A ships' captain will be happy to accommodate your onboard ceremony on embarkation day or on a day at sea, although this will limit your embarkation choices slightly. Or, you can choose to get married in port at cruise vacation destinations such as Alaska, Bahamas, Bermuda, The Caribbean, Europe or Hawaii.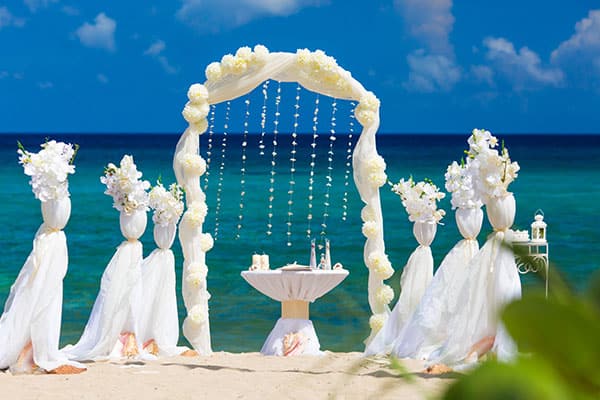 Cruise Wedding Guests
Don't worry about the possibility of fewer family members and friends attending your wedding at sea, as chances are, guests will already be avid cruisers or are curious as they've never cruised before, so you could end up with even more people attending your ceremony! And that's a good thing, especially if you'll be travelling with 14 or more passengers (7 staterooms), as 2 of your wedding party can cruise for free! Wow, that makes a cruise wedding even more affordable, don't you think?
Wedding Receptions at Sea
Reception options onboard your ship of choice will take place in a lounge attended by waiters and bar staff. Options include a standard or a deluxe cocktail party, or a sit-down 4-course luncheon with wine service. And, if you're getting married in port, Norwegian Cruise Line allows up to 10 non-sailing guests to board the ship during your ceremony.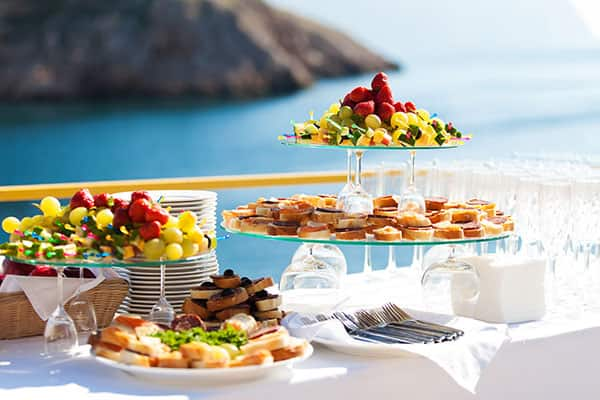 Cruise Wedding Packages
Now that you've established the basics of your cruise wedding, it's time to pick a matching ceremony package. The experienced wedding planners at Norwegian Cruise Line will work with you to arrange for fresh flowers, music and photography. Of course, the all important wedding cake (available in 12 flavours with traditional buttercream icing) will be created just for you by the ship's pastry chef. Spa wedding appointments for the entire wedding party are also available.
Tips for a Smooth Sailing Cruise Wedding
My personal suggestion for a cruise wedding is to hold the ceremony onboard the ship when it's still docked at it's home port of call. Why? It's easy to bring non-sailing guests onboard, you can have a quick reception, say your goodbyes and then the fun of your cruise/honeymoon begins! This way everyone is included but then you can simply sail off into the sunset to start your new lives together. How romantic!
Tips for a smooth sailing cruise wedding include:
• allowing yourself as much time as possible to plan; many brides-to-be start preparing at least a year in advance.
• if you're not sure about something, ask your wedding coordinator to clarify.
• if you're getting married in port, develop a back-up plan in case the ship can't dock due to inclement weather.
• set up a wedding or a honeymoon registry with Norwegian Cruise Line where gifts can include shore excursions, specialty dining, onboard shopping, casino credits and more!
• start a free wedding website with Norwegian Cruise Line to share your excitement with your family & friends - and don't forget to include a link to your wedding & honeymoon registry.