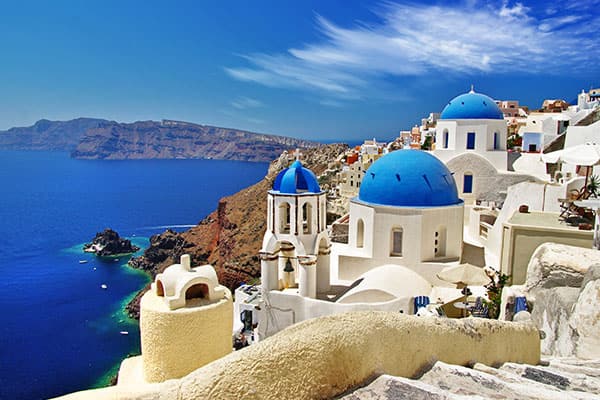 Greece is one of those countries that everyone should visit at least once in their lifetime. Think white-washed houses with cobalt blue trim on Santorini, archaeological wonders such as the Acropolis and Parthenon in Athens, or on the medieval streets of Old Town Rhodes. And, oh, the beaches! Just imagine sunbathing on picture-perfect white sand framed by striking azure waters of the Aegean Sea.
Greece is the perfect destination for a romantic honeymoon adventure or a breathtaking family vacation that'll be cherished for years to come. Whether you choose a Norwegian Star 7-day Greek Isles cruise from Venice, or a 10-day Eastern Mediterranean & Greek Isles adventure on board the Norwegian Spirit from Rome (or something in between!), it's easy to explore Greece like a local if you follow these tips.
Stroll the Streets
The best way to explore the picturesque cities of Greece is by taking your time to slow down and really take in the sights. Stroll or meander your way along the narrow Mykonos streets or to the Monastiraki flea market in Athens. Embrace the Greek coffee culture at a quaint cafe. Savor a long lunch where delights can include moussaka (baked eggplant), kolokythoanthoi (stuffed zucchini flowers) or dolmadakia (stuffed grape leaves). Sip some Ouzo as you enjoy a traditional Greek dessert like baklava. Then, let the rhythmic syrtaki (Zorba the Greek) music pull you into a local taverna, where if you're lucky, the lively breaking of plates hasn't yet taken place, opa!
Take a Ferry
If you want to explore Greece like a local, it's almost a requirement to take a ferry/chartered boat ride. Once you've finished meandering in vibrant Mykonos, see some of the countries most cherished archaeological treasures by hopping on over to the smaller, nearby island of Delos, said to be the native home of the mythical gods, Artemis and Apollo. This UNESCO World Heritage Site offers spectacular ruins including an amphitheater and the classic Terrace of the Lions statues.
Rent a Moped
Another quintessential way to explore the Greek Islands is by moped. Grab your helmets and zip around just like the locals! Well, maybe not in Athens for safety's sake, but you could head to the Fira/Oia hiking trail on Santorini, or visit the stunning beaches of Elafonissi or Balos on Crete. If you're mopedding with kids, after Balos beach, check out the hands-on exhibits at Aquaworld Aquarium & Reptile Rescue Centre in Hersonissos. You can also rent a moped on Rhodes, where sights include charming villages and artistic landscapes dotted with vineyards, olive trees and lemon groves.