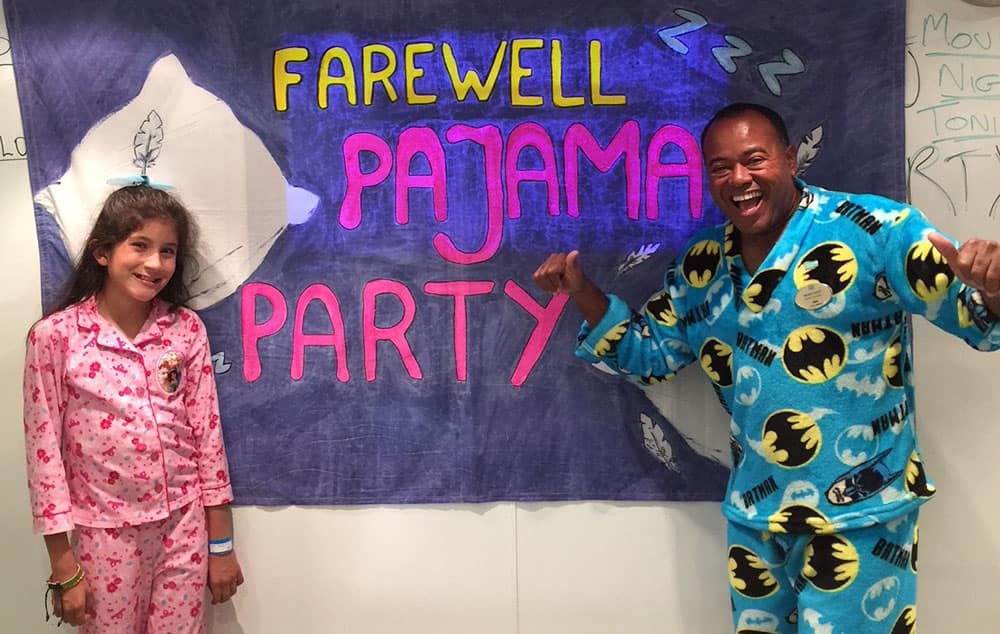 One of the most important things about taking a family cruise is making sure the kids are taken care of and having a great time. After all, it's their vacation, too. This year, we were lucky enough to receive a first-hand account of the Splash Academy experience from an attendee herself, aspiring young writer and Norwegian Cruise Line guest, Vanessa Kuznicki (10 yrs. old).
Vanessa cruised with her mom Natalia on Norwegian Getaway to the Western Caribbean and loved the experience so much she wrote and illustrated a whole book about it! Just ahead, read through for an inside look at what it's like to be a kid cruising with Norwegian's Splash Academy.
My Experience in Splash Academy
by Vanessa Kuznicki
"I really enjoy Kids Club Splash Academy. The counselors there were really nice. My favorite counselor was pizza! They made up nicknames for the counselors. Pizza is from China; I liked egg soup and so did she! The yellow yolk egg soup from China tastes so good! Splash Academy was really fun and now I am going to tell you a little more about this outstanding kids' club!"
Table of Contents:
Fun for everyone: Page 1-2
Time to Eat: Page 3-4
Safety First: Page 5-6
Fun, happy counselors: Page 7-8
My Experience: Page 9-10
The Play Rooms: Page 11-12
Fun Fun for Everyone!
"The activities there are so fun. Splash Academy has a variety of entertaining activities like Gag ball, Dodgeball, pillow fighting, and more! Splash Academy is so much fun when it comes to playing activities! They guarantee you a happy child when you come pick them up! Your children will have fun!"
Time to Eat!
"Splash Academy serves three finger-lickin' meals a day! Breakfast, lunch, and dinner! The meals are only six dollars each. I guarantee you that this club serves healthy meals for your children. They also have many drinks like lemonade, water, chocolate milk, and more! For meals they have things like: 1) hot dogs and fries 2) Fish and Chips."
Safety First
"Break in! Oh, no, nothing like this will ever happen in Splash Academy! Splash Academy has gates that you may only open with a switch. There are many counselors surrounding your child (kids) at all times! No need to worry about your child in Splash Academy. From my own experience, Splash Academy has full safety because their main priority is you and your safety!"
Fun, Happy Counselors!
"There are a variety of counselors that are always prepared to help you out in any way! They will be happy to even play with you! Counselors are always a happy crew! Counselors are also really funny in many ways! Counselors are always open to answer any questions you have!"
My Experience!
"The counselors were very kind and the activities were so fun! The pillow fighting was very funny! Dodgeball was very active, many balls going any direction! Pum, pum, pum, DJ was awesome. I love dancing to songs like:
Believer
I Got That Feeling
Welcome to My House
The Play Rooms
"Shiny and clean! The rooms are clean and smell great! It is always being cleaned! Rugs, chairs, and more, nothing will ever be dirty. Places are spic and span, you can maybe call it the cleanest place on Earth! I really enjoy being in the room. It was really nice!"
THE END!
Thanks so much to Vanessa for sharing this beautiful book about her experience at Norwegian's Splash Academy! And thanks to Vanessa's mom for allowing us to post this original work to share with our fans! We are so glad you enjoyed your family cruise vacation and can't wait to welcome you back on board.
Photo credit: Header image courtesy of Natalia Bohorquez and Vanessa Kuznicki.