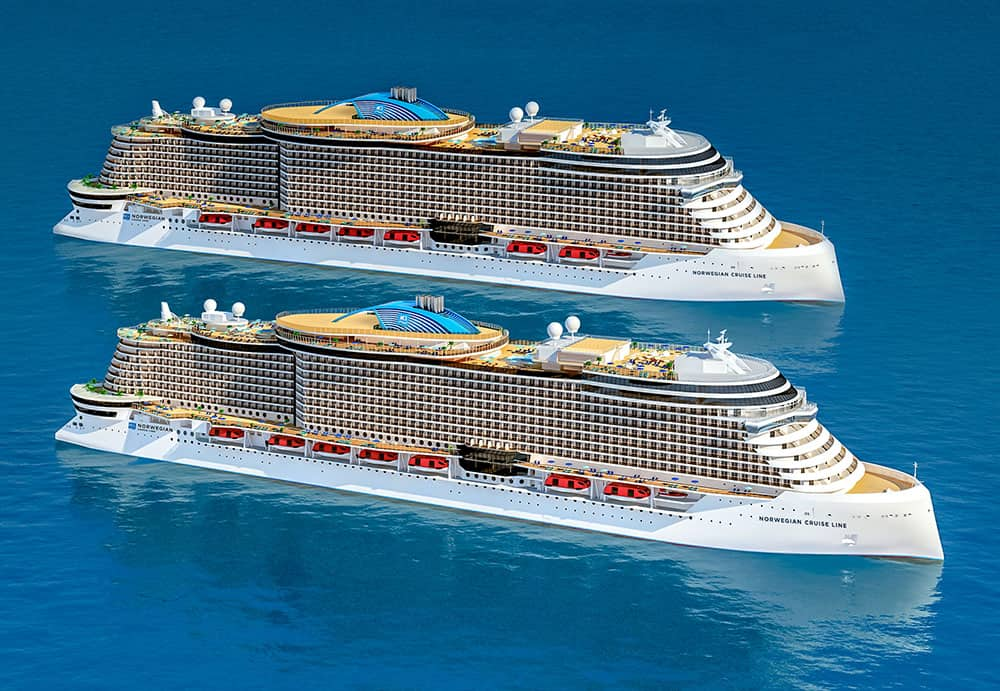 Norwegian Cruise Line Holdings Ltd. (NYSE: NCLH), (together with NCL Corporation Ltd., "Norwegian Cruise Line Holdings", "Norwegian" or the "Company") today announced it confirmed its previously announced options for the fifth and sixth Project Leonardo Class ships with Fincantieri S.p.A. for Norwegian Cruise Line for delivery in 2026 and 2027.
"These orders extend our disciplined and measured newbuild program and strong growth trajectory well into the future and will further drive long-term returns for our shareholders," said Frank Del Rio, president and chief executive officer of Norwegian Cruise Line Holdings Ltd. "Our six-ship Leonardo Class fleet will allow us to broaden our deployment into strong performing and mature unserved and underserved markets and offer new experiences to our guests."
At 140,000 gross tons and accommodating approximately 3,300 guests, this next generation class of ships will build upon the highly successful offering of freedom and flexibility found across Norwegian Cruise Line's fleet, including the most recent Breakaway Plus Class ships, and feature a host of inventive designs that will further elevate its already award-winning guest experience. A priority of the prototype design is energy efficiency, with the aim of optimizing fuel consumption and reducing the impact on the environment. The smaller footprint will also broaden deployment opportunities around the world. Details on the many innovative guest-facing and first at sea features will be announced at a later date.
"Following the Breakaway Plus Class, the most successful class in our Company's history, the highly anticipated Leonardo Class will fuel future growth with exciting and innovative offerings that will meaningfully drive demand from new and loyal returning guests alike," said Andy Stuart, president and chief executive officer of Norwegian Cruise Line.
With today's announcement, Norwegian Cruise Line Holdings has seven ships on order for Norwegian Cruise Line and one for Regent Seven Seas Cruises for a total of eight vessels for delivery through 2027. The Company will take delivery of its newest ship, Norwegian Encore, in fall 2019.
The effectiveness of these orders is contingent on the Company's entry into committed financing arrangements.
About Norwegian Cruise Line
Norwegian Cruise Line is the innovator in cruise travel with a 51-year history of breaking the boundaries of traditional cruising. Most notably, Norwegian revolutionized the cruise industry by offering guests the freedom and flexibility to design their ideal cruise vacation on their schedule with no set dining times, a variety of entertainment options and no formal dress codes. Today, Norwegian invites guests to enjoy a relaxed, resort- style cruise vacation on some of the newest and most contemporary ships at sea with a wide variety of accommodation options, including studios for solo travelers, connecting staterooms, spacious suites, in addition to the exclusive The Haven by Norwegian®, a luxury enclave with suites, private pool and dining, concierge service and personal butlers. Norwegian Cruise Line sails around the globe to nearly 300 destinations, offering guests the freedom and flexibility to explore the world on their own time and experience up to 27 dining options, award-winning entertainment, superior guest service and more across all of the brand's 16 ships.
About Fincantieri S.p.A.
Fincantieri is one of the world's largest shipbuilding groups and number one by diversification and innovation. It is a leader in cruise ship design and construction and a reference player in all high-tech shipbuilding industry's sectors, from naval to offshore vessels, from high-complexity special vessels and ferries to mega-yachts, ship repairs and conversions, systems, and components production and after-sales services.
Headquartered in Trieste (Italy), the Group has built more than 7,000 vessels in over 230 years of maritime history. With almost 19,000 employees, of whom more than 7,800 in Italy, 20 shipyards in 4 continents, today Fincantieri is the leading Western shipbuilder. It has among its clients the major cruise operators, the Italian and the U.S. Navy, in addition to several foreign navies, and it is a partner of some of the main European defense companies within supranational programmes.
www.fincantieri.com