Valentines Day is coming up, which means its time to ask, "What will you be doing?" Or, if you're like me, you might reframe the query: Where will you be going?"
Sure the answer could be your favourite local restaurant, the one where they serve a special holiday menu (with, ahem, a special hiked holiday price). Or maybe you might even indulge a long-weekend getaway to a romantic inn. Sure, there's a time and place to keep things simple, stay close to home, or shell out a few extra bucks to celebrate.
And then, there are those times – say, when it's the dead of winter, and you have the chance to seize a lifetime of memories and adventures with the click of a button – that you may want to consider something spectacular and something that comes with incredible value.
Well, now we're getting warmer.
May I suggest a Valentine's Day cruise for you and your loved one? Should you need any convincing, here are some compelling reasons, activities, as well as vital information to help make your decision. Don't let your destined ship sets sail without you!
Easy and Accessible
By all means, if you have the wherewithal, don't hesitate to book an extended luxury European cruise. Or, for as low as $329*, you could experience a whirlwind excursion on a three-day vacation cruise to the Bahamas! Imagine three days of all-inclusive meals, casinos, dance clubs, and hot tubs, all wrapped into your trip costs. Of course, we're just skimming the surface here. For romantic ideas your partner will remember for a lifetime, read on:
EDITOR'S NOTE
*Please note that prices will vary. For the most up-to-date price, please visit cruise vacations.
The Romance Package
Norwegian offers a huge array of marriage and romance packages, ranging from extreme luxury to sweet indulgence. One of my favourites, because it is so accessible and incredibly thoughtful, is the simple romance package. Imagine sparking wine and chocolate-covered strawberries delivered to your stateroom when you embark, and canapés awaiting your return in the evening. They'll be a dozen red roses delivered, and a romantic dinner for two in La Cucina, Norwegian's critically acclaimed gourmet restaurant. Before you leave, you'll be presented with an 8x10 professional portrait to commemorate your extraordinary lovers getaway vacation.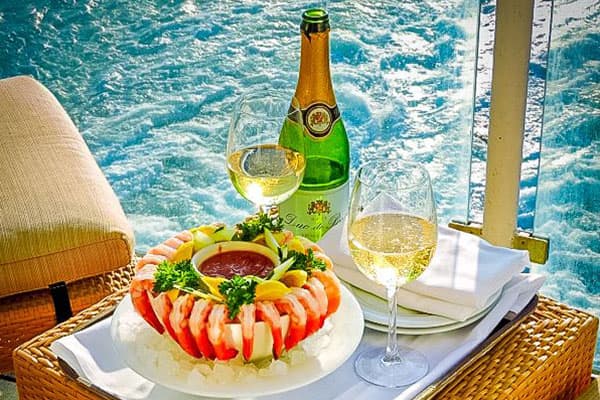 Couples massage
Everyone knows that the couple who plays together stays together. You can both experience an exotic massage treatment in Norwegian's renowned Mandara Spa. The duo massage can be included in one of the romance package offerings or booked separately. Afterwards, you'll be so de-stressed and blissed out, it may be temping to return to the stateroom and have dinner in. But of course, then you might miss out on an evening of wining and dining in grand Norwegian style.
Dinner and Dancing
Norwegian always offers special Valentine dinners in the Main Dining Rooms, but that is just the beginning, you can also make reservations at one of their Specialty Restaurants. Opt for gourmet French at La Bistro or classic Cagney's Steakhouse to name a few. After, why not wander the ship to find the party that's just right for your mood - a quiet night in the lounge, or something evocative such as Norwegian's famously seductive Glow Party.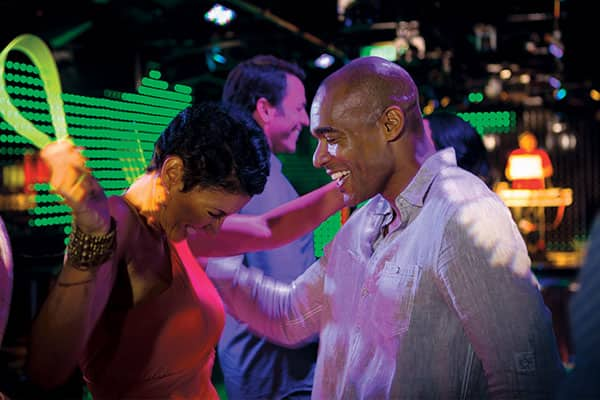 Gifts
Your opportunities for gifting is as endless as the ocean, and when you make a special purchase on a memory making cruise vacation, it's what turns an ordinary offering into a sentimental keepsake treasure. Whether you're interested in perusing Norwegian's luxury (and duty free) shops for a special piece of jewelry, or extending your shopping to a port-city excursion, now is the time to create the story of your life.
Marriage
Maybe this is the moment when you are ready to make or renew your vows. You can have your wedding performed in private by a ship's officer. Like the romance package, you'll receive an array of amenities and attentively detailed offerings to commemorate this special ceremony, including music, flowers, and champagne. Who knows? Maybe you hadn't planned to wed or renew vows until now, and maybe you're still not ready. But my point is, whatever your hankering, or romantic yearnings, chances are, Norwegian Cruise Line has a way of making magic appear. And that's exactly the place I want to be.