The Waterfront Bars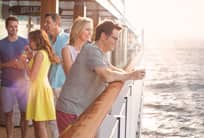 Discover a new bar each day and night along The Waterfront, our revolutionary oceanfront promenade. Exclusively on our Breakaway Class ships.
Maltings Beer & Whiskey Bar
A great place to meet before or after dinner, enjoy great cocktails and conversations along The Waterfront on Norwegian Breakaway.
Shaker's Martini Bar
Become one with the ocean as you sip your delicious martini along The Waterfront on Norwegian Breakaway.
Sugarcane Mojito Bar
Freshly muddled just the way you like, enjoy a refreshing mojito with friends - day or night. Exclusively on Norwegian Getaway.
Sunset Bar
Find your place in the sun at this Key West-inspired bar. Exclusively on Norwegian Getaway.
Pool Deck/Outdoor Bars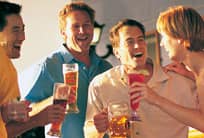 It's always a great time to sit back, relax and throw an extra umbrella in that frozen drink at our pool deck/outdoor bars.
Great Outdoors
Located aft on all Jewel Class ships, this is the perfect place to sip on a margarita as you take in another classic sunset.
Topsiders
Sip on a refreshing drink and grab a bite to eat at this poolside bar and grill.
Waves Pool Bar
Grab a seat or just belly-up and order a cold one to go. Waves is always hopping with activity, so come as you are.
Vibe Beach Club
A private retreat where guests 18 and over can enjoy stunning views, an oversized hot tub, chaise lounges and a full-service bar.
Specialty Bars & Lounges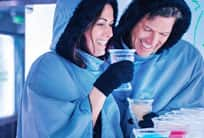 From cigar lounges and bars made of ice to pubs and champagne bars, we have something to titillate every one of your senses.
O'Sheehan's Neighbourhood Bar & Grill
Great beer and tasty bites are on tap 24/7 in this neighbourhood sports pub with flat screen TV's, billiards and darts.
Magnum's Champagne & Wine Bar
Pop the bubbly and toast to the good life at this Art Nouveau-inspired champagne and wine bar.
Svedka & Inniskillin Ice Bar
Inspired by the original ice hotels in Scandinavia, chill out in a 17° arctic chamber where the bars, walls, seats and glasses are all made from ice.
The Humidor Cigar Lounge
A premiere cigar shop and lounge where patrons can light up in classic comfort.
Nightlife & Entertainment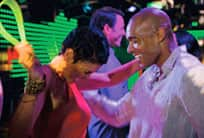 Shake it up or drink it down at any of our electrifying nightclubs or entertainment venues.
Bliss Ultra Lounge
Go clubbing till the wee hours where the glowing walls and bar intensify the energy.
Fat Cats Jazz & Blues Club
Whether you're grooving inside or enjoying a drink outside on The Waterfront, this is the place for some of the best live jazz and blues at sea on our Breakaway Class ships.
Spice H2O
Feel the sizzle of the night dancing under the stars on Norwegian Getaway. Or join the 1980's-themed deck party on Norwegian Breakaway at this adults-only venue.
Spinnaker Lounge
Located on our Jewel Class ships, Spinnaker Lounge's larger-than-life dance floor is the perfect place to bust out some of your signature moves.
Need Help Planning the Perfect Vacation?
1.866.234.7350