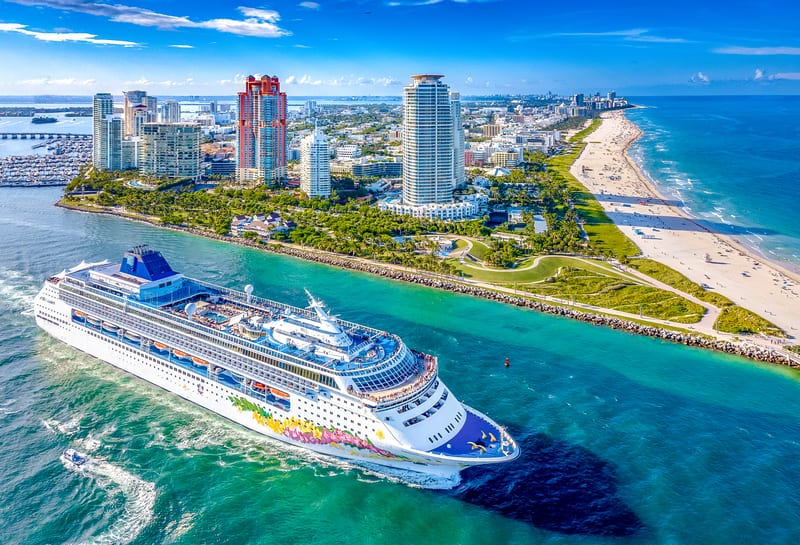 With over 75 upcoming cruises departing from Miami, Norwegian Cruise Line has your vacation covered. Whether you're only able to get away for a weekend or want to spend two weeks or more on vacation, there's a Norwegian cruise for you. Top cruise destinations for ships departing from Miami include The Caribbean, Bahamas, Belize, Mexico, Panama Canal, South America, and even a classic Transatlantic cruise.
When it comes to onboard dining and entertainment, feel free to do what you want, when you want with Norwegian- that's what the Freestyle Cruising experience is all about. Here are the top cruises departing from Miami.
7-Day Eastern Caribbean Cruise from Miami on Norwegian Bliss
With its picture-perfect white sand beaches, turquoise waters, and gently swaying palms — coupled with an abundance of cultural experiences and adventures — it's no wonder The Caribbean is the No. 1 destination for cruise vacations. Take a 7-day cruise to The Caribbean on the brand-new Norwegian Bliss, with its spectacular Observation Lounge that's custom-built for sightseeing. You can duty-free shop until you drop in St. Thomas, U.S. Virgin Islands; dip your toes in the sand at the impressive Virgin Gorda and The Baths in Tortola, British Virgin Islands; or enjoy a Dolphin Encounter, Beach Day & Snorkel in Nassau, Bahamas. You know you want to see Flipper.
6-Day Harvest Caye, Belize & Mexico Cruise on Norwegian Jade
Offering a perfect balance of adventure and culture, the Six-Day Harvest Caye, Belize, and Mexico cruise takes you to bustling Key West, Florida, where you can snap your photo at the Southernmost Point or visit the classic Ernest Hemingway House. Your next destination is Harvest Caye, Belize, voted to be the "Best New Cruise Port" of 2017. This 75-acre island paradise sports a 7-acre beach and a 15,000-square-foot pool, along with snorkeling and zip lining. Next is beautiful Costa Maya, Mexico, where you can explore Mayan Ruins or be pampered on a Mayan Wellness Retreat.
15-Day Transatlantic Cruise from Miami
This classic cruise on every traveler's bucket list is sure to please. The 15-Day Transatlantic cruise on the newly modernized Norwegian Star offers 11 lounges and bars, as well as 15 dining selections for you to enjoy. Besides the thrill of the ocean crossing itself, you'll visit Ponta Delgada, Azores, where you can go wine tasting or visit the botanical gardens and hot springs. Then you'll cruise off into the sunset to five – yes, five – destinations in Spain, including Barcelona, where you'll embark. But before you go, be sure to visit Gaudi's unfinished La Sagrada Familia Church.
12-Day Panama Canal Cruise from Miami on Norwegian Joy
The 12-Day Panama Canal cruise on Norwegian Joy will take you to Norwegian Cruise Line's private island of Great Stirrup Cay, Bahamas, where you can soak up the rays or go snorkeling with them — stingrays, that is. Explore the San Felipe de Barajas fortress in Cartagena, Colombia, then visit the Panama Canal/Gatun Lake the following day for an incredible experience. Go on the exciting Aerial Tram & Rainforest Adventure in Puerto Limon, Costa Rica, then try scuba diving in Roatan, Honduras. Finally, don't forget to check out the seemingly endless array of Mayan ruins in Harvest Caye, Belize, and Costa Maya, Mexico.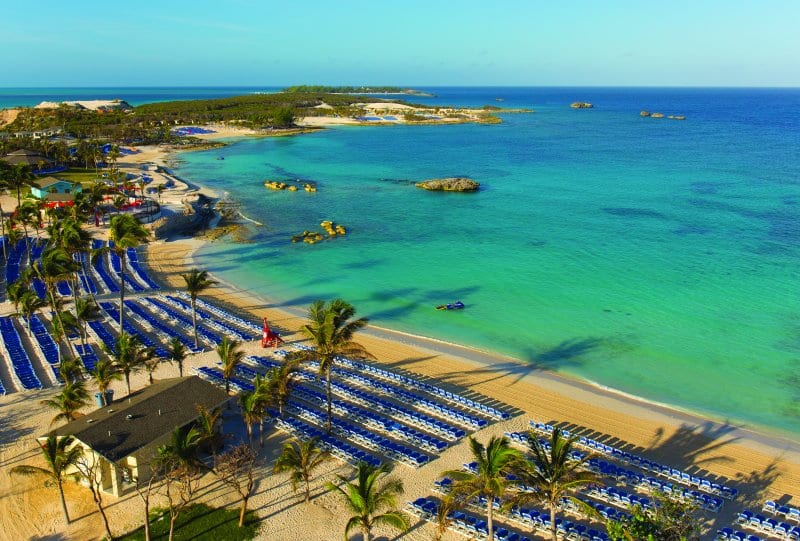 10-Day Southern Caribbean Cruise from Miami on Norwegian Jade
With so many unique countries to visit, it's once again easy to see why The Caribbean is the most popular cruising destination worldwide. The amazing 10-Day Southern Caribbean cruise on Norwegian Jade takes you to a diverse array of destinations that are rich in history. These include San Juan, Puerto Rico; St. Thomas, U.S. Virgin Islands; Basseterre, St. Kitts; Bridgetown, Barbados; Castries, St. Lucia; and Philipsburg, the capital of Dutch St. Maarten. You'll be able to spend your days in port exploring, learning about new cultures, or just having fun on adventures like the Tall Ship Experience in Philipsburg.
Once you arrive back in Miami, consider taking the Miami Hop On Hop Off shore excursion, which ends at either the Miami or Fort Lauderdale Airport. This serves the dual purpose of allowing you to see the sights of Miami while reducing the time you'll spend waiting at the airport. The fun, open-air, double-decker buses will take you on narrated tours of the local highlights, including the iconic, pastel-colored Art Deco buildings in South Beach and the distinct Latin vibe of Little Havana. In fact, there are 25 locations where you can hop on and hop off at your leisure.