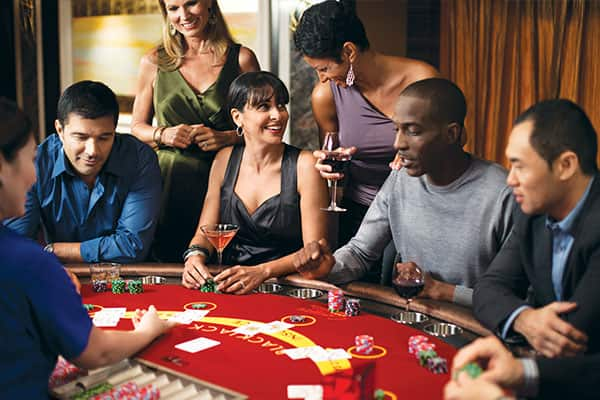 I believe no one goes to a casino wishing for the odds to be against them. Everyone wants to win, whether they are playing competitively or for fun. The Casino on board Norwegian Cruise Line is no exception as every guest wants to go home with ample cash after their cruise.
While walk-on players may be intrigued by the Norwegian casino, it's the Casinos at Sea players who are much eager to start playing as they know they do not always have to win to start reaping rewards. Just by playing, guests will accumulate points, putting them in a tier. Each tier comes with varying benefits as a way for Norwegian to reward the most loyal players. Read below to see how you can get your hands on free luxurious spa treatments, specialty dining, drinks and more!
If you come to Norwegian and opt to become a member of the Casinos At Sea programme, you automatically become a LUCKY player with no minimum point requirement. How do you earn points? Just use your card while playing your favourite poker machine or table game and watch how quickly your points add up. For every $5 coin-in on a reel poker machine and every $10 coin-in on a video poker machine, you'll earn 1 point. If you are fond of Blackjack, Three Card Poker, Roulette and Dice, the reward point earnings will be based on your average bet, time spent on playing and the type of table game. Varied table games come with different game point earnings. When you reach 1,500 points on a 5+ day sailing or 750 points on a 4 day or less sailing , a house drink card is given so you could order drinks (did I mention, they're FREE!) giving you the liquid courage to hit the right pattern in the reel machine. Once you rack up a minimum of 2,500 points on a 5+ day sailing or 1,000 points on a 4 day or less sailing, your Reward Points can be used towards select onboard charges on your final bill. As a LUCKY player, you will receive birthday and promotional offers as well as exclusive embarkation. Want more? Hit 5,000 points and you are now a HOT player. As the name suggests, this tier comes with double the benefit and offers. You will be given 5,000 bonus points on top of what you just earned. You'll also be treated to some delectable stateroom goodies once you get on board. Apart from the complimentary drink card and the birthday and promotional offers, you will get a $75 food and beverage credit which you could apply throughout the current cruise plus art and photo discounts!
Let's elevate your play and move towards the next tier level. Smash 15,000 points and be a GOLDEN player. Including the LUCKY and HOT benefits, this level gives you VIP embarkation and disembarkation, $100 food and beverage credit, $125 spa credit, a premium drink card (where you can order drinks of higher value), double the stateroom goodies, and waived convenience fees. On top of all of that you will be given 10, 000 bonus points too! Meaning more points for you to enjoy free slot plays or more Reward Points to be applied towards your bill!
Now let's kick up the intensity with the envy worthy VIP tier. The point requirements are high, as you need 35,000 points to qualify, but the perks of being a VIP are truly priceless. Your cash advance and convenience fees will be waived. That itself is a great plus! You will receive a $200 dollar food and beverage credit, a $250 spa credit, choice between three goodies sent directly to your room, discounts with select onboard promotional offers, and the Ultra Drink Card. The Ultra Drink Card allows you to order the best drinks from the bar while you play. Excited for the bonus? VIP players are given 20,000 bonus points on top of what they earn.
Reward Points are valid for 18 months and if left unredeemed, will be transferred to your next cruise but wont be used towards your next the tier level. One has to keep in mind that to determine your status, one must earn points within April 1st of the current year until March 31st of next year. At Norwegian Casinos you don't need luck to make you a winner.