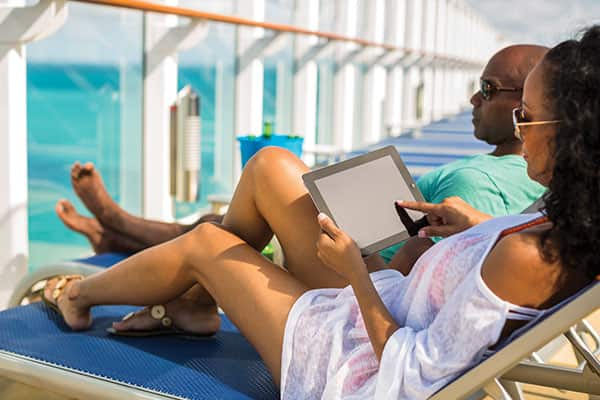 Picture this: It's your first day cruising at sea, and you're somewhere between the Florida coastline and the Bahamas islands. Who's to say exactly what the precise latitude might be? From the perspective of your poolside lounge chair, you're content to gaze at the stretch of sky and aquamarine sea. The city traffic snarls and office paper piles couldn't be further from your mind. You roll over on your stomach, and reach for your phone for a time check – and that's where the trouble begins.
You spy your Facebook app, and maybe you'll just take a quick peak. Before you know it, you've clicked on a story about a bank robber dressed as a giant bunny. You catch yourself lost in your little screen, but it's already too late: You just spied 50 new emails, and while you know it can wait, the stock market margins can't, nor can the stir-fry recipe you were thinking of making for that dinner party next week. Which makes you wonder - did you turn off the kitchen lights, and should you call someone to check?
That little device in the palm of your hand - the one that's so helpful for everything under the sun in our everyday life - has the potential to destruct your holiday serenity. What seems like a little moment here and there to check this or that, is, in actuality, instantly zapping you out of the moment and back into the world from which you came.
The good news is that when you're cruising on Norwegian Cruise Line, it's easy to take a digital detox for the full extent of your holiday - should you so choose. Although a separation from your mobile phone might seem extreme, here are some suggestions to minimize mobile usage while you're cruising, and maximise peace of mind:
Sound of Silence
We all depend on social networks, but now is a great time to ask your friends to support a silent pact. Before you leave for your trip, go beyond a humble brag Facebook post: Share your holiday anticipation and pledge to disconnect from your devices while you're away. Call all hands on deck: No texting or tagging - or any temptation -- to engage you while away. You'll be the object of envy and a role model for your phone-addicted friends.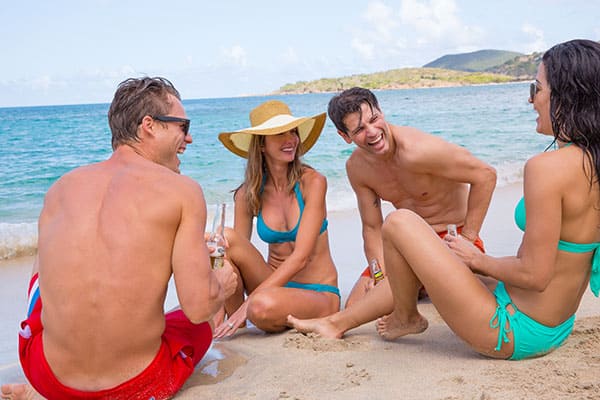 Outsmart Your Smart Phone
If you pack smart for your trip, you won't need your smart phone for anything at sea! Imagine it's 1995: You'd want to bring an old school wristwatch, camera, and (gasp!) a book or two to read. Too much bulk for your onboard baggage? No worries! Norwegian specialses in every convenience you can think of.
Literary lovers can check out the ship library. Instead of snapping phone pics and toting a selfie stick, take advantage of Norwegian's resident photographer. For news junkies who need a fix, Freestyle Daily, the ships' newsletter of activities and events of the day, is the only feed you need to follow during a luxury holiday!
Safety Drill
Before your trip, take a digital detox warm-up. Spend a full day unplugged from all your devices, and focus on staying in the present moment. Our minds are like computers with too many open tabs. When you take a day to fully log off, you'll feel fully rebooted and ready to take on the world, one cruise day at a time!
Reservations
If you have reservations about your digital detox, make reservations at the Mandara Spa! With over 50 kinds of treatments from hot stone massage to salt therapy, a luxurious bodywork treatment puts you in the mood to disconnect, slow things down, and stay out of computer range.
Backup Support
Fear not. We understand that sometimes there's a genuine need to know important happenings in our home environment. For those that need to connect, Norwegian does offer cell service at sea with Freestyle Cellular Service. As for internet service, Norwegian has state-of-art high-powered bandwidth for speedy, smooth surfing.
To stay connected with everything happening on board your cruise, download Norwegian's iConcierge app. Through it you can book excursions, view restaurant menus, peruse daily activities, chat with other cruisers and more.
For even more fun, look for Norwegian's photo kiosks located in various venues on board your cruise ship. Snap a photo of you and your friends and post it on social media or email it to yourself as a nice post cruise souvenir.