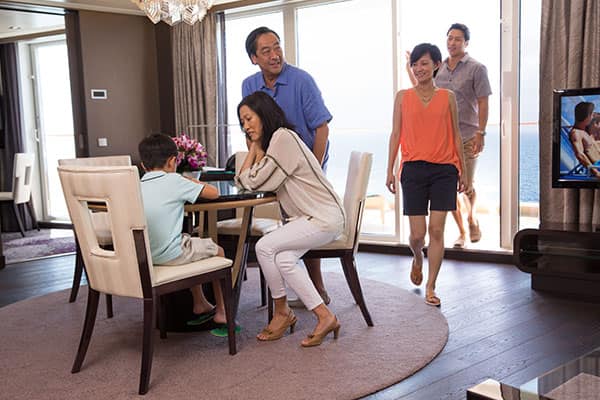 Once you've made the decision to go on a cruise, the fun part really begins as you get to choose your stateroom. Whether you're cruising solo or with family members, or if you're on a budget or want to live large in a suite, no matter what your desires are, here's how to pick your perfect stateroom!
Studio Stateroom - If you are rooming alone
It used to be that cruising solo was expensive as travellers were forced to pay for double occupancy, but no more! Norwegian Cruise Line offers vibrant, modern Studio Staterooms that are perfect for one and are perfectly affordable. They're surprisingly spacious at 100 square feet and are located in a private part of the ship that requires key card access. Studio Staterooms have access to a private Studio Complex and Lounge offering hosted meet and greet parties. How cool is that?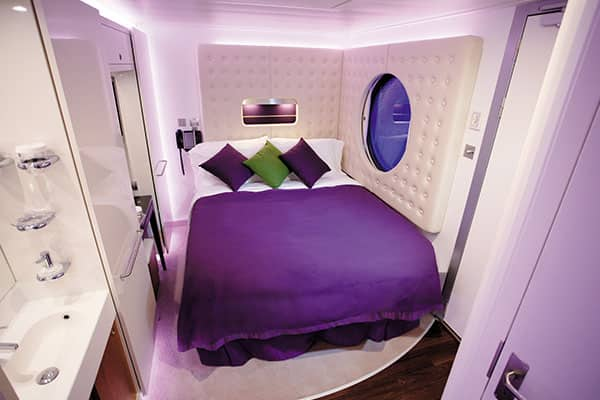 Inside Staterooms – If you're looking for the best value
If you're planning to spend the majority of your holiday exploring the ship and not so much time in your room, Inside Staterooms provide excellent overall value. While they don't offer any windows, they can be well worth the trade off if you're an active cruiser on a budget. Inside Staterooms are about 1.5 times the size of a studio cabin (approximately 142 square feet) and can accommodate up to 4 guests.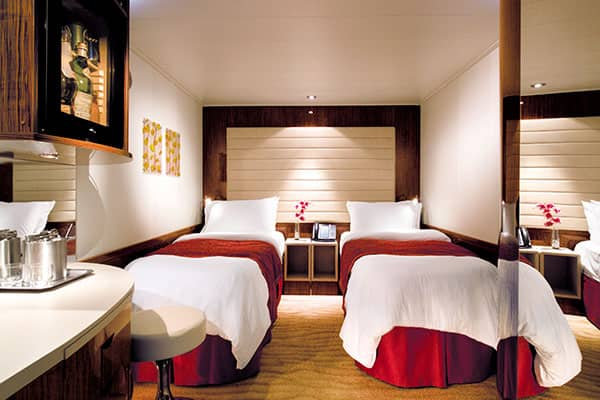 Oceanview Staterooms – A room with a view
If you're concerned about seasickness (I'm extremely prone but have never experienced any symptoms on modern, stabilized ships), you may want to think about getting a room with a view. It's always fun to be able to take in the scenery no matter what cruising destination you've chosen. Oceanview Staterooms are also more affordable than Balcony Staterooms while still offering a view. They're approximately 161 square feet and can accommodate up to 5 guests comfortably.
Balcony Staterooms – Get closer to the sea
Perfect for cruisers wanting to get away from the crowds, Balcony Staterooms offer the chance to enjoy the ocean views and breezes from the privacy of your own balcony, 24 hours per day! Just imagine having coffee or breakfast while being able to enjoy the excitement of discovering a new destination or simply listening to the ocean waves, all from the refuge of your Balcony Stateroom! If you've never enjoyed cruising with a balcony before, I highly recommend this option as it's such a satisfying cruising experience. An average balcony stateroom offers about 205 square feet of living space (216 square feet for family balcony staterooms) while being able to accommodate up to 4. For an extra treat, Balcony Staterooms also offer the Bliss Collection by Norwegian™, which includes memory foam mattress toppers and fine linens.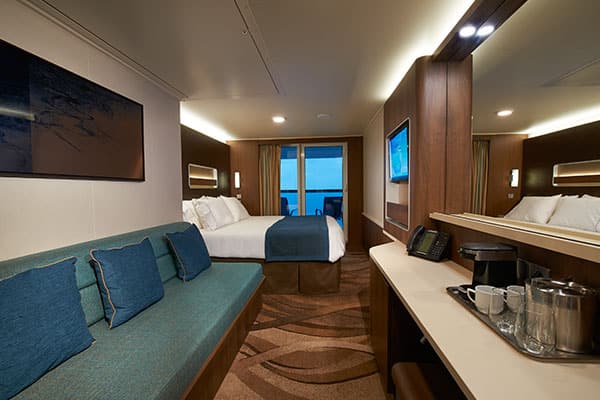 Mini-Suites – If you need more room
If you're looking for a bit more room than you'll get from a Balcony Stateroom, consider upgrading to a Mini-Suite. They're slight larger, but also include a balcony, and will give you extra room to relax and move about. Mini-Suites run about 285 square feet in size and also come with Bliss Collection by Norwegian™ bedding amenities.
Spa Staterooms – If you want to be pampered
Available on select Norwegian Cruise Line ships, tranquil Spa Balcony Staterooms, Mini-Suites and Haven Spa Suites offer all of the benefits of regular Balcony rooms and Mini-Suites, but also come with easy access to the fitness room and Mandara Spa. Spa Staterooms also offer complimentary entrance to the Thermal Spa Suite which includes hot tubs, steam rooms and saunas, as well as tropical rain showers and more. Go ahead, pamper yourself!
Suites – If you want luxury rooms
If you're looking for the best cruising value for your hard-earned holiday dollars, a Suite could be your best option! With Norwegian Cruise Line, Suites are large and luxurious rooms with separate living areas. Ranging from 409-square-foot Family Suites up to a 3-bedroom, almost 7,000-square foot Garden Villa, Suites offer 24-hour butler service, personal escorts so you'll never have to wait in a line when going on or off the ship, and espresso/cappuccino machines. Of course, you'll also enjoy the Bliss Collection by Norwegian™ bedding amenities. Suites are often available with strong promotional offers so cruising in a Suite may not be as costly as you might think.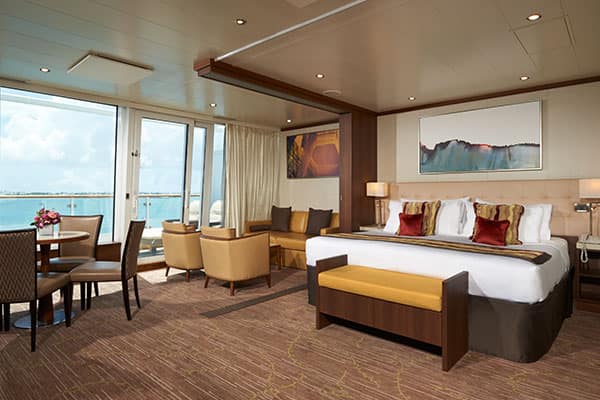 The Haven – If you want luxury rooms and your own private areas
Wow. Just wow. I can't say enough about The Haven, it's like a mini cruise ship within a cruise ship! Imagine even larger and more luxurious staterooms than the Suites (which are already deck out!), plus The Haven includes private venues such as The Haven Restaurant, Lounge and The Haven Courtyard, which offers a private pool and a sundeck, along with a fitness room and a hot tub. Upscale Haven Staterooms range from Deluxe Spa Suites with Balconies at 309-square-feet to 4,252-square-foot 3-bedroom Garden Villas that sleep up to 8. And yes, you also get the Bliss Collection by Norwegian™ bedding amenities. The Haven is the ultimate way to travel with Norwegian Cruise Line.