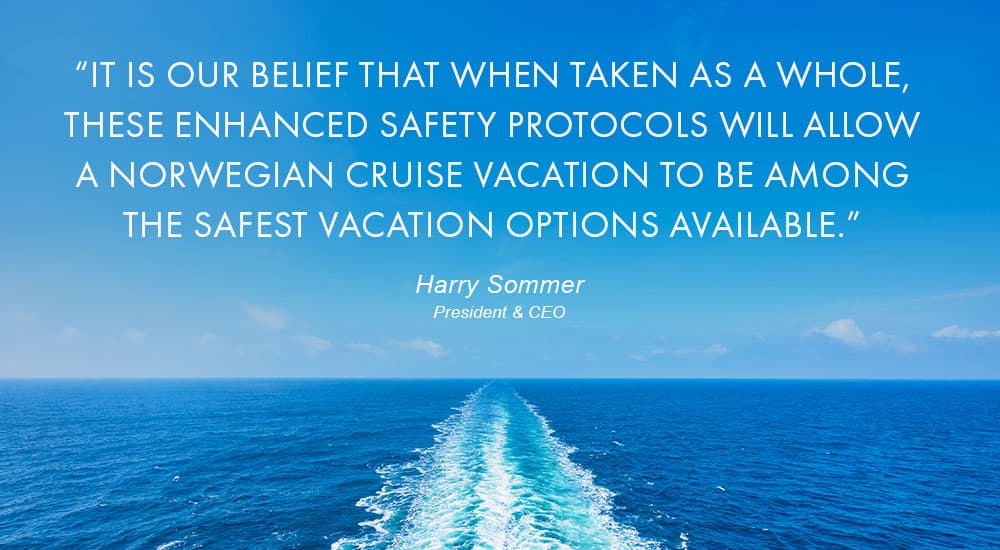 Dear Valued Guest
I hope that you and your loved ones have stayed safe and well during the pandemic, and I thank you for the countless letters and emails of support I have personally received over the past few months. Many of you have kindly asked about the welfare of our ship-based crew and our office-based employees while others are daydreaming along with us about a return to the seas.
Your eagerness to set sail with us again has come across loud and clear as has your interest in learning more about how the cruise experience will change once we resume operations.
Please know that during our cruise line's more than 53-year history, the safety, health and well-being of our guests, crew members and the communities we visit have been and continue to be our #1 priority ━ both on board and on shore. Before we all recognized the magnitude of the global pandemic, we put in place some of the most stringent health and safety measures across the industry. And as we prepare to return to operations, it is important now more than ever to further develop our health and safety protocols.
Accordingly, we have spent the past months working with experts in their respective fields, world-leading safety vendors and our internal safety and medical teams, to ensure your safety so that you can explore the world with the ultimate Peace of Mind. We continue to work closely with the U.S. Centers for Disease Control and Prevention (CDC) and are developing even more stringent protocols to meet and exceed their standards once those have been finalized.
We are excited to share recent enhancements to our health and safety standards that are extraordinarily robust ━ far too detailed to fully list in a letter. It is our belief that when taken as a whole, these protocols will allow a vacation with Norwegian Cruise Line to be among the safest vacation options available. For those interested in reading through the details, and we encourage you to do so. Please click on the links below that detail our 6 key areas of focus:
ENHANCED SCREENING PROTOCOLS
INCREASED SANITATION MEASURES
ALL-NEW AIR FILTRATION
RESPONSIBLE SOCIAL DISTANCING
ENHANCED MEDICAL FACILITIES
EXPANDED SHIP TO SHORE SAFETY
Read more about our updated safety protocols
Moving forward, we expect to implement additional safety measures as we continue working with the CDC, global health organizations and domestic and international government agencies.
As I mentioned earlier, your health and safety are our top priority. We commit to taking every precaution to protect you, always placing the highest value on your well-being over profits so you can continue to explore the world with those you love, safely.
We would love your feedback on these new protocols as well as other measures that would provide you additional Peace of Mind, so please send your thoughts to peaceofmind@ncl.com. I look forward to your suggestions!
We appreciate your support and look forward to welcoming you back on board soon to explore the world in comfort and safety. Together, we'll return to our favorite place ━ the ocean. In the meantime, stay safe and be well.
Sincerely,
Harry Sommer,
President & CEO