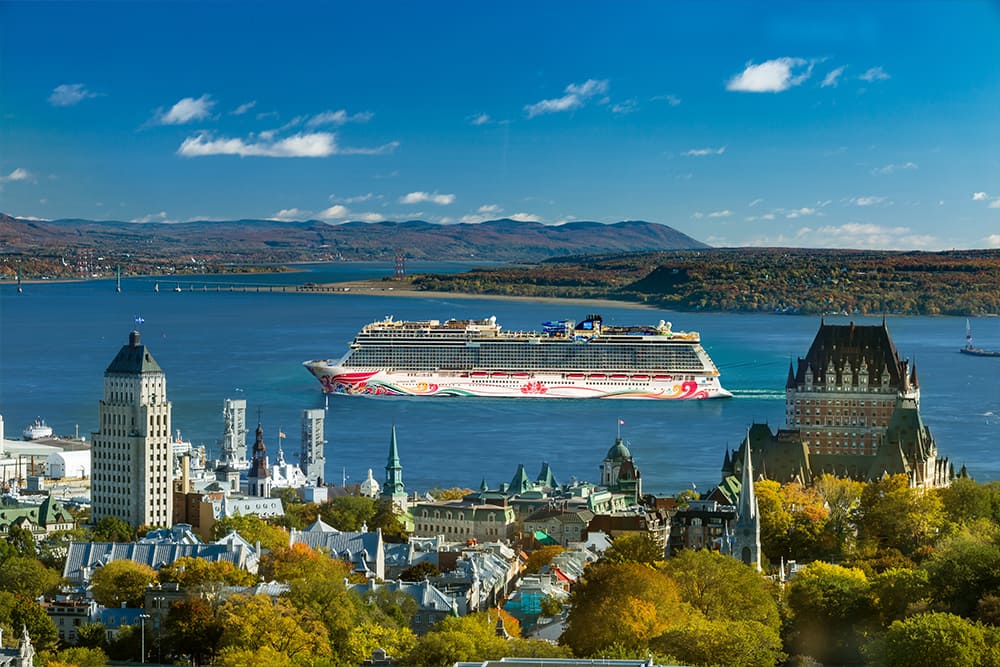 When it comes to fall colors and leaf-peeping, there's nowhere better than New England. If you've dreamed of visiting New England to see the fall colors yourself, why not do it on a cruise? Norwegian offers seasonal New England cruise vacations to prime viewing spots. Rather than leaf-peeping in only one destination, you'll experience the best of New England and Canada. Here is what you need to know about 2023 Canada and New England cruises on Norwegian.
Ready to start planning? Explore all Canada and New England cruises.
Canada & New England Cruise Ports
Our 2023 Canada & New England cruises depart from the following ports:
Baltimore, Maryland
Boston, Massachusetts
New York, New York
Quebec City, Quebec
Depending on the itinerary you choose, ports of call could include:
2023 Canada & New England Excursions
Whether you want to see the fall foliage, search for other scenic views, or devour some traditional New England eats, you'll find something for everyone in your travel group.
Acadia National Park
Acadia National Park offers some of the best views and autumn colors. If you want to visit Acadia National Park, choose a cruise that stops in Bar Harbor, Maine. Did you know Acadia National Park has 57 miles of rustic carriage roads built by John D. Rockefeller, Jr.? You can even book a shore excursion to tour the national park on a carriage ride. Acadia has numerous iconic sights, including Cadillac Mountain.
Another option is to book the Ultimate Island Experience tour to see Acadia's best sights, plus Seal Harbor. Seal Harbor is on Mount Desert Island and one of the last bastions of old money and Victorian splendor. Next, enjoy a three-course luncheon at one of Bar Harbor's best restaurants. Before heading back to the ship, pass Martha Stewart's Seal Harbor Estate, once owned by Edsel Ford. You'll also see where John D. Rockefeller's massive home once stood and where he created the plans for the carriage roads.
Fortress of Louisbourg
If you have a day in Sydney on Cape Breton Island, consider a tour to the Fortress of Louisbourg, the largest fortified town outside of Europe. You'll start the day with a quick introduction to the port of Sydney and then drive through the historic North End before visiting the fortress.
New England Food Tours
Part of the fun of a Canada and New England cruise is trying all the delicious eats from these ports! One option is the Taste of Halifax tour, which introduces you to some of the best foods in Halifax. You'll also learn about local cider and wine.
You can't come to New England without experiencing a traditional Maine lobster bake that includes New England clam chowder, steamed mussels, and more..
Brewery Visits and Pub Tours
In Saint John, you can visit Moosehead Brewery. Sample several of their signature beers and then watch the fascinating phenomenon known as Reversing Rapids. If your cruise stops in Sydney, you can sample beers in the three best downtown pubs, each offering an excellent selection of locally brewed beers and their imported favorites.
Captain Cook's Trail
If you want to learn more about the famous explorer Captain Cook, book the Captain Cook's Trail excursion when visiting Newfoundland. You'll travel along the same route he took over 250 years ago before he went on to discover New Zealand, Australia, and Hawaii.
Fundy National Park and Hopewell Rocks
If you visit the Bay of Fundy, consider a tour to Hopewell Rocks. You'll experience some of the world's highest tides and incredible scenery. You'll travel along the coastal communities in the region and pass through Fundy National Park, where you might even see a moose! The main attraction of this tour is Hopewell Rocks. They are flowerpot rocks formed by the clash of continents and have been further molded by melting glaciers and the world's highest tides.
Are you still researching Canada and New England cruise options? Be sure to sign up for Norwegian's cruise deals. You'll get the latest specials and offers delivered to your inbox. When you're ready to book that 2023 cruise vacation, you know you'll be getting the best deal available.