If you're looking for an exclusive getaway this year, book your 2023 Harvest Caye cruise with Norwegian. All you need to do is climb aboard one of Norwegian's Caribbean cruise ships and start relaxing. There's nothing you won't fall in love with here, from the pool with a bar and a cascading waterfall to the luxurious beachside cabanas. It's like a little slice of paradise you won't ever want to leave.
About Harvest Caye, Belize
Harvest Caye, is a Norwegian exclusive destination located in southern Belize. This is the perfect cruise vacation if you're looking for a wildlife experience because there are plenty of exhibitions to explore while you're on the island. Additionally, it only takes a few minutes to walk to most places on the island, but there are golf carts you can rent to get you around the area even quicker.
No matter what time you come throughout the year, you can experience warm, summer weather. Typically, January through May are the island's dry months, while you may experience more rainy weather with high humidity in the summer and fall. October is usually the peak month for rain and humidity. But don't let that steer you away from enjoying a cruise vacation during this time of year.
What To Know Before Visiting Harvest Caye
Some helpful information about this year's cruise to Harvest Caye is the ship will dock at the Harvest Caye Port upon arrival. When you're at your destination, you can come and go between the ship and the shore. You will be in the Central Standard Time zone, and the local language is English. To prepare for your vacation, consider converting some of your money into Belizean dollars (BZD), but if you don't have time or forget, the island widely accepts the U.S. dollar.
For additional information, be sure to review the information provided for your particular adventure when you purchase the tickets.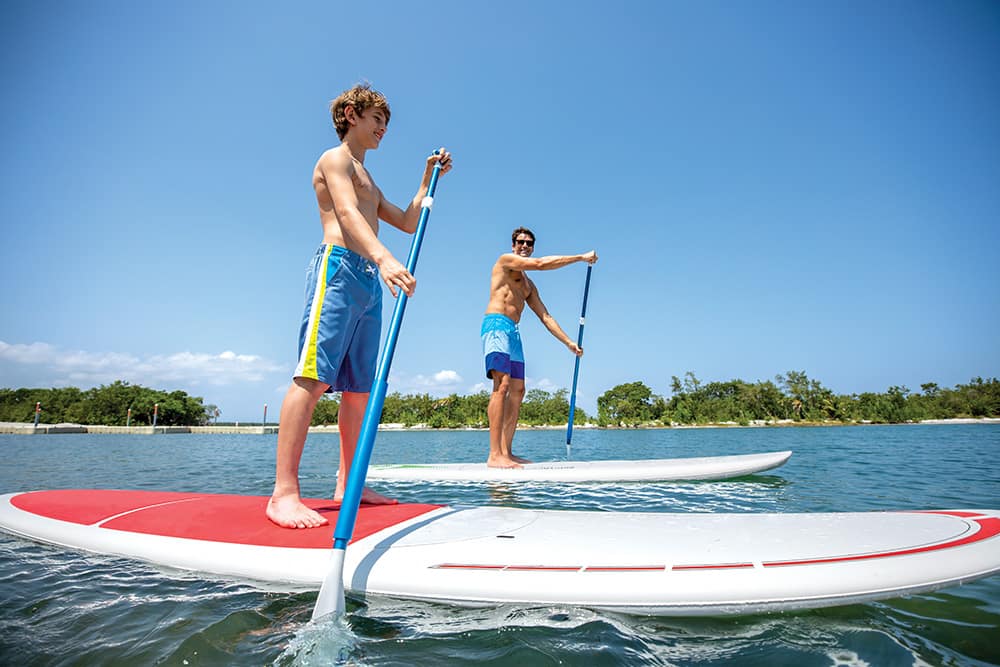 Activities to Enjoy on Harvest Caye
Norwegian has planned out your vacation so it can be jam-packed full of exciting adventures, like family activities. Or, you can pick and choose your participation and prioritize relaxing. Either way, you can get to know the island at a leisurely pace or dive right into the shore and wildlife activities that eagerly await you.
Over on the shore, you can find much to do that involves dipping your toes - and your whole body - into the water. For example, you may have shore excursions like snorkeling in the Belize Barrier Reef or going on a wave runner tour. If you choose to snorkel the barrier reef, you will be exploring part of the world's second-largest living barrier reef: the Mesoamerican Barrier Reef System. It's a great activity for beginner and intermediate snorkelers because you begin in shallow waters.
But if you're up for something with a faster pace, the wave runner tour lets your race through the Placencia Lagoon. Before you get on the wave runner, you have to watch a tutorial video, so this is also a fun activity for beginners because you don't need that much prior experience.
While you may love the water adventures, there are plenty of wildlife exhibits and historical tours you can attend to learn more about the beautiful island. One exciting adventure you can explore is the ancient Mayan archaeological site, the Mayan Ruins & Spice Farm. Here, you may spend up to six hours learning how the island cultivates and harvests its cultural spices. When you depart the port space, you will take an air-conditioned bus ride to the site, called Nim Li Punit or "Large Hat" in the Mayan Kekchi language.
Other exhilarating adventures include exploring the salt water by joining the Lagoon Wildlife & Mangrove Estuaries tour, sailing through the air with the Flighthouse Zipline Adrenaline Package, floating down the river on a Rainforest River Tubing Adventure, or going parasailing. The zip line is a 136-foot high thrill ride featuring 1,300 feet of zip lining across the island. The ride is exhilarating, with an incredible view you won't forget. In fact, you may want to do it a few times before you leave.
While there are plenty of adventures to get up to on the island, you might want a slow afternoon or an entire day to explore other parts of the island by shopping. There are many popular brand-name and local shops with Belizean crafts that you can browse and marina restaurants to try in Harvest Caye. And don't worry if swimming in open waters isn't your thing, because there's a swimming pool and a beach with lounge chairs to soak in the warm sunshine and salty air. If you have smaller kids, you can check out the the splash pad.
So, what are you waiting for? Book your dream vacation to our serene island getaway and enjoy all Norwegian's 2023 Harvest Caye Cruises have to offer. Don't forget to sign up for our email list, so you can get the best cruise deals and special offers available! Are you planning a cruise to Harvest Caye? Tell us in the comments!