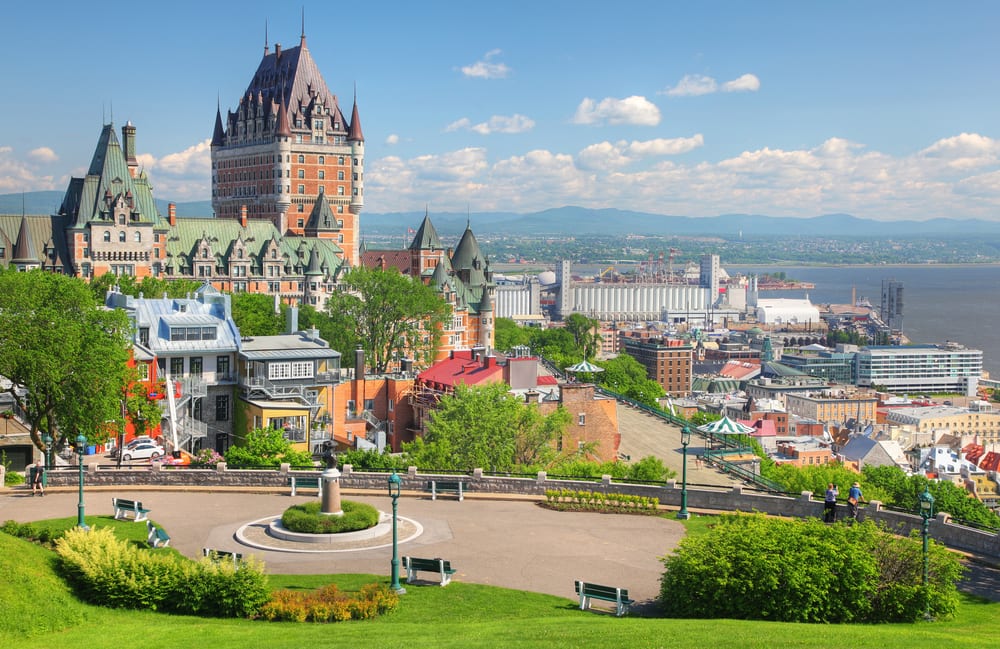 Dream of going to Europe? What if you could get the Europe experience while staying in North America? Québec City, a UNESCO World Heritage site, has to be the most European-like city in the U.S. and Canada – it's full of charm, romance, beautiful architecture, along with shops and très magnifique restaurants – and it's so close, just so close.
Do you need to know how to speak French? Non. This walkable city welcomes everyone at any time of the year, so it's no wonder Québec City is the top destination to visit in Canada according to recent Travel + Leisure World's Best Awards. Let's take a look at the Top 4 Things to do in Québec City on a Canada cruise.
Ready to start planning? Explore all Canada cruises.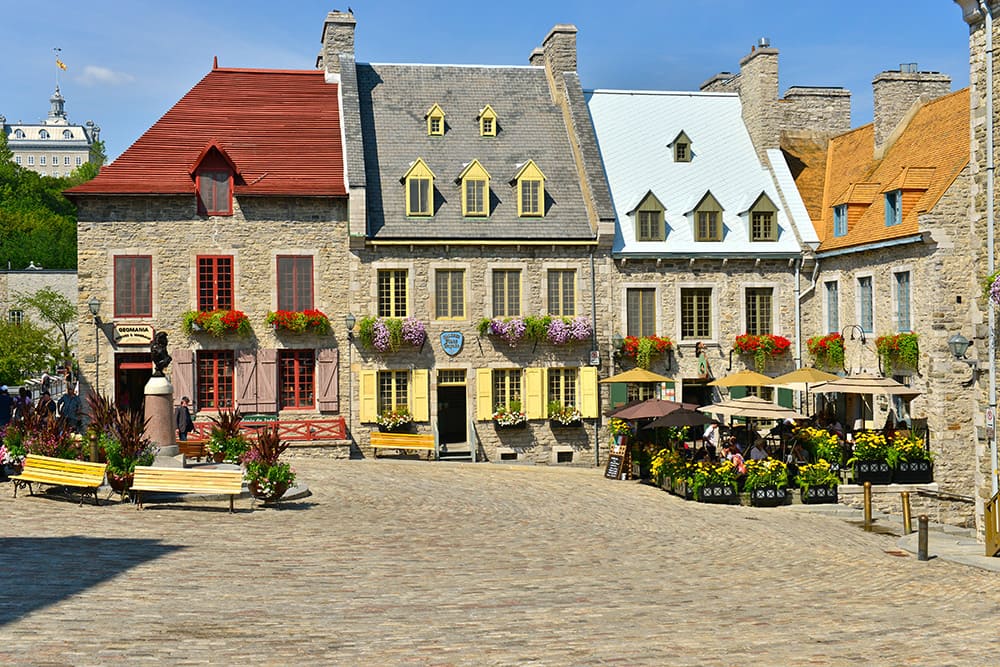 Old Town Québec City
The best way to explore Old Town Quebec City is by strolling along the cobblestone streets where you'll find charming boutiques and colorful specialty shops, including the popular La Boutique de Noël de Québec, along with busker-style entertainment, and an array of outdoor cafes and restaurants. Lower Town is home to the Place-Royale historic square, the birthplace of the first Québec settlement. Ride the funicular to Upper Town to see sites such as the iconic, castle-like Fairmont Le Château Frontenac overlooking the St. Lawrence River and the Laurentian Mountains. Take an exhilarating helicopter ride over Québec City or join in on the fun of a Twilight Ghost Tour of this historic city.
RELATED CRUISES:
7-Day Canada & New England from Quebec to New York
10-Day Canada & New England from Quebec to New York
10-Day Canada & New England from Quebec: Boston & Martha's Vineyard
Île d'Orléans
Take a scenic drive across the bridge to Île d'Orléans where you'll discover tranquil rural Québec almost as it was in the 1800s. You'll see picturesque villages and summer heritage homes, along with a huge selection of artisans producing everything from wonderful textiles to exquisitely detailed quilts. Foodies can savor the flavors at any number of quaint farm stands offering locally produced products such as chocolat, fromage, vin et cassis (chocolate, cheese, wine, and blackcurrant).
But, one of the most sought-after local delicacies for Canadians and visitors alike is the coveted Québec maple syrup. And there's no better way to learn about the unique maple production process than by visiting a traditional cabane à sucre (sugar shack). In fact, you can visit the Sugar Shack where you'll be treated to an authentic Québecois meal, complete with live music and entertainment, and the main event: a classic Québec maple taffy pull, where this sweet treat will be created right before your very eyes. Très délicieux! And of course, you'll find a selection of easy to pack maple products making for perfect souvenirs and to make everyone jealous of your incredible cruise vacation to Québec.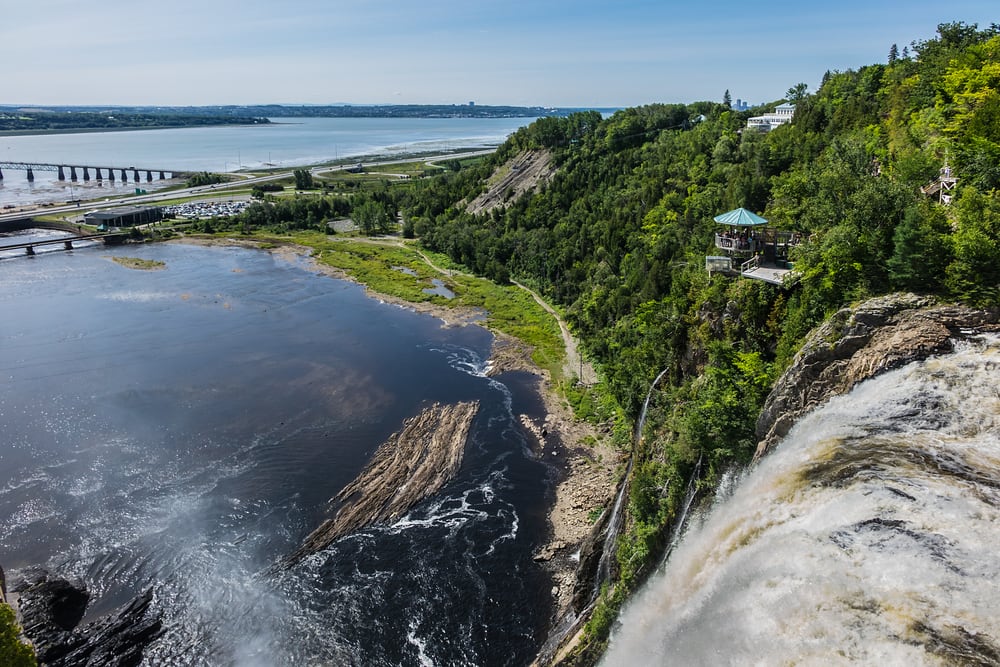 Parc de la Chute-Montmorency
A short drive from Québec City will show you Mother Nature at her best. The spectacular Montmorency Falls - Parc de la Chute-Montmorency - a waterfall 98 feet taller than Niagra Falls, roars from above as it drops into the St. Lawrence River below. This interactive experience - if you so choose - is perfect for getting that adrenaline rush: you can ride the gondola to the top; go across the harrowing suspension bridge; walk up the scenic hillside stairway; ride a double zip line, or follow along one of three heart-pounding via ferrate (rock face climbing) routes. Or you can simply view the falls from the visitors center! There's also an 8-mile guided cycling tour to the falls.
Sainte-Anne-de-Beaupré Shrine
Further up the St. Lawrence River past Parc de la Chute-Montmorency, you'll come across the oldest pilgrimage destination north of Mexico: the Sainte-Anne-de-Beaupré Shrine. With a history dating back more than 350 years and hosting nearly 1 million visitors annually, you don't have to be religious to appreciate its' medieval architecture, along with the beautiful paintings, sculptures, and the 200+ stained glass windows.
You can easily combine a visit to the Sainte-Anne-de-Beaupré Shrine with seeing Parc de la Chute-Montmorency, as they're along the same route, plus you'll get the added bonus of stopping at the Albert Gilles Copper Art Museum, a master craftsman who has produced copper works for the Sainte-Anne-de-Beaupré Shrine itself, along with famous clients like Walt Disney and Pope Pius XII.
Whatever you decide to do during your Canada & New England cruise vacation in Québec, be sure to take advantage of a pre- or post-cruise stay to ensure you've seen it all. And sample everything and anything maple; classic Québec poutine – a rien de mieux (nothing better) combination of French fries, cheese curds, and brown gravy; along with beaver tails, a kid-friendly pastry treat shaped like a, you got it, a beaver tail. If you don't have time to do it all on your first trip to Québec, c'est la vie, but you're always welcome to come back and visit any time because after all, your little bit of Europe in Québec is right next door. It's close, just so close.
EDITOR'S NOTE: This article was originally published on July 5, 2018. It has been updated to show related content and itineraries.