If you have been searching for an exotic, luxurious, and unforgettable cruise vacation, then you may have decided that a cruise to Bermuda checks all the boxes. This British Island Territory is famous for its pink-sand beaches, tropical weather, and unique blend of both British and American cultures. Whether you want to snorkel through a shipwreck, soak in the country's history, or go scuba diving in search of long lost treasure, Norwegian's Bermuda cruises give you the opportunity to do all of this and more.
As your cruise ship pulls into Bermuda, you will disembark and step out onto the Royal Naval Dockyard, located on the west end. From here, you can choose from a variety of entertainment options that range from cultural and historical attractions to water-related adventures or memorable dining experiences.
Planning your to-do list ahead of your cruise will ensure that you make the most of your time while in port. Here are nine ways to spend the perfect port day in Bermuda:
1. Step into History at the Bermuda National Museum
If you are a history buff, you'll appreciate Bermuda's rich history that spans many wars. Visitors to the Royal Naval Dockyard who are intrigued with the area's past often head over to the Bermuda National Museum. Here, more than 30,000 objects can be found in a variety of collections that range from ship models and maritime artifacts to photographs, oral testimonies, boats, archeological items, and more.
2. Snorkel to a Shipwreck
If adventure is calling you, you'll want to book the Shipwreck & Coral Reef Snorkel Combo early when booking your Bermuda cruise with Norwegian. During this excursion, which lasts about three and a half hours, you'll set sail on your snorkel boat for the "Constellation" shipwreck that sits in 20 feet of water and is located about 6 miles off Bermuda's north coast. This excursion also includes a trip to the "Montana" shipwreck, in addition to a secluded and breathtaking nearby coral reef.
3. Have a Breathtaking Golf Experience
If you long to see panoramic views of stunning scenery and love to play 18 holes, the Belmont Hills Golf Course excursion shouldn't be missed. The world-class design and layout of this course is challenging for players of all handicaps and includes a variety of water hazards, bunkers, multi-tiered greens, and more. Lasting just over six hours, Belmont Hills Golf Course excursion provides a perfect opportunity to spend your Bermuda port day surrounded by nature.
4. Explore the Bermuda Triangle
If you are searching for an entertainment option that's different from all the rest, the Bermuda Triangle Evening Cruise should be at the top of your list. Lasting just over one and a half hours, this cruise takes you to the infamous Bermuda Triangle. You can even see what is happening below the water's surface thanks to a glass-bottom boat designed to illuminate the ocean. Learn more about the mystery of the Bermuda Triangle by listening to your captain's commentary as you sip on complimentary soft drinks.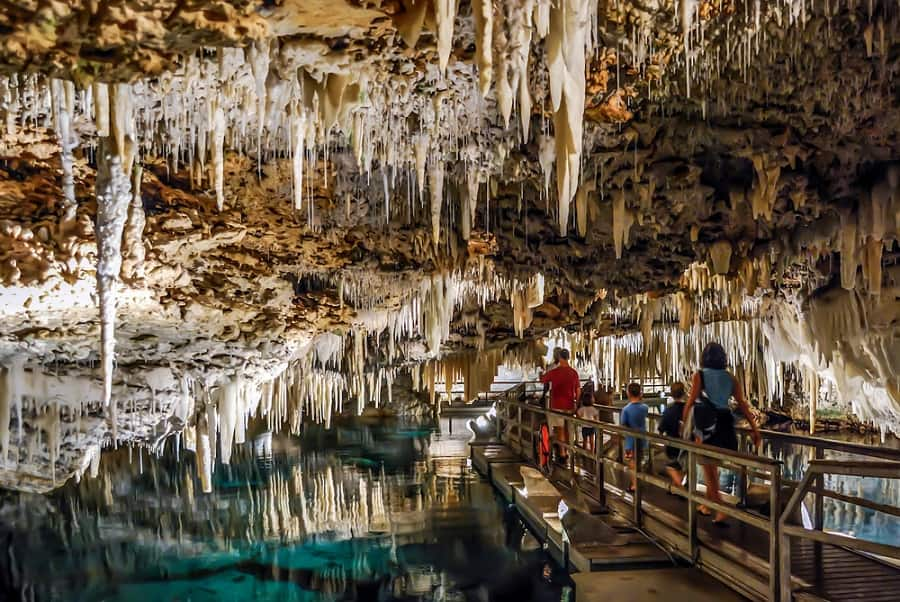 5. Go Deep into the Crystal Caves
One of the most popular port-day excursions in Bermuda, Caves and Waves will bring you directly from the pier to St. George's Island. Once there, you will have the chance to explore underground, where you will find a crystal-clear lake and caves filled with white stalactites. Above ground, you can stroll through beautiful gardens, a gift shop, and the Clearwater Beach Triangle, which comprises six interconnected beaches.
6. Connect with a Dolphin
Truly a once-in-a-lifetime experience, the Bermuda Dolphin Experience offers quality time with a dolphin in both shallow and deep water. A portion of this two-hour excursion includes guests sitting on a submerged platform where the dolphins swim up into their laps. The purchase of this excursion also includes admission to the Maritime Museum.
7. Relax with an Island Bus Drive
If you would rather relax and spend the day off your feet, the Bermuda Island Drive by Bus tour is an ideal option. Lasting about four and a half hours, this tour covers the entire length of the island. You will board a bus just after disembarking from your ship, head toward the pink sand of the South Shore beaches, pass over the Somerset Drawbridge, stop at the Gibbs Hill Lighthouse, and pass by the Botanical Gardens before reaching Hamilton, Bermuda's capital city.
8. Sail to Famous Homes in the Area
For those who long to see the sights, the Famous Homes & Hideaway Cruise Tour offers a unique excursion opportunity. This water-based tour sails on the peaceful blue waters of Bermuda and takes guests past homes of the rich and famous that are only accessible by boat. As you pass "Millionaires Row," you'll see homes that belonged to Michael Douglas and Catherine Zeta-Jones, John Lennon, and more!
9. Explore Local Artists
If you are a creative at heart, you'll want to stop by the Jon Faulkner ceramics gallery located at the Dockyard. In addition to browsing stunning ceramic pieces from local artisans, you can also opt to take part in the "paint your own pottery" experience. Prices to paint your own pottery range from $18 to $54 dollars, and items can easily be shipped back to your home for your convenience.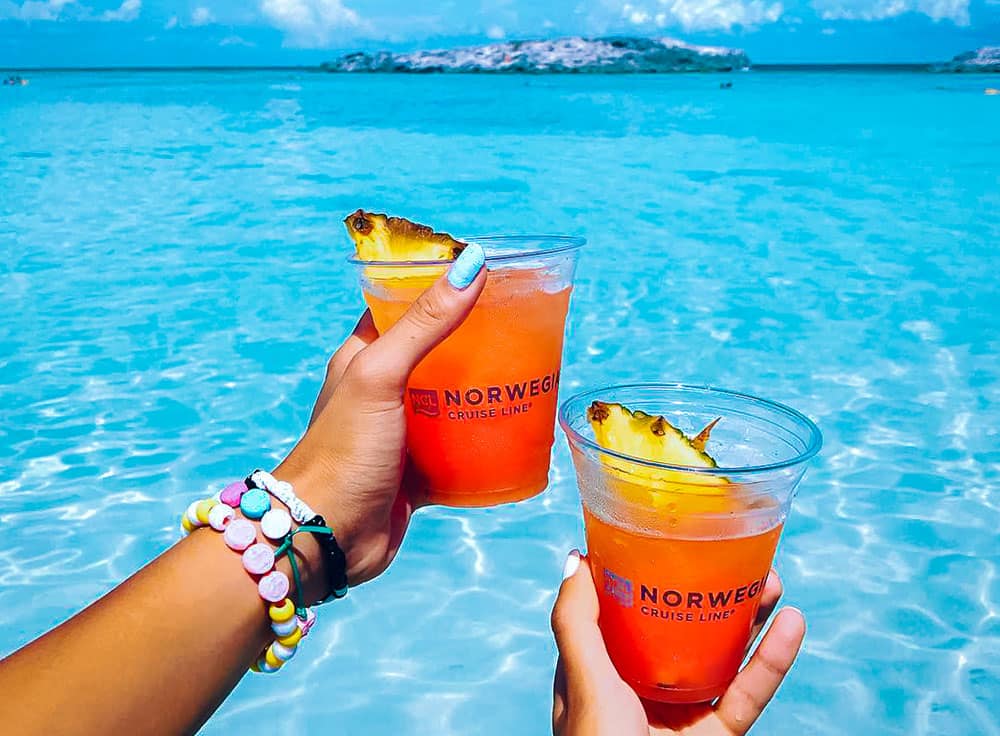 As you see from this sampling of activities and excursions, Bermuda offers something for everyone. Whether you want to relax or spend the day on an unforgettable adventure, you'll find exactly what you need on your Norwegian Cruise Line vacation. View other excursions and entertainment options and start planning your Bermuda cruise vacation with Norwegian today!