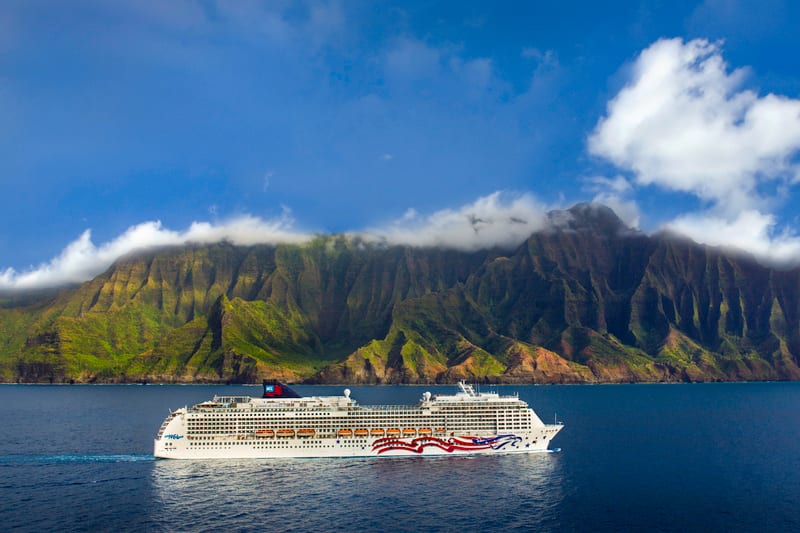 Pride of America is the only Norwegian Cruise Line ship that sails throughout the year from Honolulu, Hawaii. If you're considering a Hawaii cruise vacation with Norwegian, you'll most likely be sailing on board Pride of America. Even though your focus may be the islands themselves, you'll still find plenty to keep you entertained on Norwegian's Pride of America cruise ship as you sail along the Napali coast.
Review this cruise guide to help you enjoy the best of Pride of America.
Prêt à planifier votre croisière ? Explore all Pride of America cruises.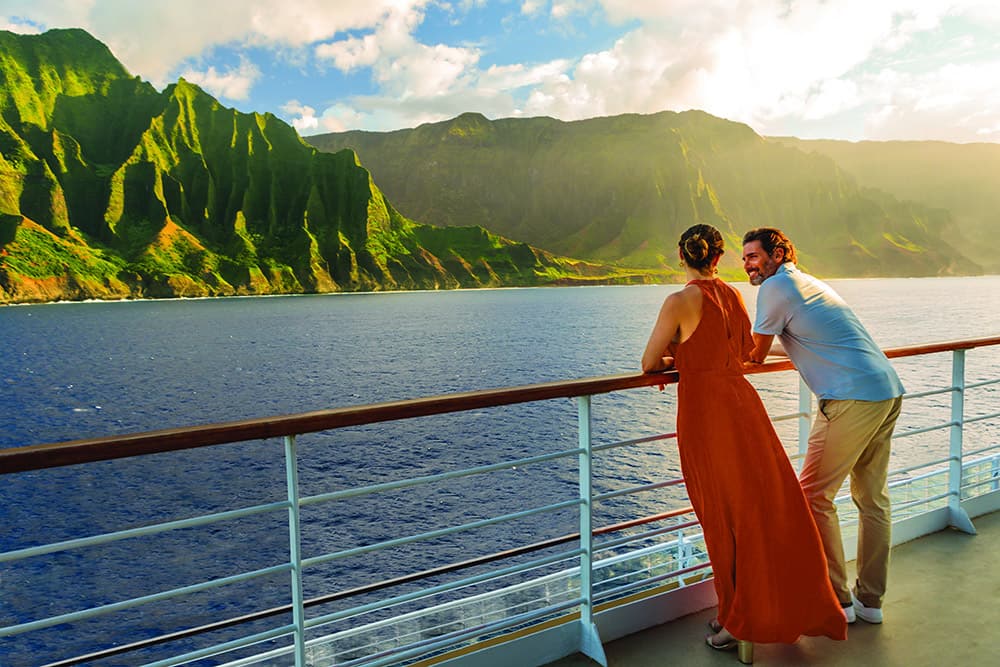 Grab a Drink at One of the Bars and Lounges
Get into the aloha spirit with a drink at the Aloha Lanai Bar, offering plenty of Polynesian drinks, including Mai Tais and Surf Rider drinks. At the Waikiki Bar, order a classic Mai Tai or Polynesian. Pink's Champagne Bar is another destination. The Royal Hawaiian Resort in Waikiki, often referred to as the "Pink Palace," inspired Pink's Champagne Bar.
Take a stroll around other iconic destinations in the United States without ever leaving the ship. Have a drink in the Gold Rush Saloon, relax in the Key West Bar & Grill, sip a glass of wine at Napa Wine Bar, or experience Mardi Gras at the Mardi Gras Cabaret Lounge & Nightclub.
Enjoy Ample Complimentary Dining
You definitely won't go hungry on Pride of America. Choose from the two main dining rooms, several casual cafes, grills, and on-the-go options. Some not-to-miss complimentary dining options include Cadillac Diner, where you can enjoy some classic Americana dishes and milkshakes, and East Meets West, perfect for when you're craving Asian cuisine.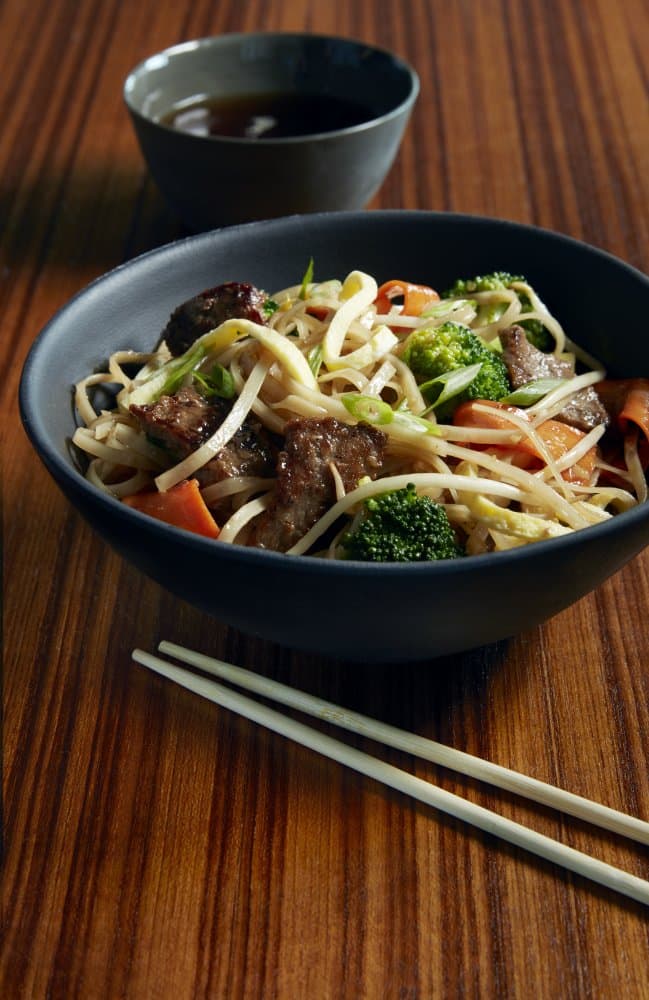 Book a Specialty Dining Reservation
If you want a special night out, consider dinner at one of the specialty restaurants on Pride of America. At La Cucina, enjoy Italian classics made with the freshest ingredients. Order iconic dishes like veal scaloppini or spaghetti carbonara. Be sure to save room for the homemade tiramisu.
Cagney's Steakhouse serves up the best Certified Angus Beef steaks. Order the Parmesan-dusted truffle fries and made-from-scratch jumbo lump crabcakes. Another steakhouse option is Modern Churrascaria, our modern Brazilian churrascaria. Start your meal with a salad from the salad bar with 43 different items. Next, the servers will offer you 12 different types of slow-roasted meats. You definitely won't be hungry after this meal!
Jefferson's Bistro is the signature spot on Pride of America for those who prefer French cuisine. This fine dining experience will make you feel like you're in France with elegant interior décor, white linen tablecloths, and high-end service.
Watch a Musical
On Pride of America, live entertainment includes a musical, "Lights, Camera, Music!" This fun production pays tribute to the greatest moments in the Hollywood music scene by bringing some of the best cinematic classics to life. Enjoy everything from 1940s glam to the Moulin Rouge can-can dancers.
Book a Spa Treatment
Norwegian's Mandara Spa is the spot to be if you want some well-deserved pampering on your cruise. This full-service beauty salon has it all. Get a manicure and pedicure, book a relaxing massage, or indulge in a body scrub. You can book a range of other treatments, from teeth whitening to cellulite reduction. You can also schedule an appointment for nutritional consultation, a personal training session, and more.
Play Some Games
Whether you're a kid or a kid at heart, you can find plenty of ways to have fun on Pride of America. The Blast Off Video Arcade is popular with kids and adults alike. Unleash your inner child, race some cars, fly a jet fighter, shoot a few aliens, or play pinball.
On Deck 13, you'll find some deck games, including outdoor chess. Playing games is a fun way to spend an afternoon, and it's an opportunity to meet some other passengers. Another option to play games and potentially socialize with other cruise passengers is the Shuffles Card Room on Deck 6. You'll find board games, bridge, Scrabble, and more.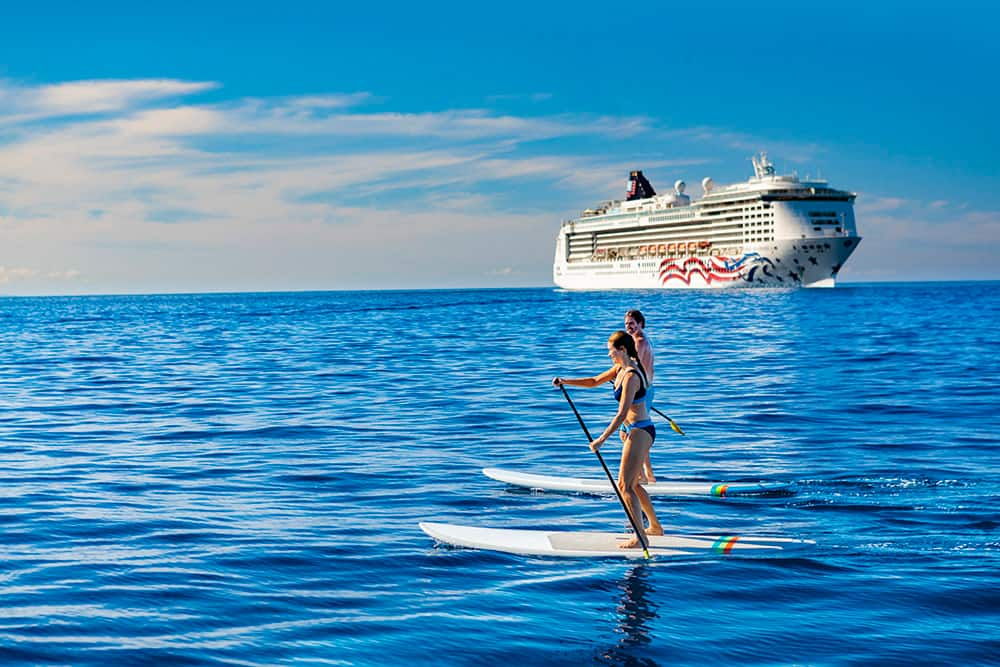 Work Up a Sweat
If you want some physical activity while on Pride of America, visit the Santa Fe Fitness Center. Open daily from 6 a.m. to 11 p.m., this facility has a full gym and various fitness and aerobics classes scheduled throughout your cruise. If you prefer an outdoor workout, go for a run or walk on the jogging and walking track located on Deck 6. Pride of America also has a basketball and volleyball court where you can play some beach volleyball or shoot some hoops. Golfers won't want to miss the Golf Driving Net, a spot where they can hit a few balls. There's no such thing as a bad drive or a lost ball here.
Shop for Hawaiian Jewelry and Souvenirs
Are you looking for some Hawaiian jewelry to bring home from your trip? You can shop for some beautiful pieces on Pride of America. Na Hoku has the best selection of the finest Hawaiian jewelry for women and men. Na Hoku has been recognized worldwide for its Hawaiian-inspired designs, including the Palm Tree Collection, Slipper Pendant, and an exclusive watch made from koa wood. You'll also find renowned collections from Le Vian, Kabana, and Steven Douglas.
You can also buy Hawaiian souvenirs at Island Treasures. This shop carries items from Island Heritage, the largest locally owned souvenir and gift brand in Hawaii that's operated for more than three decades.
When you're ready to book your Hawaiian adventure on Pride of America, sign up for Norwegian's cruise deals in the meantime. You'll get the latest deals and specials delivered to your inbox.