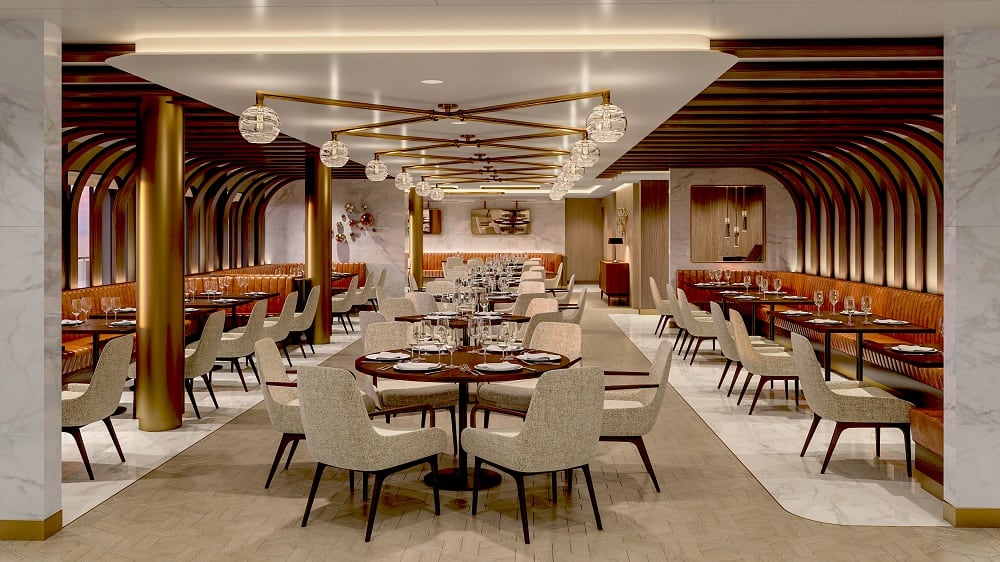 If you're already excited to sail on Norwegian Encore, with its top-deck race track suspended 13 feet over the side of the ship and the largest open-air laser tag course at sea, you'll be thrilled to learn about the delectable offerings that await in the ship's restaurants, bars, and lounges.
Norwegian Cruise Line announced today the incredible lineup of signature dining venues and onboard experiences that will be offered on Norwegian Encore, including the debut of Onda by Scarpetta, which marks the notable modern Italian restaurant's first venture at sea.
Embracing its new home at sea, Onda, which is Italian for "wave," will combine its classic approach to old-world fare, including using in-house-made pasta, with its own signature seafood dishes to offer a new take on Italian cuisine. The menu will feature a prime selection of raw and cooked seafood, delicious vegetable dishes, classic Italian entrees – including Scarpetta's famous Spaghetti Tomato and Basil – and the very best in Italian desserts, to provide guests with a true dolce vita experience.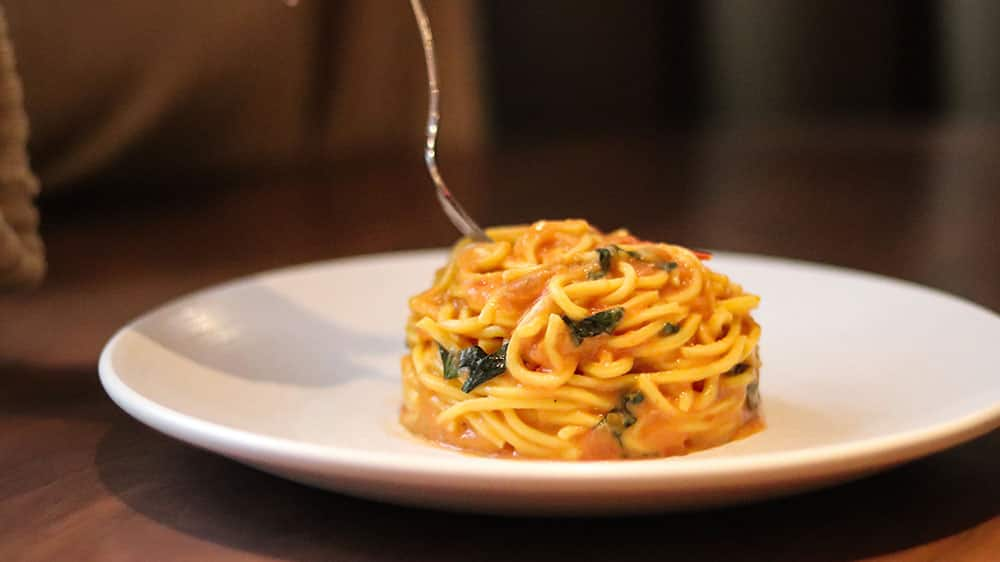 "The Breakaway Plus class has truly been an incredible addition to our fleet, and we are confident that Norwegian Encore will prove to be the most remarkable ship yet as we move the dial up another notch with onboard experiences and dining," said Andy Stuart, president and chief executive officer of Norwegian Cruise Line. "We strive to build upon the successes of our previous ships, and the introduction of Onda by Scarpetta is the perfect addition to the elevated dining venues offered across our fleet as we redefine the idea of contemporary cruising."
Just ahead, learn more about Norwegian Encore's incredible dining venues, bars and lounges.
Norwegian Encore Dining Venues
In addition to the debut of Onda by Scarpetta, Norwegian Encore will also be including signature restaurants from the Breakaway Plus class that have pushed the idea of cruise cuisine to the next level. Introduced on her sister ship, Norwegian Bliss, Q, with authentic, smoked, Texas barbeque dishes; Los Lobos, featuring premium Mexican cuisine; The Local Bar and Grill, with pub fare and 24-hour service; and Coco's offering elevated sweets and chocolates, will be featured on board Norwegian Encore, along with the classic Americana dishes of American Diner, which made its debut on fellow sister ship, Norwegian Joy.
From Norwegian Escape, the first of the Breakaway Plus class, Food Republic, with culinary fusion dishes from the Mediterranean, Asia, and Central Europe, is making an encore appearance as well. Following suit with Norwegian Cruise Line's latest ship launches and refurbishments, Norwegian Encore will also feature a full-service Starbucks® licensed store, with a variety of coffee beverages, pastries, and retail items.
Other Norwegian signature dining venues and options include Cagney's Steakhouse, featuring choice cuts of Hartley Ranch Premium Black Angus Beef; Le Bistro with elevated French cuisine; Ocean Blue, featuring fresh seafood creations; Teppanyaki, Norwegian's famous Hibachi grill; Dolce Gelato, with premium ice cream service; and The Bake Shop, offering the very best in French macarons, bon bons, and cupcakes.
Main dining areas on the ship include The Manhattan Room, the Taste and Savor restaurants, and the popular Garden Café buffet, as well as The Haven Restaurant for guests of The Haven by Norwegian®, Norwegian's exclusive ship-within-a-ship concept.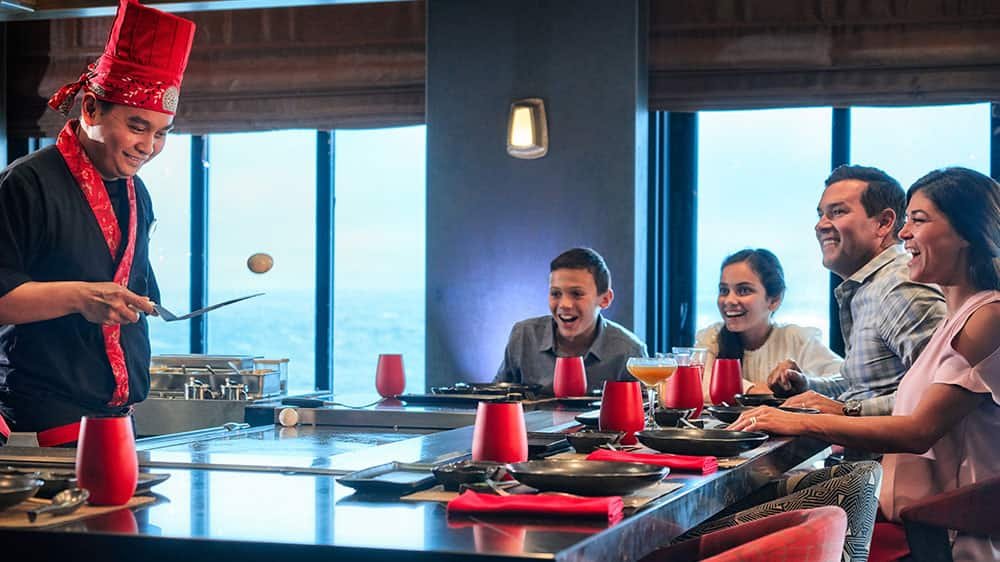 Bars et salons du Norwegian Encore
As with the incredible dining venues on board, Norwegian Encore will also feature the very best of the Breakaway Plus class' bars and lounges. After making its debut on Norwegian Bliss, The A-List Bar, named in honor of Norwegian Cruise Line president, chief executive officer, and 30-year veteran, Andy Stuart, will be featured prominently on the new ship.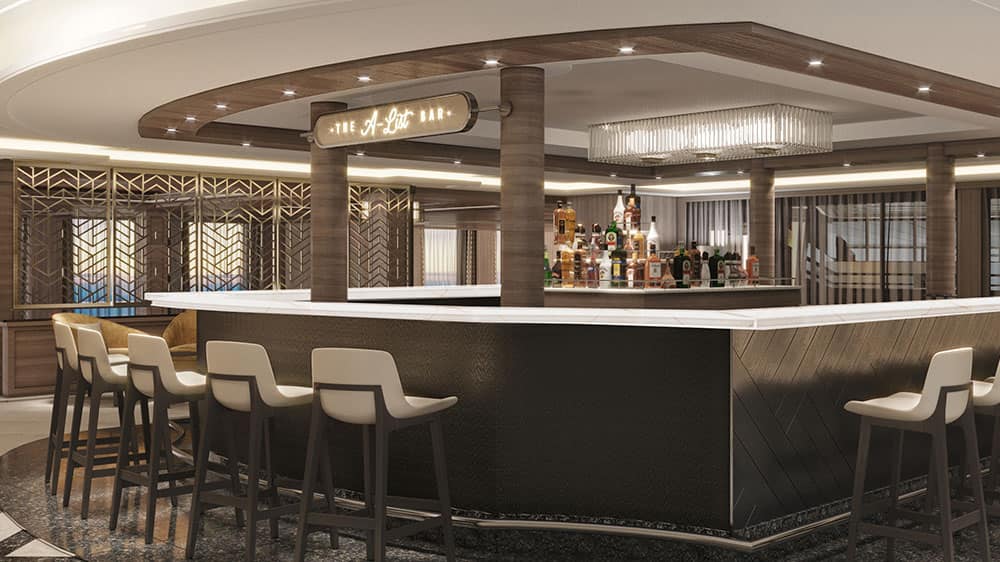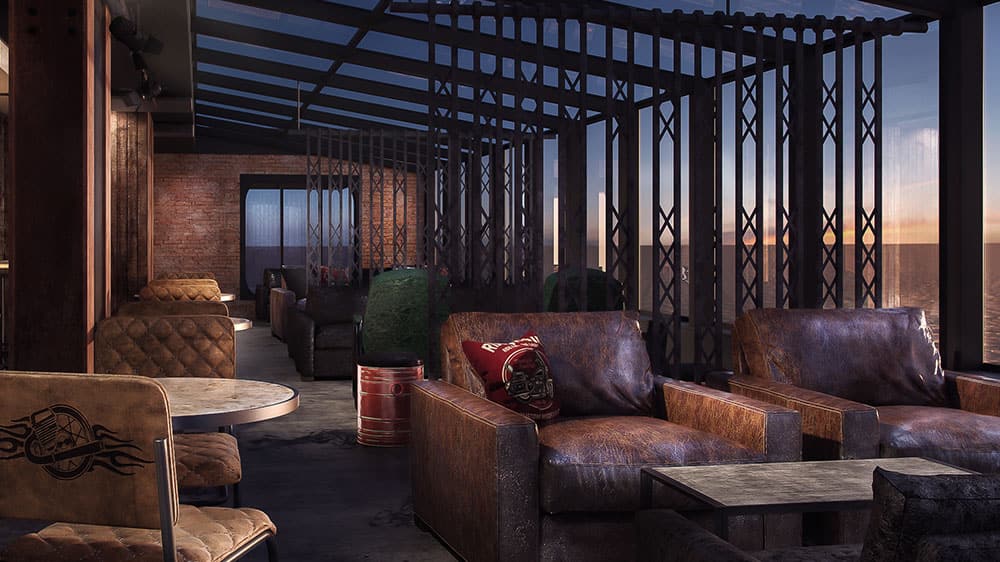 Other favorite bar and lounge venues introduced on board include The Cellars – A Michael Mondavi Family Wine Bar, with its curated wine list featuring 35 grape varietals; Maltings Whiskey Bar, featuring premium top spirits; Sugarcane Mojito Bar, with signature rum creations; the new Vibe Beach Club, which is now a two-story venue on decks 19 and 20, and The District Brew House, which serves 24 beers on tap, including featured beers from local Miami brewery, Wynwood Brewery, and more than 50 bottled beers from around the world.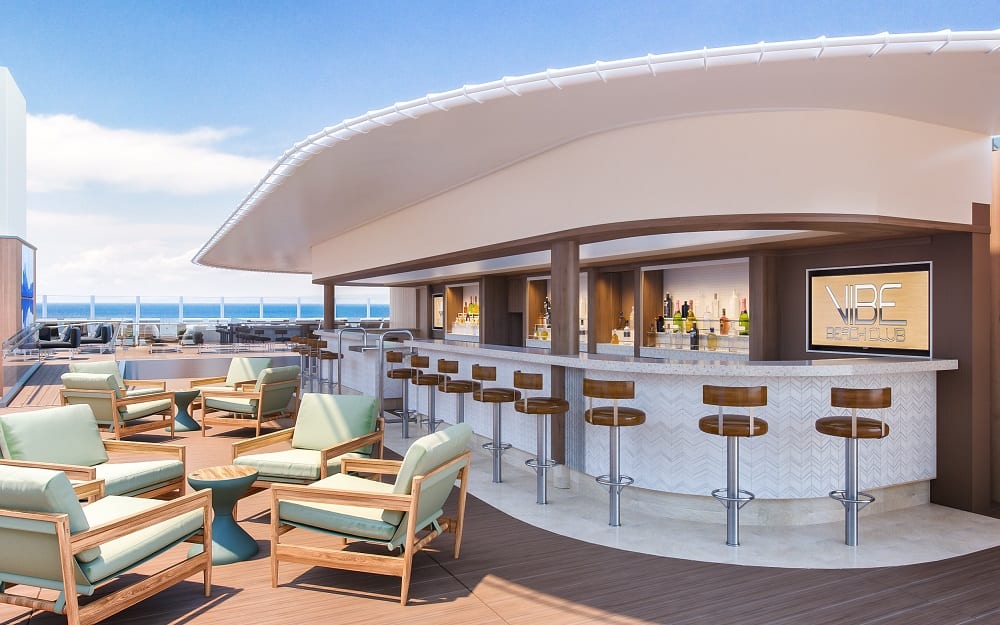 Norwegian Encore Night Clubs & Late-Night Entertainment
Previously announced, Norwegian Encore will also feature The Cavern Club, with live Beatles tribute band performances, and the Social Comedy and Night Club, which serves as both a late-night bar and lounge, as well as an entertainment venue, showcasing the incredibly popular Happy Hour Prohibition: The Musical, which offers attendees a selection of Prohibition Era specialty cocktails during the show.
The Waterfront à bord du Norwegian Encore
Following Norwegian's commitment to bringing guests closer to the sea, The Waterfront, a quarter-mile-long oceanfront promenade around the ship, will be a primary feature aboard Norwegian Encore with ample dining and lounge space for guests to admire the majesty of the ocean. Venues with access to the Waterfront include Onda by Scarpetta, Cagney's Steakhouse, Los Lobos, The Cavern Club, Dolce Gelato Sugarcane Mojito Bar and Ocean Blue.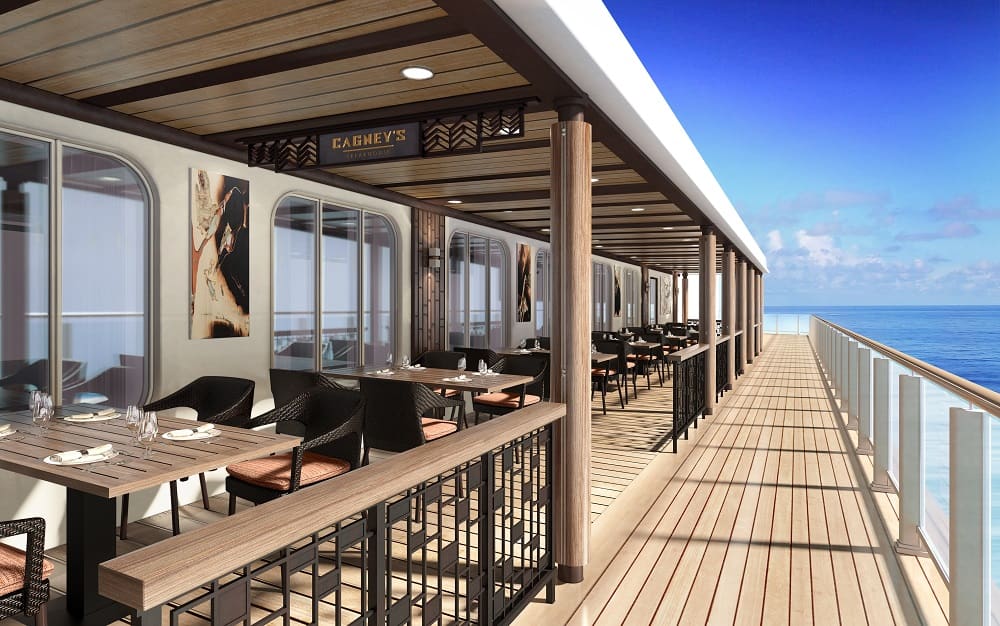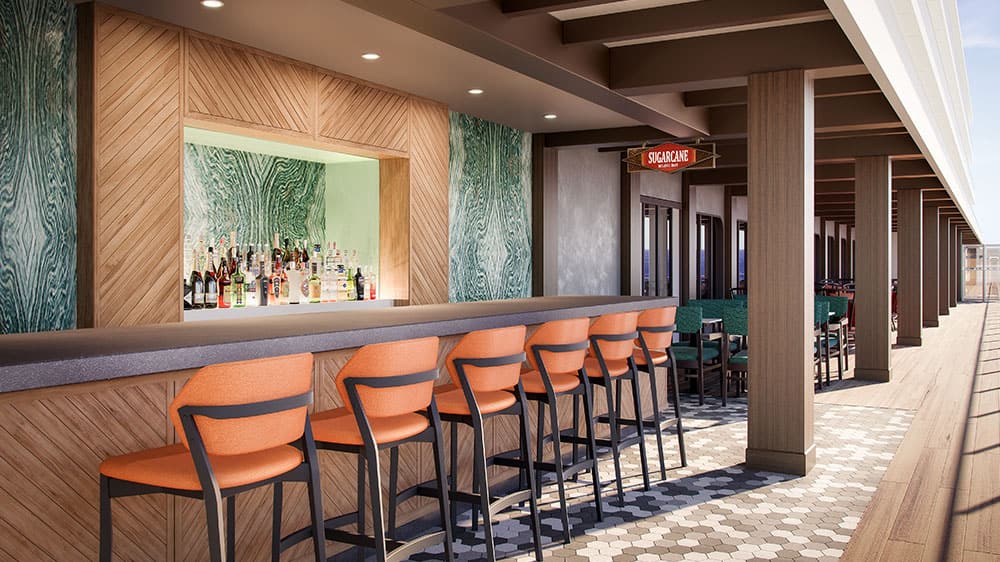 Norwegian Encore Itineraries
Scheduled for delivery in fall 2019, Norwegian Encore will cruise out of Miami every Sunday and will offer seven-day cruises to the Eastern Caribbean, beginning with her first sailing on November 17, 2019, through April 19, 2020. After her inaugural Caribbean season, the ship will reposition to New York City for a summer of Bermuda cruises through November 22, 2020.