Norwegian Spirit will be emerging from dry dock on February 2020 after an over $100 million revitalization. This dramatic transformation will involve every part of the ship; from the spa to the restaurants and every single stateroom. As we prepare to welcome her back into action, let's take a look at what you can expect from a day on board the all-new Norwegian Spirit.
NOUVEAU ! Norwegian Spirit will be cruising to the Greek Isles & Turkey starting April 2020.
Voir les portions terrestres
Start your Day with Ocean Breezes & Breakfast in Bed
Every stateroom in the renewed Norwegian Spirit will be completely modernized. You can expect sophisticated, mid-century modern touches and the most comfortable beds to welcome you back after a day of exploring on land. Consider a spacious suite that includes complimentary butler and concierge services, ensuring that you will not have to lift a finger during your cruise. If you're looking for the best value, you can't go wrong with one of our balcony staterooms. Perfect for sun seekers and star gazers, these staterooms are spacious and provide you with your own private outdoor area, where you can relax and enjoy a perfect sunset every single day of your cruise.
Head to the Expanded Mandara Spa
One of the best things about cruising is how easy it is to combine exploring new cities and cultures with the opportunity to wind down and relax. The Mandara Spa will double in size to nearly 7,000 square feet and will now include our renowned Thermal Suite. If you have never had the chance to experience this area of relaxation on one of our ships, you will want to sign up for a day pass or treat yourself to a length of cruise Thermal Suite pass. This will provide you access to heated loungers with calming views of the ocean, a jacuzzi room, sauna, steam room and water therapy experience that will have you coming back again and again.
Spend an Afternoon at Your Leisure
After you are fully relaxed, it may already be time for lunch, or perhaps second breakfast? The new Norwegian Spirit features new complimentary dining options including Taste and Windows, as well as fan-favorites The Local Bar & Grill and Garden Café. The Local offers classic pub fare in a relaxed atmosphere 24-hours a day. With popular dishes like Chicken Pot Pie, Fish n' Chips and daily dinner specials like Prime Rib, The Local has all your favorite comfort foods which you can accompany with a beer (or a few).
In need of caffeine? We recommend passing by the Atrium, where you can enjoy your favorite Starbucks beverage. Spend the rest of your afternoon relaxing by the pool, participate in a painting class, get your heart rate up at the brand-new Pulse Fitness Center, or try your luck at the marvelous casino.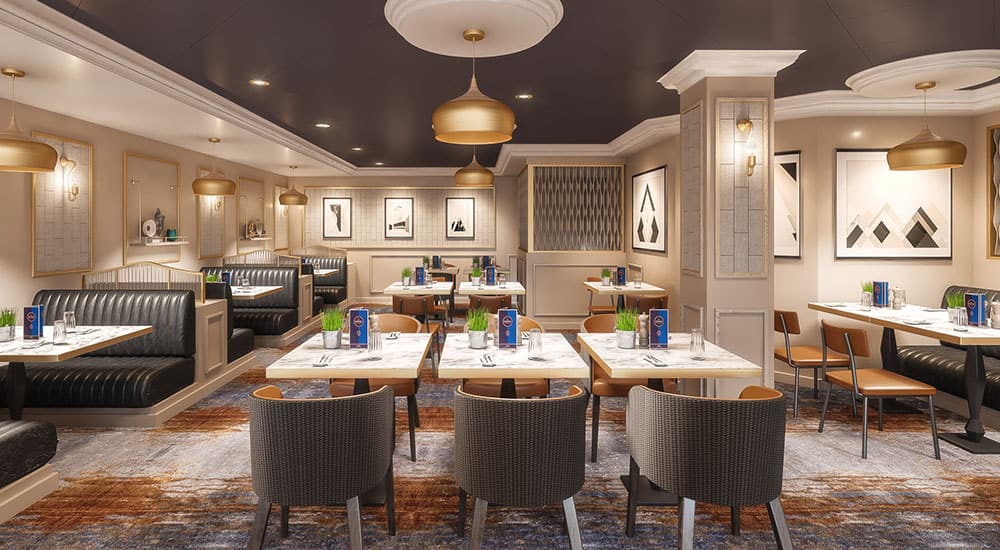 Get Ready for an Unforgettable Evening
Norwegian Spirit's crowning jewel would have to be the fantastic specialty restaurants offered on board. Onda by Scarpetta, which made its fleet debut on Norwegian Encore, joins the portfolio of critically acclaimed Scarpetta restaurants in New York City and the Hamptons; Miami; Las Vegas; Philadelphia; Newport, R.I.; and London. The menu will feature a prime selection of raw and cooked seafood, delicious vegetable dishes, classic Italian entrees – including Scarpetta's famous Spaghetti Tomato and Basil – and the very best in Italian desserts, to provide guests with a true dolce vita experience. Make reservations in advance through MyNCL to ensure that you have your desired dining spot!
You will have a wide range of entertainment options throughout your cruise. Making its debut on Norwegian Spirit is GLOW, our signature party. With neon lights, illuminating face paint and the DJ spinning the tunes, this crowd favorite party will bring the whole ship together. Continue the party at the all-new Spinnaker Lounge or settle down for a nightcap at Humidor Cigar Lounge. With comfortable leather chairs and a fully stocked humidor, this is the ideal setting to recline and connect with friends, both new and old.
Are you ready to experience the all-new Norwegian Spirit? Whether you want to learn more about sail dates or want to keep your eye on upcoming deals such as Free at Sea and Norwegian's Sail Away Rates, sign up here for our emails so you won't miss a beat.