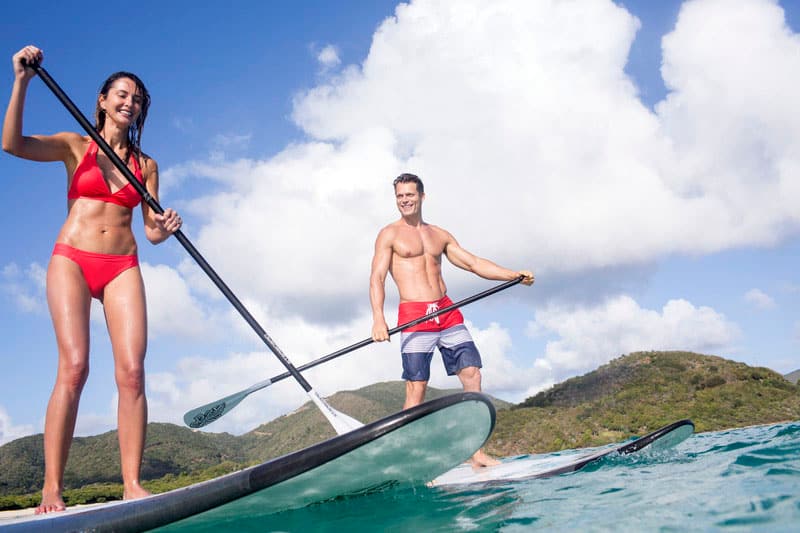 Want to go on an amazing cruise vacation but only have a couple of days to spare? Norwegian offers a number of weekend cruises that might fit the bill. If your time off is limited but you still want to have fun on the water, consider the following destinations for a long weekend you'll never forget.
What Will You Get out of an All-Inclusive Weekend Cruise?
Wondering what's included in your two- or three-day cruising adventure? Each and every Norwegian cruise comes with everything you need to have a good time. Naturally, your accommodation is covered, as you'll select the stateroom of your choosing when you book your ticket. All of your meals are included as well. You'll get to indulge yourself at two or three main dining rooms, a buffet, a pool grill, or even in your room thanks to complimentary room service.
Juices, tea, and coffee are included in your fare, though you may have to upgrade to a beverage package to get soft drinks and alcohol for free. However, many of Norwegian's weekend cruises come with an open bar (and more, thanks to the Free at Sea offer), so always check when booking. Otherwise, pretty much everything else you can think of is included, such as entertainment options plus access to pools, sports equipment, and the fitness center.
The Destinations
Norwegian Cruise Line offers weekend cruises at different locations around the world. Here's a summary of the most popular weekend cruise destinations and what there is to do there.
Great Stirrup Cay
Great Stirrup Cay is a 268-acre private island owned by Norwegian Cruise Line, meaning it's your own personal paradise. Peruse the underwater sculpture garden, take a WaveRunner tour, or even try your hand at parasailing. For a truly relaxing day on the white sand beaches, rent a private cabana with a view of Bertram's Cove.
You'll have plenty of dining options, with a beach buffet, Abaco Taco, and Jumbey Beach Grill all at your disposal. Keep the good times rolling with drinks from the Bacardi Bar, Bertram's Bar, or Patron Bar. If you tire of the tranquil beaches at the port (not likely), consider booking an organized shore excursion for kayaking or snorkeling at different parts of the island.
Nassau
Nassau is the capital city of the Bahamas, and your ship will dock at Prince George Wharf. There's plenty to do in this white-sand oasis, from perusing the shops and bars of Bay Street to chilling at the waterfront with a drink in hand. Walk through the city to take in the mix of new and old architecture, or arrange something a little more exciting such as a swim with the dolphins. You can even pet some stingrays if you're brave enough.
For more adult fun, stop by the local casino or take a trek to St. Mary, the Virgin Anglican Church, for stunning views.
Île de Grand Bahama
When cruising to Grand Bahama Island, you'll get the relaxing experience you crave with a healthy dose of water sports. Your ship will dock at the Grand Bahamas Port where you can then spend the day snorkeling, sailing, or kayaking. For a little more adventure, take an excursion to nearby Lucayan National Park to explore the vast wilderness that nature has to offer.
The Cruises
Norwegian Cruise Line offers varying weekend cruises throughout the year. Here are a few of the most popular upcoming cruise adventures.
1. 3-Day Bahamas Cruise from Miami
Live in the Miami area and want to explore a tropical paradise? Consider boarding Norwegian Sky to take a three-day cruise to the Bahamas. This Friday to Monday cruising adventure takes you to two different ports — Great Stirrup Cay and Nassau.
Your trip will include exquisite dining, nightly shows in the Stardust Lounge, and an attentive room steward that will see to your every need.
2. 3-Day Great Stirrup Cay Cruise from Orlando
If you'd rather leave from Orlando instead, Norwegian Cruise Line's three-day cruise to Great Stirrup Cay and Nassau is a great choice. It leaves from Port Canaveral on Friday, travels to Great Stirrup Cay on Saturday and then calls at Nassau on Sunday, before returning to port on Monday morning.
3. 3-Day Bahamas Cruise from Orlando
Would you rather skip Great Stirrup Cay and see more of the Bahamas instead? If so, you'll love this three-day Bahamas cruise that hits Grand Bahama Island and Nassau. You'll leave Port Canaveral on Friday and return bright and early on Monday morning.
If you only have a few days to spare, you can't go wrong with any of these weekend cruises from Norwegian. Book today to take advantage of Norwegian's cruise deals for a truly all-inclusive experience.