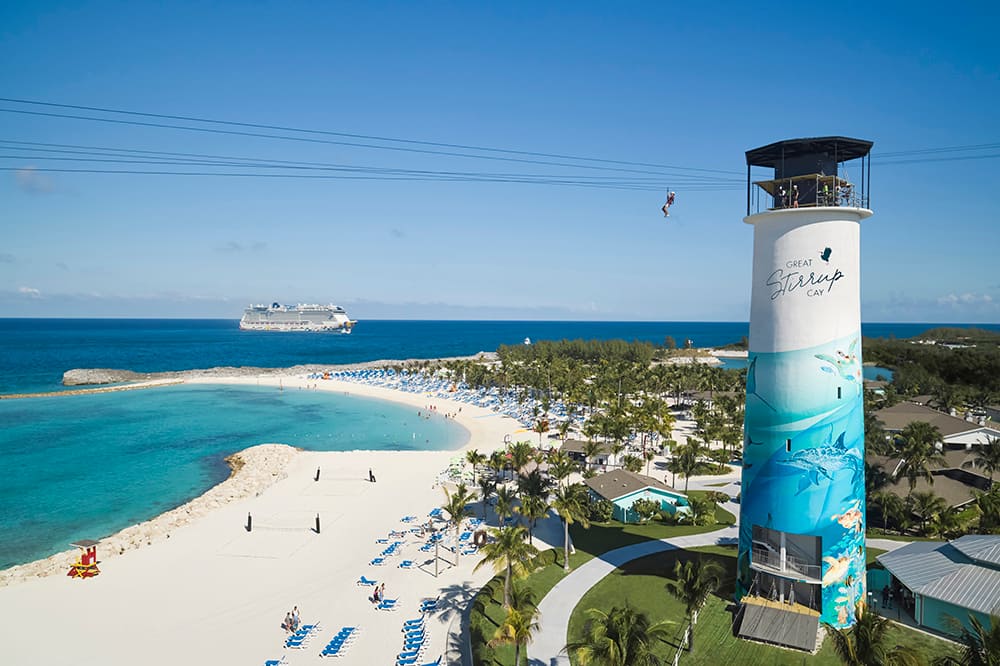 If you're planning a Bahamas cruise with Norwegian, you'll likely make a stop at Norwegian's private island oasis, Great Stirrup Cay. Are you planning to bring the whole gang? No problem! You'll find many family-friendly cruise activities on this pristine island that spans 250-acres. Read on for top picks for fun family activities on Norwegian's private island.
Prêt à planifier votre croisière ? Explore all Great Stirrup Cay cruises.
1. Snorkeling on Great Stirrup Cay
An exciting shore excursion tour of the sculpture garden provides the perfect place to snorkel through the turquoise waters and explore the marine life and beautiful fish that love to hide around the sculptures. Access to the underwater garden is open to everyone, and it's self-guided. Go as slow as you want, allowing your children to spend time checking out their favorite statues and marine life. Snorkeling here is a perfect underwater adventure that is sure to excite everyone in the family.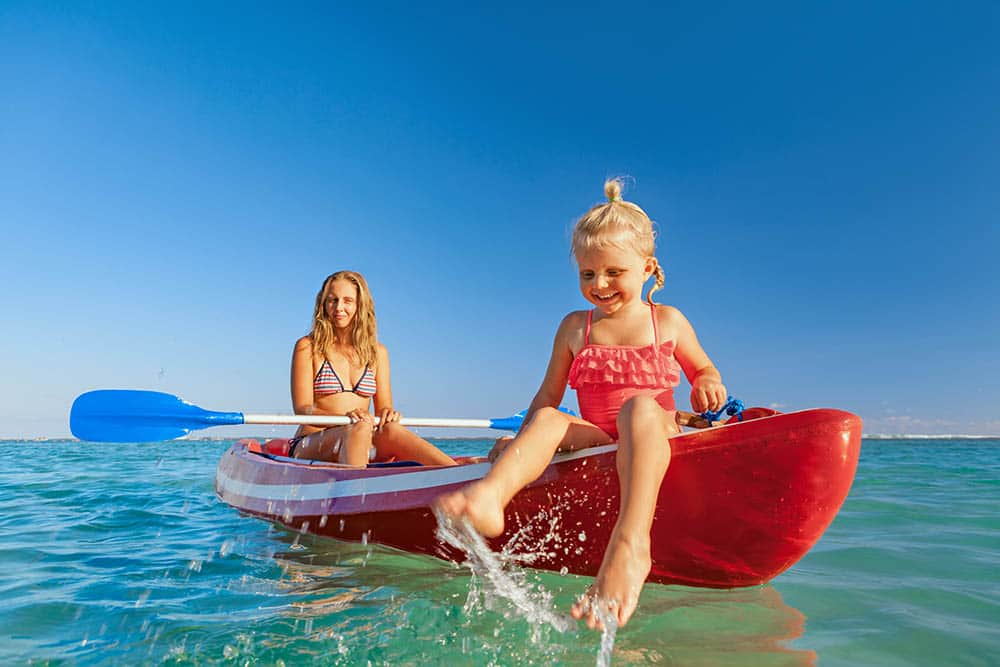 2. Wave Runners, Kayaks, and Paddleboard Tours
For a thrilling experience on Great Stirrup Cay, take a tour on a couple of wave runners and make a splash in the water. Or, you can go on a kayak tour or explore the island on a paddleboard. Rowing or paddling to different places around the island is a great way to set goals and accomplish them together as a family.
3. Stingray Encounter
Take a tour of Stingray City, Bahamas! The stingray encounter is a great way to ensure that you and the family will create lasting memories. It's pretty hard to forget an encounter with a stingray! You can feed the stingrays and interact with them on this excursion. And you can snorkel and swim alongside the mysterious rays as well. Even nonswimmers can enjoy this excursion and interact with the rays, as the water is very shallow.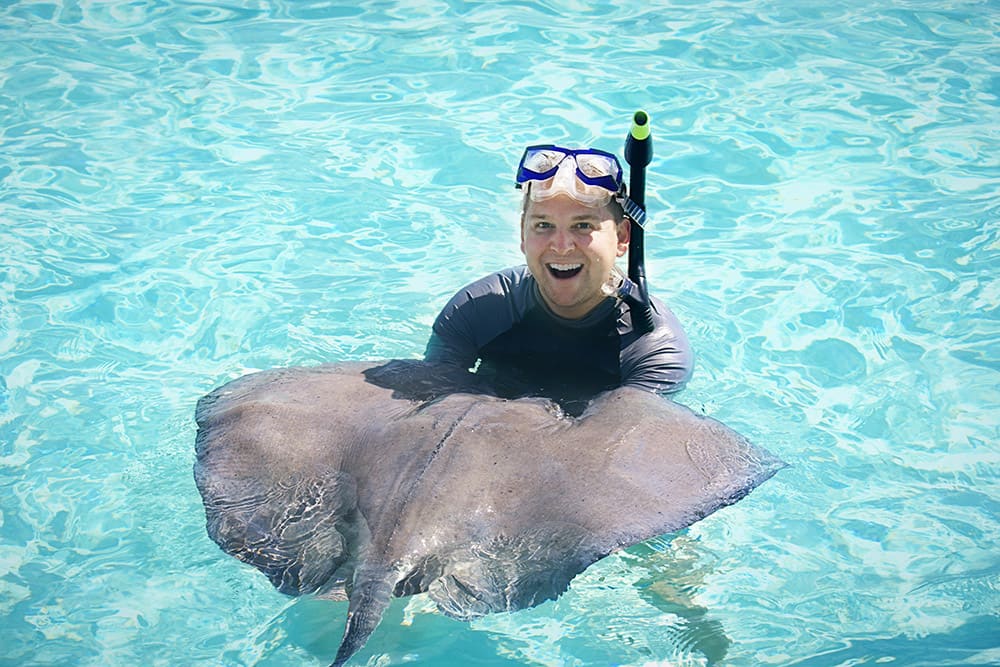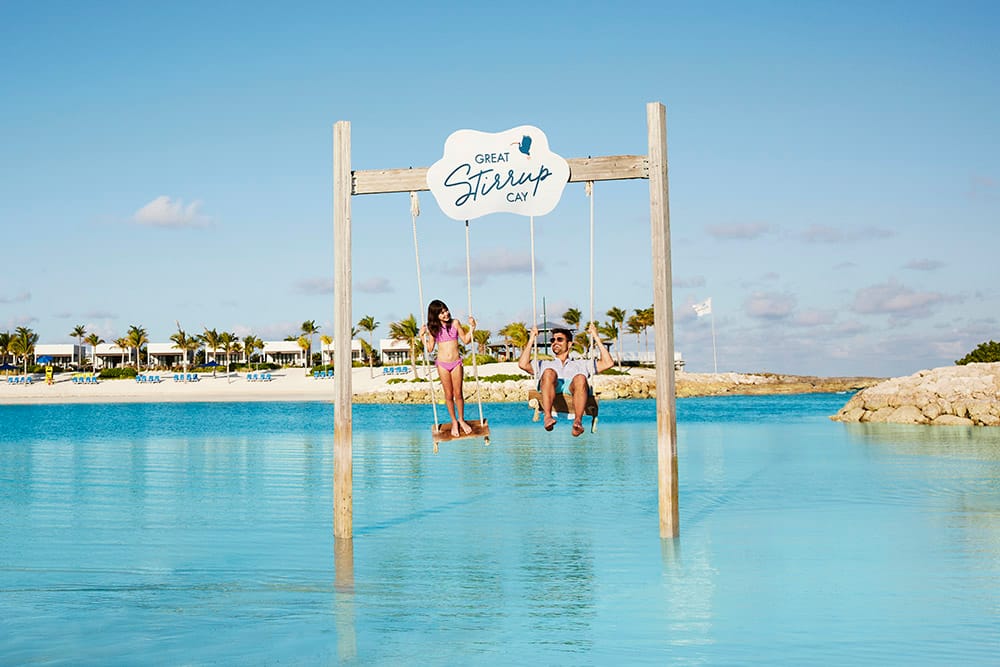 4. Have Lunch at Abaco Taco
Once you've spent all your energy swimming, snorkeling, or kayaking, take the family to Abaco Taco for lunch. Everyone can craft their own (complimentary!) tacos before heading back out for more fun and excitement. Norwegian Cruise Line also offers a Beach buffet with many various dining options for any picky eaters in the family. The latest addition to the Great Stirrup Cay food scene is the Tropic Like It's Hot food truck. This spot is perfect for your hungry kids who want a quick bite before enjoying more island adventures.
5. Rent a Private Cabana or Villa
Relax on Fiesta Beach, away from the hustle and bustle, as you enjoy a private cabana with your family. Refreshments are provided, including fresh fruit, chips and salsa, and water bottles. Together as a family, you can play on the beach, swim in the water, and relax in the cabana.
6. Swimming With the Pigs
One of the most unforgettable family cruise activities is swimming with the famous pigs in the Bahamas. Norwegian cruise guests have an advantage when it comes to getting up close and personal with these swimming pigs. The original pig island is Big Major Cay, which is quite a distance from the popular Bahamian ports, requiring a small boat ride for several hours in some instances. With Norwegian, you only have to take a 10-minute boat ride to Treasure Island, where you can hang out with these cool Caribbean pigs.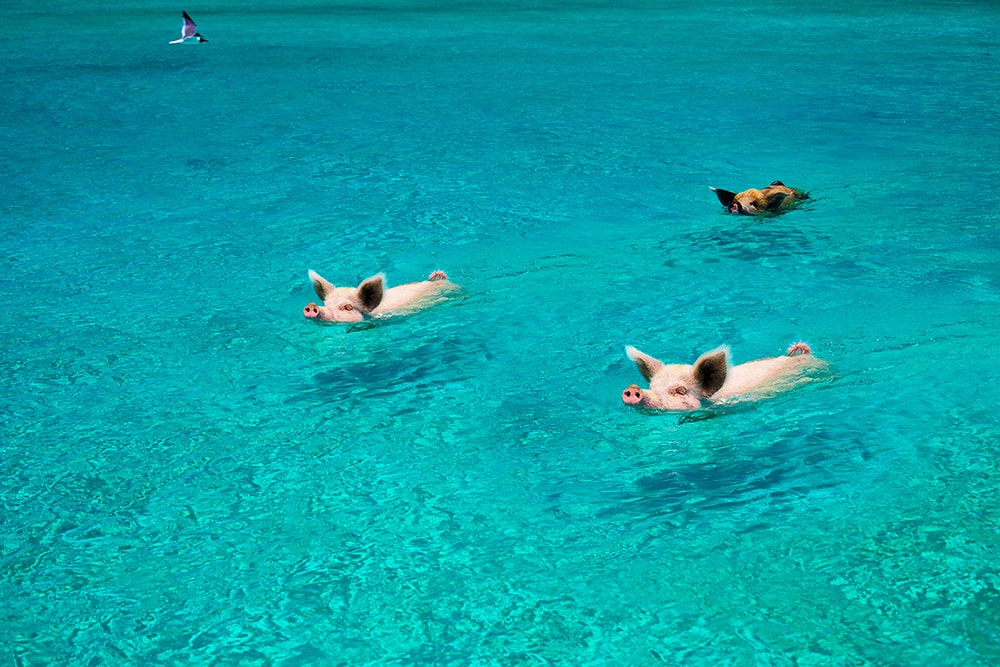 7. Zip Lining
Great Stirrup Cay is home to several different zip line options. Book a zip lining adventure on the Osprey traverse, which gets its name from the bird of prey you see on the decks on Great Stirrup Cay. You'll do three easy flights. The first is 120 feet above the ground, the tallest run. It's a short run, but you'll have plenty of adrenaline-pumping moments while you are that high above the ground.
The star of Great Stirrup Cay is the Seahawk Zipline. It covers 2,975 feet in total. Take an elevator to the 110-foot tall start, which transports you over 1,429 feet of spectacular views, including the beach, nearby reefs, and neighboring islands. Your return is adventure-filled as well, including a 105-foot V-net bridge and a 25-foot chimney climb. Do you still have some stamina left? Try the 36-foot cargo net climb that sits 40 feet above the ground.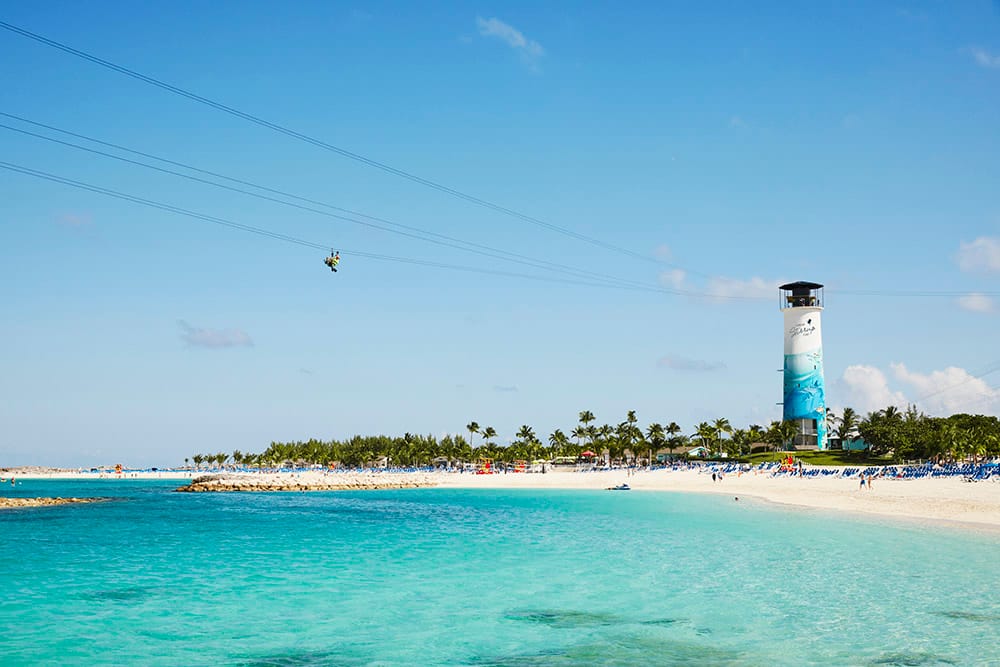 And, as if Great Stirrup Cay wasn't impressive enough, Norwegian Cruise Line is developing a new exclusive, luxurious retreat on the private island. The new retreat will offer luxury villas right on the beach and a secluded beach to relax on. There will be a family beach area for more family-friendly fun!
Cruisers will also have access to an exclusive restaurant offering scenic views for a different dining experience in Great Stirrup Cay. Additionally, ziplining is another family activity that is coming soon. With all the activities for the whole family to enjoy, this is one thing everyone can agree on.
If you're looking for the type of getaway the whole family will love, a cruise may be the perfect family vacation. And a jaunt over to the Bahamas could be just what you're searching for because of the many family-friendly activities to enjoy. If you're still in the planning stages for a family Bahamas Cruises, be sure to sign up for emails to receive Norwegian's cruise deals and special offers delivered right to your inbox.
Have you cruised to Great Stirrup Cay? What are some of your favorite family activities on the island?
NOTE DE L'ÉDITEUR : Cet article a initialement été publié le 5 juin 2018. Il a été mis à jour pour afficher les itinéraires associés.