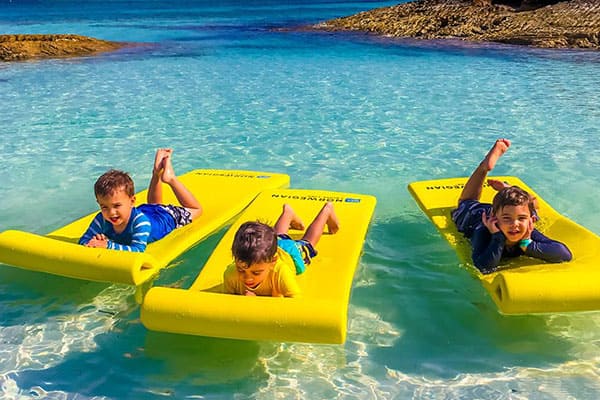 I've been travelling with my kids since they were six months old. Over the years, I don't know how many times we've had to pull the car over, had to explain why Grandma smells like menthol, or have had to break up fights. It's exhausting! But there's an easier way to travel, so much easier…take your kids on a cruise, and chances are this will be your new go-to holiday! As an added bonus, there are 3 Things You'll Never Hear Your Kids Say on a Caribbean Cruise.
Are We There Yet?
There's really nothing like the excitement of waking up as you're docking at yet another cruise port. The Caribbean offers educational and cultural experiences for all ages, including multiple destinations with exciting shore excursions, plus your kids can follow the map on your staterooms TV, tracking your journey as you go! The excitement can build as your kids read up on destinations you're about to visit, noting the highlights of each Caribbean island including languages, currency and culture, as well as gifts you'd like to bring home from the Caribbean. The more you can involve your kids in the overall vacation experience, the less likely they are to utter those cringe-worthy words above. Comfortable staterooms choices for families include interconnecting rooms, Oceanviews or private Balconies, as well as Family Mini- and 2-Bedroom Suites (with tubs!), located near the designated kids' area. Keeping your kids' routine while cruising can also help to alleviate any arrival anxiety.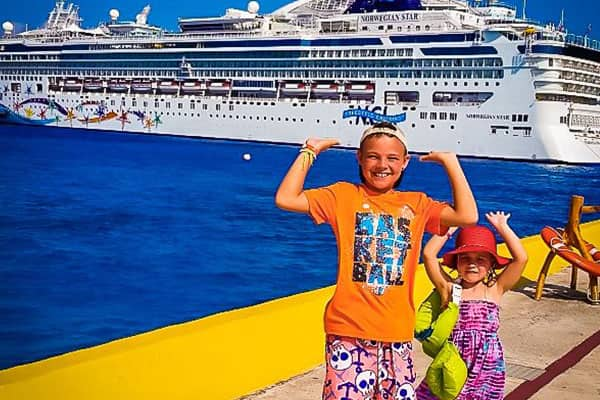 I'm Hungry!
When you're on board your ship, chances are you're only 5 minutes away from dining. Whether it be at a casual buffet, a complimentary meal for kids 12 and under at a Specialty Restaurant, or just a burger or pizza, there's always something to eat no matter what time of the day or night. Plus, you can also take advantage of 24-hour room service in your stateroom if you'd like to enjoy breakfast in bed with your kids, or to simply order a snack when an unexpected craving arises. The convenience of Freestyle Dining by Norwegian Cruise Line allows your family to dine whenever and wherever you want. You're never locked into a schedule that just doesn't work out in the end. You'll have the flexibility and freedom to choose as you go along.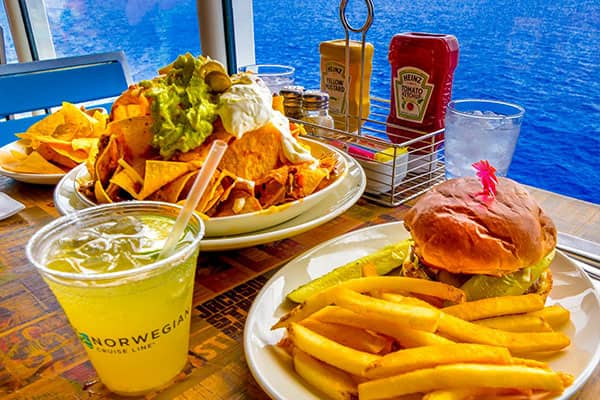 I'm Bored!
What a pleasure a cruise is for both parents and kids alike as there are seemingly endless activities to enjoy! "No, mom, I don't wanna go with youuuuu, I want to stay here with my friends!", was what I most commonly heard from my kids - who knew this would happen?? Complimentary youth programs on board Norwegian Cruise Line Ships, for kids ages 6 months to 17 years, are designed with fun, age appropriate activities in mind. Your kids can enjoy treasure hunts around the ship, learn circus skills, or express themselves through creative activities like dancing and singing. Besides youth programs, your whole family can enjoy outdoor activities including swimming pools, waterslides, mini-golf, climbing walls and even bowling. If you let your kids help pick the shore excursions, they'll feel even more involved in the decision making process, which also helps to create a positive, never boring experience.
And when I ask my kids now about the cruises they've been on, they remember fun and the new friends they've met. Isn't that what traveling is all about?