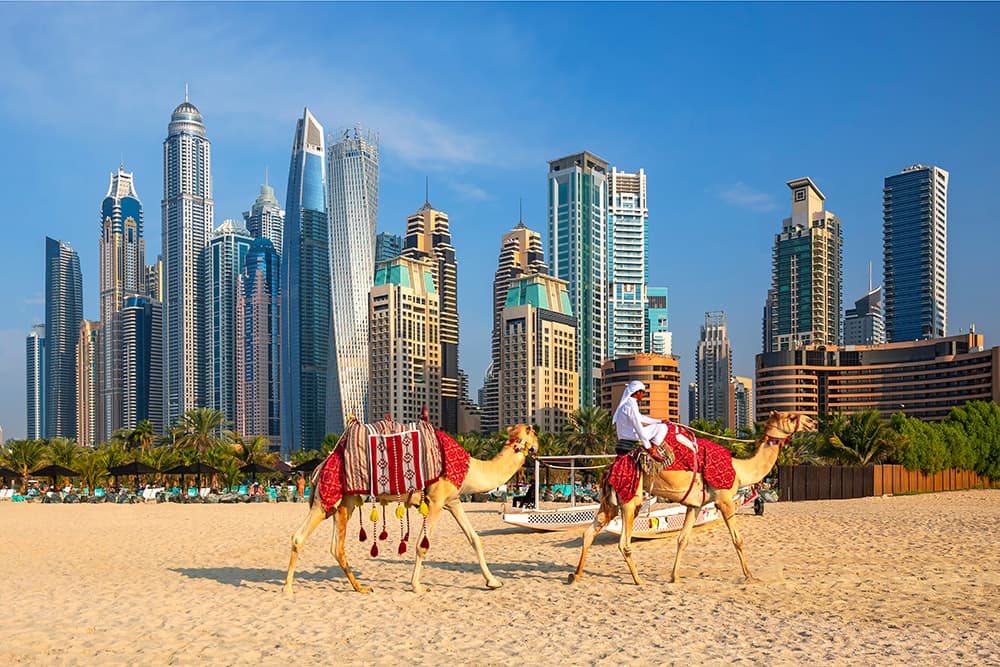 Are you dreaming of booking an exotic cruise? Fuel your wanderlust and consider a Dubai cruise with Norwegian. You can explore ports such as Seychelles, Madagascar, Mauritius, South Africa, and more. Norwegian Cruise Line offers several Dubai cruises, all of which are 18 or 19 days long. You must act fast with these itineraries, as sailing dates are limited. The sooner you book, the better your chance of getting the room category and location you want. With Norwegian's partnership in the Healthy Sail Panel and our enhanced flexible booking policy, there's no better time to book a cruise from Dubai. Discover what you can do on a cruise vacation from Dubai.
Ready to start planning? Explore all Dubai cruises with Norwegian.
United Arab Emirates Port Stops
Booking a cruise from Dubai might include at least one more stop in the United Arab Emirates, such as at Abu Dhabi or Fujairah. If your travel schedule allows, spend a few days before your cruise exploring Dubai. Here, you can be on top of the world by visiting Burj Khalifa, the tallest building on the planet, shop countless souks, go inside the beautiful Jumeirah Mosque, and more.
In Abu Dhabi, you can leisurely explore more souks or get your heart racing with a ride on the world's fastest rollercoaster. In Fujairah, you'll find unspoiled beaches along the Gulf of Oman and plenty of history. If you haven't gotten your fill of the souks yet, you'll find plenty of shopping in Fujairah too.
Cruise to Oman, Jordan, and Israel
Salalah is an old city located in Oman on the Arabian Sea. You'll find beaches with natural blowholes and caves, plus plenty of interesting museums to visit. Don't miss the Sultan Qaboos Mosque, where you can view one of the largest single-piece weave rugs in the world.
Africa cruises that include a stop in Jordan will visit Aqaba, once a key Roman port along the Red Sea. Go diving to see beautiful coral reefs or explore Petra, named one of the World's Seven Wonders. In Aqaba, you can visit an archeological museum, explore a 13th-century fortress, and more.
Dubai cruises stop in Ashdod and Haifa, Israel. Ashdod dates back to the 17th century B.C., which may be hard to picture since it looks so modern today. Here you'll find no shortage of museums, historic sites, and outdoor activities. If you are interested in seeing holy sites, they aren't far from Haifa. You can also visit the Terraces of the Bahá'í, the world's largest hanging gardens.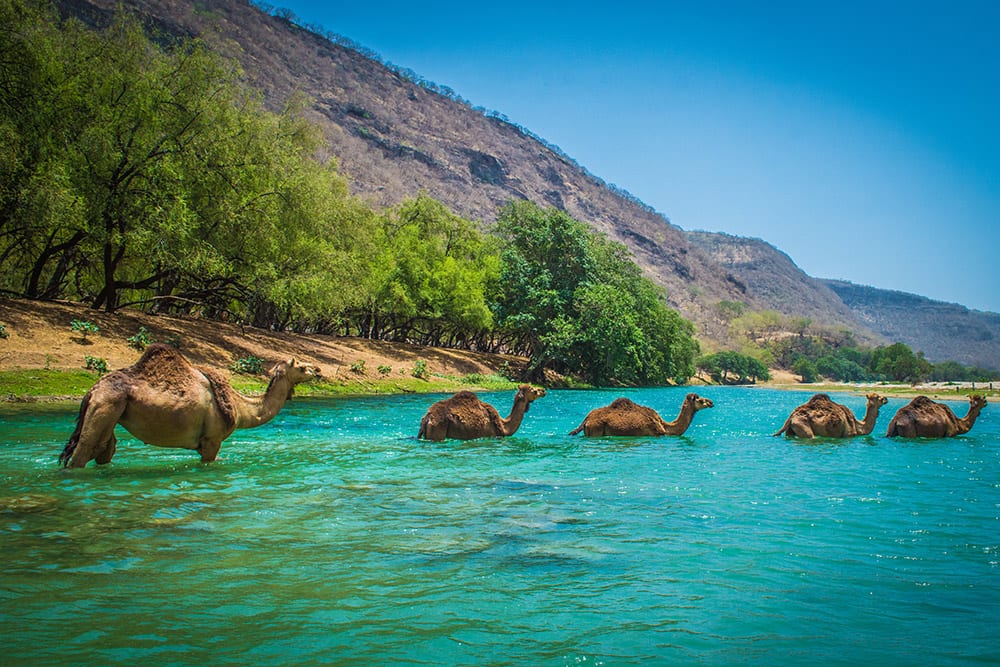 African Ports on a Dubai Cruise
An abundance of epic adventures awaits you in Africa. Stops on a cruise from Dubai might include:
Egypt
Safaga is one of the main ports on an Egypt cruise. This area sits along the Red Sea, offering plenty of water-related activities, including windsurfing and kite surfing. Diving is one of the top pastimes here, especially with plenty of nearby reefs and wrecks. You can also book an excursion to world-famous sites such as the Karnak Temple, Luxor, and the Colossi of Memnon.
Seychelles
Port Victoria and La Digue are the two main ports on a cruise to Seychelles. Port Victoria is the capital of Seychelles, and it's famous for exporting coconut oil and vanilla. Visit the brightly colored Hindu Temple or Navasakthi Temple or relax on the beach at Beau Vallon. La Digue is one of the most inhabited islands, but it feels untouched since much of the island is still undeveloped. Here is where you will find the famous granite rocks you see in postcard-perfect photos of Seychelles.
Madagascar
Your cruise will stop in Nosy Be, which is Madagascar's largest and most well-known destination. If you've dreamed of hanging out with lemurs, plan to visit Lokobe Reserve. You can also relax on the beaches around Befotaka Bay or explore Mont Lokobe, the highest peak on the island.
Mauritius
Port Louis is the capital of Mauritius and your port of call on a cruise from Dubai. Many ships have passed through this area, as it was an important port city when sailing around the Cape of Good Hope. When you're in Port Louis, visit sites like Les Jardins De La Compagnie, the Champs de Mars Racecourse, and the Blue Penny Museum.
Reunion
Located in the Indian Ocean, the island of Reunion is filled with gorgeous natural landscapes, including an active volcano. Intrepid travelers can climb Piton de la Fournaise, which rises 8,635 feet above sea level, or go hiking in Bélouve Forest. If you're keen to relax, check out L'Hermitage Beach.
South Africa
You'll explore at least three destinations on a South Africa cruise, some of which are overnight stops. In Richards Bay, walk through the famous Umlalazi Nature Reserve to search for the palm-nut vulture, one of the rarest birds of prey, or put your feet up and relax on the stunning Aklantstrand Beach.
In Port Elizabeth, you can visit nature reserves such as Kragga Kamma Game Park and beautiful beaches like King's Beach. Some cruises stop in Mossel Bay, which is located along the Southern Cape, home to the Point of Human Origins archeological site. Most cruises from Dubai end in Cape Town. If you have extra time to spend a few days here, you can explore famous sites such as Table Mountain or Robben Island, where Nelson Mandela was once imprisoned.
Undecided on which Dubai cruise to book? Be sure to sign up for emails to stay up to date on Norwegian's cruise deals and specials. Where are you cruising next? Let us know in the comments!