Home
>
Press Releases
>
Miami Artist David Lebo Le Batard Unveils His Design Norwegian Getaways Hull Artwork
Norwegian Cruise Line Press Releases
Miami Artist David "Lebo" Le Batard Unveils His Design For Norwegian Getaway's Hull Artwork
Miami - Dec 03, 2012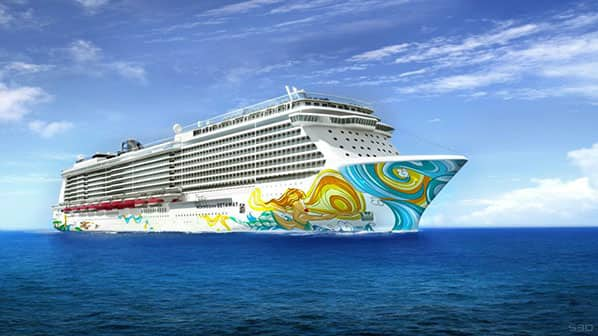 Norwegian Cruise Line announced today that popular Miami modern artist and muralist David "LEBO" Le Batard has been commissioned to paint the signature hull artwork for Norwegian Getaway, launching in January 2014. At an event held at LEBO's Wynwood studio, the company also revealed the hull artwork, which features a whimsical tropical ocean theme complete with a mermaid holding the sun, pelicans and palm trees, befitting the ship's year-round home port of Miami.
"Norwegian Getaway will be Miami's ship and, therefore, we wanted to ensure that her hull was designed by an artist with strong ties to Miami and the Latin community," said Kevin Sheehan, Norwegian Cruise Line's chief executive officer. "Having begun his career in South Florida, Dave is an artist that is entrenched here. His work adorns the city and I've learned that he is also a genuinely nice guy. He is a shining star in Miami, as well as the global art community."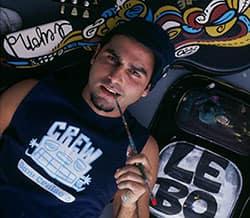 Born in New York City in 1972 to Cuban Émigré parents, LEBO was raised in South Florida and was heavily influenced by Miami's Cuban art scene.
"Having grown up in South Florida, the ocean has been an immense presence in my life and has been infused into my work as an artist," said David "LEBO" Le Batard. "When I was asked to design the artwork for Norwegian Getaway, I saw an opportunity to create a prominent image, one that would surely help define the Miami seascape and illustrate the world-class experience that Norwegian Cruise Line has come to stand for. It is truly an honor to have been offered this canvas, as it gives the world an opportunity to see my work in a way few artists ever get to see in their entire lives."
According to LEBO, Norwegian Getaway's hull art design is centered on a mythical mermaid, an iconic image that represents humanity's connection to the sea, and features her seemingly skimming across the surface of the water. Surrounding the mermaid is a fusion of sea and sky dancing across the ship, where three pelicans gracefully glide along in the artist's version of a tropical paradise.
"LEBO's incredible design reflects all of the elements that Miami is known for - sea, sun and paradise," said Sheehan. "This artwork will surely make Norwegian Getaway an iconic part of the Miami skyline when she arrives as Miami's largest year-round ship in 2014."
With paintings on exhibition in museums and galleries worldwide including Detroit, Los Angeles, New Orleans, New York, Toronto, South Africa, Germany and Italy, LEBO is one of Miami's most beloved and predominant Modern artists. His murals and site-specific installations have energized communities such as Miami's Calle Ocho, Uptown New Orleans and downtown San Francisco. Inspired by his work on Norwegian Getaway, LEBO will be revealing his latest series of paintings, entitled "Where our souls meet the sea," during Art Basel week in Miami.
Widely recognized for his work in a wide spectrum of creative mediums including murals, paintings and sculptures, LEBO (www.lebostudios.com) is known as the innovator of Post-modern Cartoon Expressionism, a movement that combines cartoon imagery with bold color and unique linear composition. The resulting art ranges from abstract to highly narrative, creating an artistic movement prized among naturalists and architects. LEBO's formal arts training began at Florida International University in Miami and further developed during his residency at the International Museum of Cartoon Art in Boca Raton, Florida.
His work with such renowned companies as Gibson Guitars, Ferrari and Harley Davidson, as well as Latin pop singer Gloria Estefan, whose newest album cover features his design, has cemented his status as one of the preeminent modern artists of his generation.
Currently being built at Meyer Werft in Germany, Norwegian Getaway will be 146,600 gross tons and offer a wide range of accommodations. The ship represents an opportunity for the Norwegian guest to "get away" from the routine of work, school, and daily stress, and find a true respite at sea that reflects the energy and culture that Miami is known for worldwide.
The ship will also feature a rich mix of stateroom options, including The Haven by Norwegian, comprised of 42 Suites at the top of the ship in an exclusive, private key-card enclave and 22 additional Suites located throughout the ship; the innovative Studios, designed and priced for solo travelers; a wide range of Oceanview staterooms, Balcony and Mini-Suites; along with Spa Balcony, Mini-Suites and Suites in close proximity to the spa. Norwegian Getaway's sister ship, Norwegian Breakaway, will begin sailing from her year-round home port of New York City in May 2013.
Norwegian Getaway will sail seven-day cruises from Miami to the Eastern Caribbean beginning on February 1, 2014, with ports of call including Philipsburg, St. Maarten; St. Thomas, U.S. Virgin Islands; and Nassau, Bahamas. Information on Norwegian Getaway's accommodations and itinerary can be found at www.getaway.ncl.com. To book a cruise on Norwegian Getaway, contact a travel professional, call Norwegian at 5411-5353-0580 or visit www.ncl.com.
About Norwegian Cruise Line
Norwegian Cruise Line is the innovator in cruise travel with a 46-year history of breaking the boundaries of traditional cruising, most notably with the introduction of Freestyle Cruising which revolutionized the industry by giving guests more freedom and flexibility. Today, Norwegian invites guests to "Cruise Like a Norwegian" on one of 11 purpose-built Freestyle Cruising ships, providing guests the opportunity to enjoy a relaxed cruise vacation on some of the newest and most contemporary ships at sea.
Norwegian's largest and most innovative Freestyle Cruising ship, Norwegian Epic, debuted in June 2010 and has been named "Best Overall Cruise Ship" by the readers of Travel Weekly and "Best Ship for Sea Days" by Cruise Critic. Norwegian Cruise Line is the official cruise line of Blue Man Group, appearing for the first time at sea on Norwegian Epic, as well as the official cruise line of Legends in Concert, The Second City®, Howl at the Moon Dueling Pianos, and Nickelodeon, the number-one entertainment brand for kids. Cirque Dreams™ & Dinner is also featured on board Norwegian Epic as the first show of its kind at sea under a big top.
The Company has two 4,000-passenger vessels, Norwegian Breakaway and Norwegian Getaway, under construction for delivery in April 2013 and January 2014, along with one larger "Breakaway Plus" vessel for delivery in fall 2015.
Known as New York's ship, Norwegian Breakaway will be the largest vessel to homeport year-round in the city, sailing to Bermuda for the summer beginning May 12, 2013. Norwegian Breakaway's features include hull art by legendary artist Peter Max, seafood restaurant Ocean Blue by famed New York chef Geoffrey Zakarian, and fitness classes and a retrospective display from the ship's iconic godmothers, the Rockettes®. The entertainment lineup includes three Broadway shows: Rock of Ages, Burn the Floor and Cirque Dreams™ & Dinner: Jungle Fantasy. Norwegian Getaway, the largest ship to homeport year-round in Miami, will sail Eastern Caribbean voyages beginning in February 2014. Sailings for both vessels are now on sale.
High resolution, downloadable images are available at www.ncl.com/pressroom. For further information on Norwegian Cruise Line, visit www.ncl.com, follow us on Facebook, Twitter, and Instagram @Norwegiancruiseline, Pin us on Pinterest, watch us on YouTube, or contact us in the U.S. and Canada at 888-NCL-CRUISE (625-2784).
How To
Contact Us
Andrea DeMarco
Head of Investor Relations
Phone: 5411-5353-0580
E-Mail: ademarco@ncl.com

For Investor Relations inquiries please contact
Andrea DeMarco
Head of Investor Relations
ademarco@ncl.com
(305) 468-2463

For Investor Relations inquiries please contact
Andrea DeMarco
Head of Investor Relations
ademarco@ncl.com
5411-5353-0580

Corporate Mailing Address
7665 Corporate Center Drive
Miami, FL 33126