Experience the fusion of cultures, savory cuisine, lively music, and vibrant festivals that embody the spirit of New Orleans before setting sail on an unforgettable journey. Norwegian Cruise Line welcomes you to venture on a warm-weather getaway in the heart of winter. Norwegian's 2024 cruises from New Orleans run from January through March and again in December.
Want to learn more about what you can see and do when you cruise from New Orleans? Read on to learn more about the ports of call and what ships will sail these routes in 2024.
Ready to start planning? Explore all 2024 New Orleans cruises.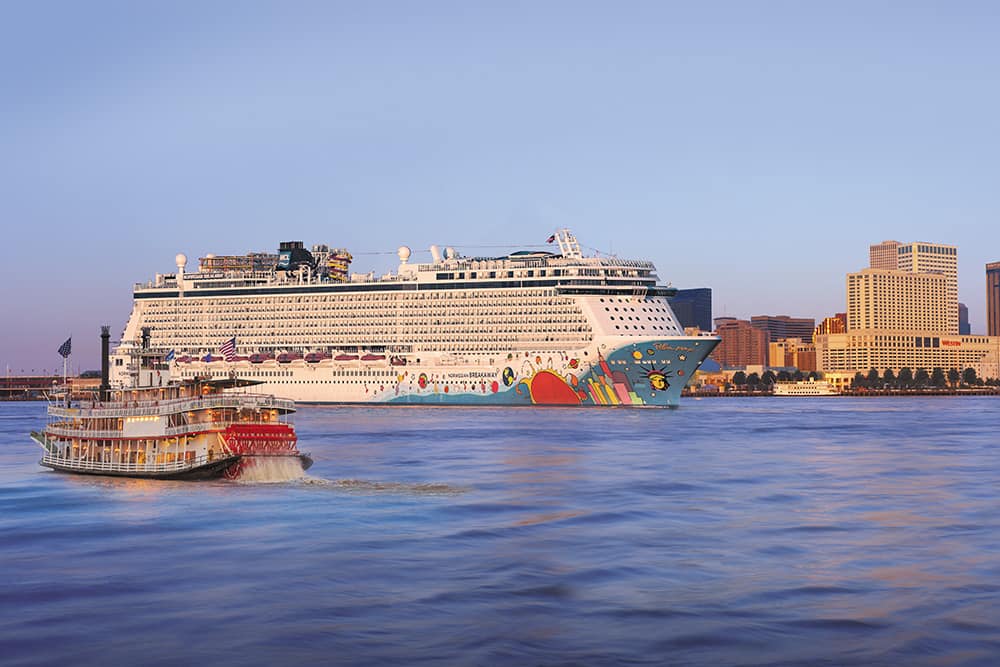 2024 New Orleans Cruise Ports
Embrace the journey of a lifetime with Norwegian's 2024 cruises from New Orleans. Whichever port excites you the most, know that each offers unique activities, breathtaking scenery, and vibrant cultures to immerse yourself in.
Cozumel, Mexico
Discover the sparkling turquoise waters of Mexico's Yucatán Peninsula on the exciting island of Cozumel. Divers and snorkelers will find a paradise beneath the waves, with attractions like the submerged Museo de Arte Subacuático teeming with underwater sculptures. Embrace the island's laid-back vibe with a beach break, explore the Maya site of San Gervasio, or book ATV adventures, island tours, and cooking classes. These activities provide a rich tapestry of experiences in Cozumel.
You can also book a tour to see the Maya site, Tulum. This Maya city is the only one built right on The Caribbean Sea. Making a day trip to see the world-famous Chichen Itza Maya site is also possible.
Costa Maya, Mexico
Experience the allure of Mexico's Caribbean coast in Costa Maya, a region steeped in Maya history and blessed with natural beauty. Explore the ancient ruins of Chacchoben, stroll through the vibrant port area full of shops and eateries, or rejuvenate in the crystal-clear waters of Mahahual Beach. Another spot with crystalline water is Bacalar, known as the Lagoon of Seven Colors. Spend the day floating down the river into the spring-fed lagoon.
For the more adventurous travelers, jungle tours, snorkeling trips, and encounters with diverse marine life present endless opportunities.
Harvest Caye, Belize
Drift off to the serene island of Harvest Caye, nestled in the vibrant waters off Belize's southern coast. Known for its world-class diving and snorkeling, Belize hosts the world's second-largest barrier reef, a haven for marine enthusiasts. The shallow, calm waters are perfect for beginner snorkelers or those without dive certification. Harvest Caye also offers various activities, from kayaking and zip-lining to relaxing beach breaks to soak up the island's beauty.
Embark on mainland excursions to explore Maya chocolate-making techniques, visit a spice farm, or uncover ancient Maya sites.
Roatán, Honduras
Immerse yourself in the allure of Roatán, a gem in Honduras known for its exquisite diving and snorkeling sites teeming with marine life and stunning coral formations. Beyond its underwater charms, Roatán invites you to explore the land with island tours, visits to animal sanctuaries, horseback riding adventures, and thrilling off-road ATV expeditions.
Consider a trip to Gumbalimba Preserve and Animal Sanctuary, where you can explore the tropical canopy filled with macaws and other parrots. Then, visit the Monkey Refugio to see white face capuchin monkeys, or access luxurious resorts with pristine white-sand beaches on organized excursions. Options include private retreats, such as the 21-acre Fantasy Island or 11-acre Maya Key.
Norwegian Ships Cruising From New Orleans
When embarking on your 2024 cruise from New Orleans, choose between two splendid Norwegian ships - Norwegian Breakaway and Norwegian Getaway, jewels in Norwegian's fleet, offering the perfect balance of comfort and adventure. These ships are known for their extraordinary service, innovative accommodation, and thrilling onboard activities.
Norwegian Breakaway
Norwegian Breakaway is a testament to Norwegian's commitment to excellence. It offers top-tier amenities and a variety of exciting onboard activities. With seemingly endless dining options, Broadway shows, an expansive sports complex, and a thrilling Aqua Park, Norwegian Breakaway ensures a memorable voyage for every passenger.
Norwegian Getaway
Sister ship to Norwegian Breakaway, Norwegian Getaway combines the amenities you love with new enhancements to make your journey more enjoyable. Boasting The Waterfront promenade designed to connect you with the ocean, sumptuous dining venues, and a range of entertainment options, Norwegian Getaway invites you to a world of relaxation and excitement.
Why not sign up for emails to get Norwegian's cruise deals to keep the anticipation alive? Be the first to receive the latest cruise specials and offers delivered directly to your inbox. Venture into the new year with a spectacular journey awaiting you — sail with Norwegian, and let's make 2024 a year to remember.