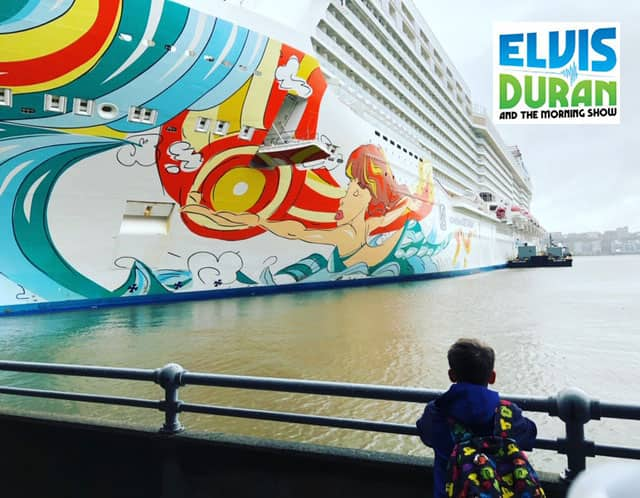 Editor's Note:
We are excited to announce that the Elvis Duran and the Morning Show crew will be guest writing on our Travel Blog over the next couple of months! Everyone's favorite morning show family will be sharing their experiences on board their favorite Norwegian ships. This week, Danielle Monaro shares memorable moments from her latest
Bahamas and Florida cruise
on Norwegian Getaway.
---
I can't begin to put into words the amazing time we had aboard Norwegian Getaway. We stayed in the Haven by Norwegian and were spoiled beyond belief. From the moment we boarded the ship we were treated like royalty. Our concierge Virginia made sure we had everything, and all our excursions were extremely well-organized. Our butler Joseph took such great are of us - there were delicious treats waiting for us in our room every day!
We stopped in Florida and the Bahamas and had a great time. Our favorite stop was in Nassau where we took a ferry to Balmoral Island. This island is paradise. It's like being on your own private island. The water and the beach were beautiful, and the service was great. We even swam with the dolphins.
We also had a blast in Atlantis. We got a day pass and rode the water rides all day long. There are so many excursions to choose from and they are all soooo amazing.
There are a ton of restaurants to choose from on board the Norwegian Getaway. There is something for everyone. Our favorite is always Teppanyaki. It's the best hibachi we have ever had and it's a fun experience for the entire family. My kids always love the buffet. They get so excited that they can go up and load their plates with lots of food. There are so many choices. The dessert bar is huge, and everything is delicious. Pizza at all hours of the day and night... and ice cream whenever you want it.
The shows on board are family friendly and so much fun. Our favorite was "Cirque Dreams" which includes dinner and a show. It was a wonderful version of Cirque Du Soleil. The costumes, the music and the food were amazing. The comedy shows were also so much fun. There are family-friendly ones and adult ones.
One of our favorite things to do was relax at the private Haven pool. There are comfy lounge chairs in the water which add so much to the luxurious experience. We had the drink package and enjoyed many cocktails poolside.
The staff on board Norwegian Getaway is friendly and always smiling. They make you feel special and make sure you have an incredible vacation. My kids still sing the "Washy Washy" song that the staff sings when they spray your hands with sanitizer to keep the ship healthy.
The Norwegian Kids' club Splash Academy is fantastic, and the staff is great with the kids. They take them on treasure hunts and even play GaGa Ball. There are theme nights at the Academy, and they keep the kids entertained and laughing. My oldest son was finally a teenager and he could hang out at the teen club with kids his age. It was a great way to make friends and meet people.
We have been on many cruises over the years and it's our favorite way to vacation. There is nothing like a Norwegian cruise . They go above and beyond to make sure your vacation is everything you want it to be.