As sister ships, Norwegian Bliss and Norwegian Joy proudly offer the same expansive Observation Lounge and many other twin features, including a waterfront promenade lined with bars, lounges, and dining options. In fact, there was one majorly fun difference Norwegian Joy could boast over its sibling ship — it sported the first ever race track at sea.
Now, the brand new Norwegian Bliss sports the longest race track at sea. Talk about friendly competition. These tracks give you two more reasons to book your next cruise vacation with Norwegian. Which race track will you choose first: Norwegian Joy or Norwegian Bliss?
Before you decide, let's take a look at a few things you should know about Norwegian Cruise Line's race tracks at sea.
1. They Were Inspired by the CEO's Grandkids
Norwegian Cruise Line is always at the forefront of innovation at sea. When it came time to build Norwegian Bliss, Frank del Rio, the Norwegian Cruise Line Holdings CEO, asked his grandchildren for their ideas. According to del Rio, "I just said, 'Why don't you come up with a list of ideas you'd like to see on the next cruise ship?' The next morning, they came up with the idea of a race track on board." So, many thanks to his grandkids!
2. They are the First of their Kind at Sea
The unique concept of having a race track on board a cruise ship is the first of its kind. No other cruise ship can boast this thrilling experience on the top deck. Which means you'll have an experience like no other out at sea when you cruise Norwegian Bliss and Norwegian Joy.
3. The Race Tracks Are Actually Competitive
That's right. Both of the race tracks onboard Norwegian Joy and Norwegian Bliss offer an authentic racing experience - complete with race car engine sounds piped in through speakers located in the car's headrest. The tracks even feature a viewing platform for spectators, a covered pit lane, floodlights, and a timing system as you race for that checkered flag.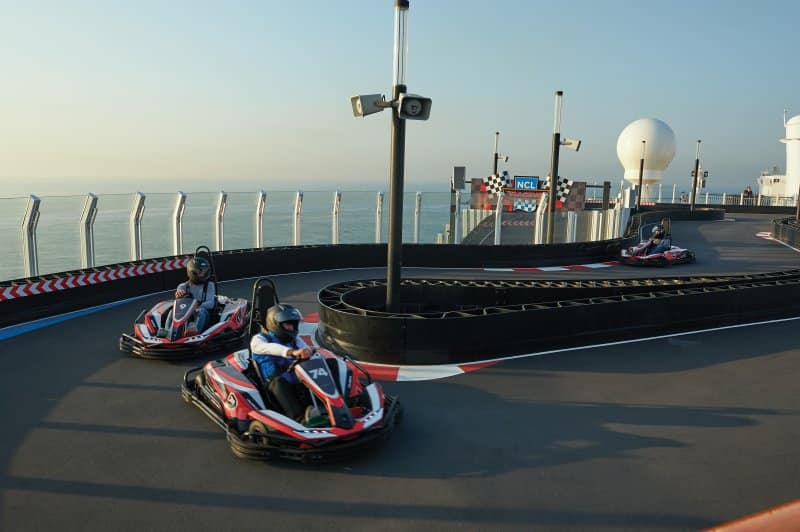 4. You Can Go Impressively Fast
The innovative race cars, sporting four speeds for novice to advanced drivers, will reach speeds of up to 30 miles per hour as you navigate the track's many corners. As an added bonus, during every lap - which lasts approximately eight minutes - drivers can use a special "turbo boost" feature for that little extra jump in acceleration.
5. It's an Electrically Charged Experience
Even though your experience as a race track car driver will include those authentic race car sounds of revving engines and gearing down as you're coming into a corner, no one else will hear them - except for your fellow drivers. That's because both are eco-friendly electric-car Race Tracks so as not to disturb non-racing enthusiasts, of course.
6. It's Like Racing — but with Ocean Views
Located outdoors on Deck 19, these challenging two-level race tracks also come with amazing ocean views. When you decelerate around the corner at the stern of Norwegian Bliss and Norwegian Joy, you'll be on the upper level of the track, where your driving skills will be rewarded with unimpeded ocean views. How many racers can say they've experienced the same?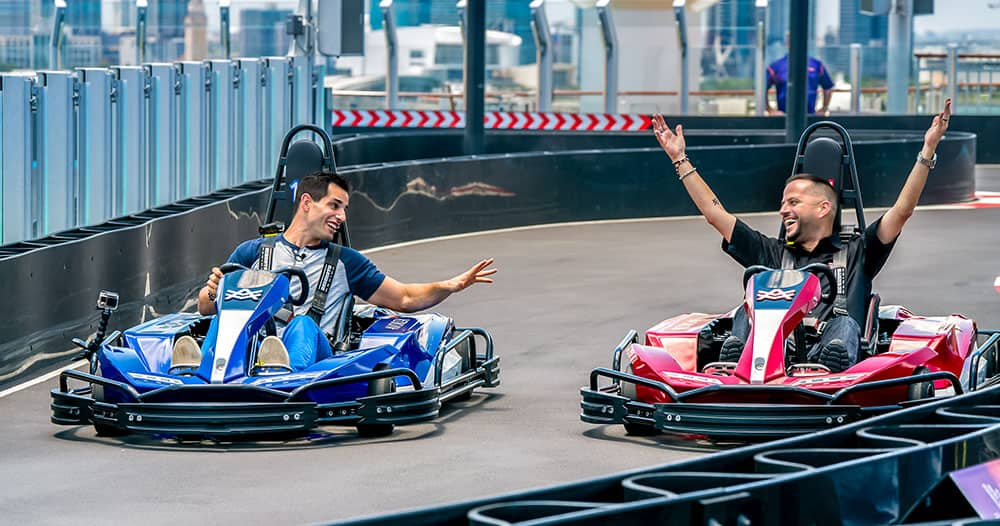 7. Norwegian Bliss Offers Two Customized Cars by Alex Vega
Known for customizing vehicles — sometimes for professional athletes and celebrities — under the brand name Avorza, Alex Vega will no doubt be recognized by fans around the world. Their popular show, The Auto Firm with Alex Vega, was asked to bring its tricked-out ideas to build two race cars for Norwegian Bliss. In fact, there's a whole episode of the TV show detailing the entire process. About six months later and with input from the grandkids once again, Vega and his team completed two customized Avorza race cars, which you can now drive onboard Norwegian Bliss.
After testing out his custom-built race cars onboard Norwegian Bliss firsthand, here's what Alex Vega said about Norwegian Bliss: "All these wonderful things are in one place: You have great restaurants, great food, clubs, comedy, a casino - you name it, it's there; especially the race track. Seeing my Avorza race cars lighting up that race track at night - that was the icing on the cake. This was a wonderful experience. I'm very grateful to Frank and his wonderful team at Norwegian Cruise Line for this experience."
8. You Can Get Unlimited Rides for Your Entire Cruise
Racing fans have multiple options onboard Norwegian Joy and Norwegian Bliss. If you just want to try the racing experience once, a single run on the race tracks is offered for only $9.95. For an eight-minute lap full of thrills and challenges, that's some pretty inexpensive entertainment overall.
But everyone knows you'll want to do it again. Fortunately, Norwegian Cruise Line also offers an Unlimited Day Pass for just $29.95 per person, so you can ride as many times as you want within the day.
The best bargain for the Norwegian Bliss Race Track is $199.95 for an Unlimited Weekly Pass, which will be valid for your entire seven-day cruise. This means you can ride until you can't hang onto the steering wheel anymore. It also means you'll have access to a separate line so you shouldn't be stuck anywhere in a queue. Plus, if you're traveling with family and friends, they'll never have to look for you onboard, as they'll always know exactly where you are.
Grab your fellow amateur racing enthusiasts and challenge them to some excitement at sea. Norwegian Bliss is the newest ship in the Norwegian Cruise Line fleet. During summer, she'll cruise to Alaska from Seattle, and seasonally she'll offer cruises to Bahamas and Florida, The Caribbean, Mexican Riviera, Pacific Coastal, and Panama Canal.
Starting in April 2019, Norwegian Joy will offer cruises from the west coast to Alaska, Mexican Riviera, and Panama Canal. And besides racing, Norwegian Joy offers outdoor Laser Tag and a virtual reality experience at Galaxy Pavilion.