Home
>
Press Releases
>
Norwegian Cruise Line Launches Revolutionary Norwegian Flash Deals App
Norwegian Cruise Line Press Releases
Norwegian Cruise Line Launches Revolutionary "Norwegian Flash Deals" App
Company continues history of innovation with the travel industry's first Flash Deal smart phone application
Miami - Jul 02, 2013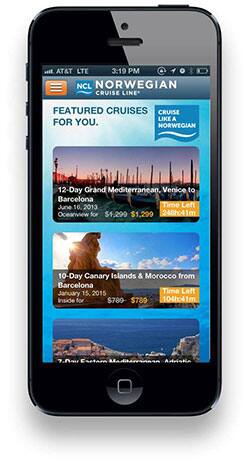 Norwegian Cruise Line today announced the launch of a revolutionary smart phone app called "Norwegian Flash Deals" that gives users access to exclusive, limited time cruise deals on select sailings, direct from their smart phone. The app, available for iPhone and Android devices, is the cruise industry's first-ever flash deal smart phone app and boasts a colorful, user-friendly experience.
Driven by the success of general consumer daily deal apps, Norwegian is the first cruise line to launch its own Flash Deal App. Those who download Norwegian Flash Deals will have access to limited-time, limited-quantity cruise deals that are exclusively available to app users. Users also have the ability to purchase the offer directly from their smart phone.
"Maintaining an innovative, user-friendly mobile and social experience is very important to us," says Vincent Cirel, Norwegian's senior vice president and chief information officer. "We recognized the popularity of daily deal sites and brought that functionality forward in a way that allows our travel partners to participate alongside Norwegian in completely new and revolutionary functionality for our industry. We took advantage of the opportunity to continue our legacy of innovation and industry firsts by developing the travel industry's premier flash deal app, exposing users to spectacular cruise offers that they can purchase with the tap of their finger."
Upon downloading the free application, users will be prompted to "log in" to Norwegian Flash Deals using their existing "My NCL" account information; those who do not have an existing account can create a new one directly in the app. Recognizing that many consumers book their cruise vacations through one of Norwegian's preferred travel partners and keeping in line with the line's commitment to putting travel partners first, Norwegian Flash Deals also gives users the option to select and register the name of their preferred travel partner when they log into the Norwegian Flash Deals App. As a result, when consumers purchase a flash deal through the app, their preferred travel partner will receive credit for the new reservation, as if it was booked with them directly.
Once logged in, users will be exposed to each day's hottest Norwegian cruise offers. Each flash deal is only available for a limited time; therefore, the offer is accompanied by a countdown clock that clearly displays how much longer the deal is available. Exciting new cruise offers are released weekly; users can opt to be immediately notified as new offers are released, via push notification through the app.
When users decide to take advantage of a Norwegian Flash Deal, they have the ability to quickly and easily purchase the offer directly through their smart phone with the tap of their finger. The purchase will be automatically populated in the user's "My NCL" account and registered travel partners will receive an instant email notification when their client purchases a cruise deal through the Norwegian Flash Deals app.
Norwegian Flash Deals is currently available for download in the iTunes store: https://itunes.apple.com/us/app/norwegian-flash-deals/id656505907 and Google Play: https://play.google.com/store/apps/details?id=com.ncl.flashdeals.
About Norwegian Cruise Line
Norwegian Cruise Line is the innovator in cruise travel with a 46-year history of breaking the boundaries of traditional cruising, most notably with the introduction of Freestyle Cruising which revolutionized the industry by giving guests more freedom and flexibility. Today, Norwegian invites guests to "Cruise Like a Norwegian" on one of 12 purpose-built Freestyle Cruising ships, providing guests the opportunity to enjoy a relaxed, resort style cruise vacation on some of the newest and most contemporary ships at sea. Recently, the line was named "Europe's Leading Cruise Line" by the World Travel Awards for the fifth consecutive year.
The Company took delivery of its most innovative ship to date, the 4,000-passenger Norwegian Breakaway on April 25, 2013. Known as New York's ship, Norwegian Breakaway is the largest vessel to homeport year-round in the city, sailing to Bermuda for the summer beginning May 12, 2013. Norwegian Breakaway's features include hull art by legendary artist Peter Max, seafood restaurant Ocean Blue by famed New York Iron Chef Geoffrey Zakarian, bakery by Buddy Valastro, star of the TLC series "Cake Boss," and fitness classes and a retrospective display from the ship's iconic godmothers, the Rockettes®. The entertainment lineup includes three Broadway shows: Rock of Ages, Burn the Floor and Cirque Dreams™ & Dinner: Jungle Fantasy. Sister ship Norwegian Getaway, currently under construction at Meyer Werft will be the largest ship to homeport year-round in Miami and will sail Eastern Caribbean voyages beginning in February 2014. The Company also has one larger "Breakaway Plus" vessel on order for delivery in the fall of 2015, with the option for a second ship.
The Company's largest ship, the 4,100 passenger Norwegian Epic has been named "Best Overall Cruise Ship" by the readers of Travel Weekly two years in a row and "Best Ship for Sea Days" by Cruise Critic.
Norwegian Cruise Line is the official cruise line of Blue Man Group and Legends in Concert, the official cruise line partner of The GRAMMY Awards and is an official partner of the Rockettes and Radio City Music Hall.
High resolution, downloadable images are available at www.ncl.com/pressroom. For further information on Norwegian Cruise Line, visit www.ncl.com, follow us on Facebook, Twitter, and Instagram @Norwegiancruiseline, Pin us on Pinterest, watch us on YouTube, or contact us in the U.S. and Canada at 888-NCL-CRUISE (625-2784).
How To
Contact Us
For Investor Relations inquiries please contact
Andrea DeMarco
Head of Investor Relations
ademarco@ncl.com
(305) 468-2463

Corporate Mailing Address
7665 Corporate Center Drive
Miami, FL 33126