Home
>
Press Releases
>
Norwegian Cruise Line Offers Sneak Peak Exclusive Beachfront Area Within Its Private Island Gsc
Norwegian Cruise Line Press Releases
Norwegian Cruise Line Offers Sneak Peak at Exclusive Beachfront Area Within Its Private Island, Great Stirrup Cay
Company Introduces 'Silver Cove,' During Norwegian Encore's Inaugural Call to the Island
Miami, FL, US - Nov 19, 2019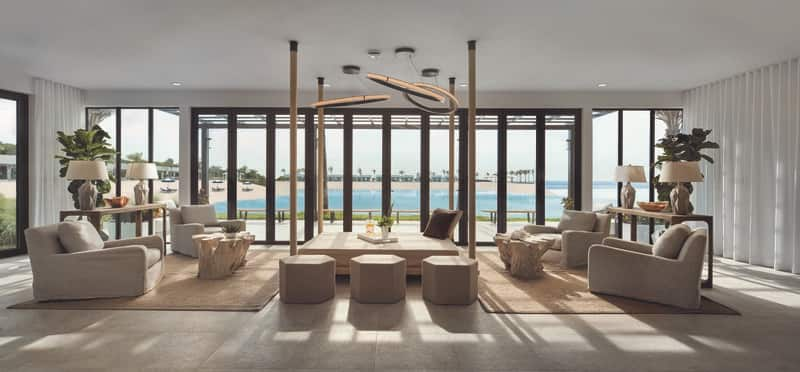 The new reception area of Silver Cove located on Great Stirrup Cay,
Norwegian Cruise Line's private island in the Bahamas.
Norwegian Cruise Line, the innovator in global cruise travel with a nearly 53-year history of breaking boundaries, today unveiled Silver Cove, the new exclusive oceanfront resort-style destination on the Company's private island in the Bahamas, Great Stirrup Cay.
As part of The Norwegian Edge® program, which reaffirms the brand's commitment to elevating the standard of excellence across its fleet and destinations, Great Stirrup Cay is undergoing a number of enhancements, elevating the offerings available across the 270-acre tropical oasis. During Norwegian Encore's inaugural call to Great Stirrup Cay, guests discovered the new oceanfront lagoon area including private beach access, 38 beachfront villas, a Mandara Spa as well as a new Moet Bar and the Silver Cove Restaurant and Bar.
The Villas at Silver Cove were designed to provide guests with the same experience available across the 17-ship fleet. The 38 air-conditioned villas range from studios to larger one-and-two-bedroom villas, and they are equipped with a full bathroom, daybed, club chairs, TV with on-demand entertainment and outdoor patio and lounge seating. They also include access to a private beach and the Silver Cove Restaurant and Bar. Six lagoon one-bedroom villas include an expanded living area with a wet bar and a private king-bedded master bedroom. Two lagoon two-bedroom family suite villas also feature a private dining area, entertainment area and a larger master bedroom with a spa tub and shower.
"We were the very first in the industry to have a private island, Great Stirrup Cay, offering our guests a chance to enjoy the very best of an exclusive island experience," said Norwegian Cruise Line President and CEO Andy Stuart. "Today, we are providing our guests with a preview of how Great Stirrup Cay is evolving and showcasing our vision for the future with the unveiling of Silver Cove, our exclusive beachfront area. Similar to the last few ships we have debuted, we are committed to elevating the Norwegian Cruise Line experience, not only at sea, but also ashore. We are excited to have Norwegian Encore call here today for the first time!"
As the first in the industry to offer a private island experience, Norwegian Cruise Line continues to enhance and evolve its available offerings ashore as an extension of the innovative amenities on board. With over 1,500 feet of accessible beachfront; over 50 cabana and villa options; an array of shore excursions to choose from, including a new zipline experience that extends up to nearly 3,000 feet in length; nearly a dozen food and beverage options ashore; and its natural tropical setting, Great Stirrup Cay continues to be one of the highest guest-rated ports in the Caribbean.
For more information about Norwegian Cruise Line ships and their itineraries, or to book a cruise, please contact a travel professional, call 888-NCL-CRUISE (625-2784) or visit www.ncl.com.
For Norwegian Encore's press kit and assets, click here.
###
About Norwegian Cruise Line
As the innovator in global cruise travel, Norwegian Cruise Line has been breaking the boundaries of traditional cruising for nearly 53 years. Most notably, the cruise line revolutionized the industry by offering guests the freedom and flexibility to design their ideal vacation on their preferred schedule with no assigned dining and entertainment times and no formal dress codes. Today, its fleet of 17 contemporary ships sail to nearly 300 of the world's most desirable destinations, including Great Stirrup Cay, the company's private island in the Bahamas and its resort destination Harvest Caye in Belize. Norwegian Cruise Line not only provides superior guest service from land to sea, but also offers a wide variety of award-winning entertainment and dining options as well as a range of accommodations across the fleet, including solo-traveler staterooms, mini-suites, spa-suites and The Haven by Norwegian®, the company's ship-within-a-ship concept. For additional information or to book a cruise, contact a travel professional, call 888-NCL-CRUISE (625-2784) or visit www.ncl.com. For the latest news and exclusive content, visit the media center and follow Norwegian Cruise line on Facebook, Instagram and YouTube @NorwegianCruiseLine; and Twitter and Snapchat @CruiseNorwegian.
Media Contact:
Glodow Nead Communications
How To
Contact Us
For Investor Relations inquiries please contact
Andrea DeMarco
Head of Investor Relations
ademarco@ncl.com
(305) 468-2463

Corporate Mailing Address
7665 Corporate Center Drive
Miami, FL 33126