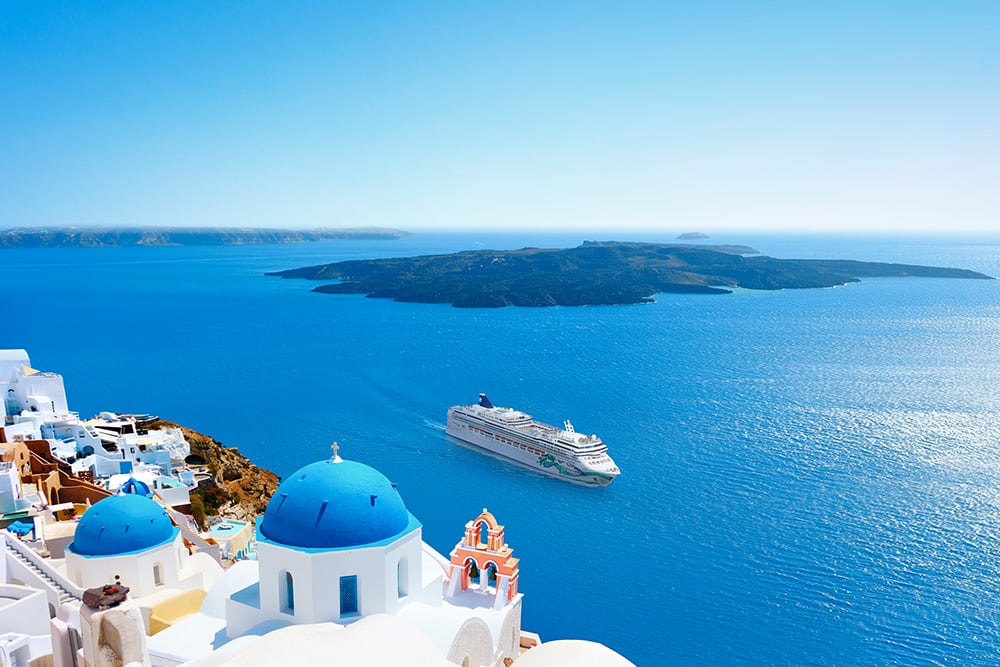 Experience the breathtaking Greek Isles aboard a Norwegian cruise for the ultimate blend of iconic historical sites, pristine beaches, and delectable Greek cuisine. Venture to mainland Greece with a stop in Athens, and possibly visit ports in neighboring countries, depending on your chosen itinerary. Norwegian Cruise Line can get you there if a 2024 Greek Isles cruise is on your horizon.
Ready to start planning? Explore all Greek Isles cruises.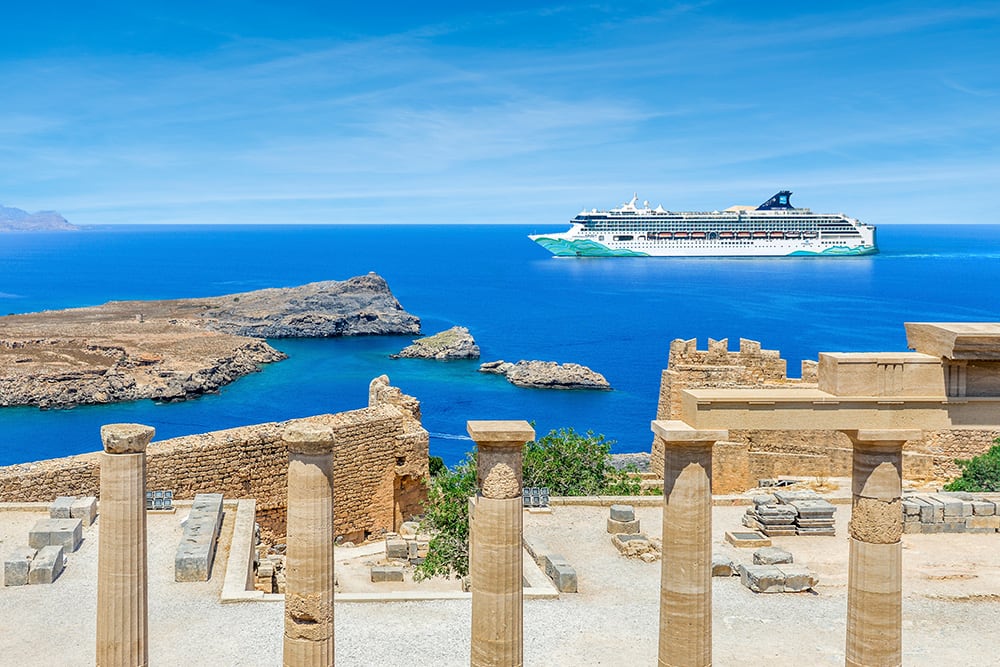 2024 Greek Isles Cruises Ports of Call
Your Greek Isles stops will differ based on the itinerary you select. Possible Greek Isles ports of call for your cruise vacation include:
2024 Greek Isles Cruise Destinations
With a Norwegian cruise to the Greek Isles, you may also explore other picturesque locations along the Mediterranean and Adriatic seas. Other potential stops on your Norwegian cruise vacation can include, but are not limited to: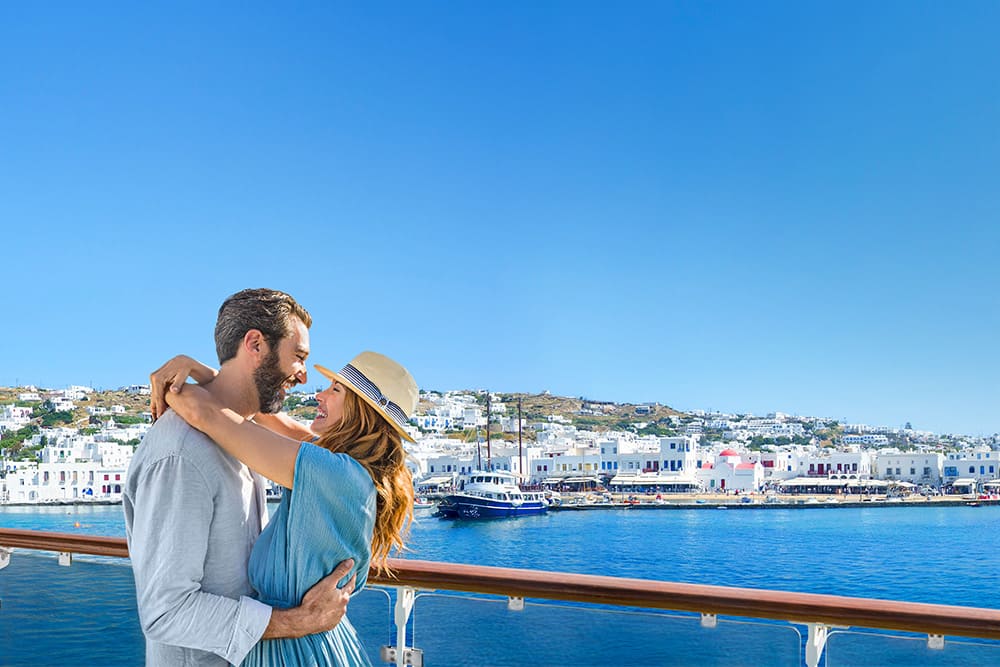 2024 Greek Isles Cruise Must-Visit Sites
With an array of islands to discover, you might be wondering what to do and see in each location. Discover some must-visit sites and shore excursions at several popular Greek islands to inspire your travel planning.
Santorini
Santorini is one of the world's most photogenic islands. It's renowned for its cliffside views of the sea, the caldera, and azure waters. Santorini owes its remarkable geography to a volcanic eruption more than 3,500 years ago, and some believe it is the site of the long-lost city of Atlantis. To experience the volcano closely, you can book a shore excursion that includes a brisk hike to the crater of this active volcano. Return to the island and celebrate your accomplishment with lunch in the clifftop town of Fira.
The village of Oia, known for its iconic postcard images of Santorini, is also a must-visit destination. Wander through the narrow alleys and discover Oia's hidden charms. Oenophiles might consider a wine tour that brings them to one of the island's famous wineries. Here, you can learn all about the interesting growing methods and the island's prized Assyrtiko wines.
Mykonos
Mykonos is known for its lively parties and offers abundant sightseeing opportunities. Take a walking tour to delve into the history and lifestyle of this beloved Aegean island. Witness the iconic windmills and the Little Venice neighborhood. If you're intrigued by Greek mythology, take a shore excursion to the nearby island of Delos. This UNESCO World Heritage Site is the mythical birthplace of Apollo and Artemis.
Corfu
Upon arriving in Corfu, you'll immediately notice how lush the island is. Relish views of hillside villages and shimmering waters. Opt for an excursion on a scenic drive through the countryside, teeming with olive and lemon trees. You'll drive along the coastal road of Perama, stop for photos at Mouse Island, and visit Old Town Corfu. If you prefer to explore independently, book the Hop-On Hop-Off bus that takes you to famous sights in Corfu while riding on an open-air double-decker bus.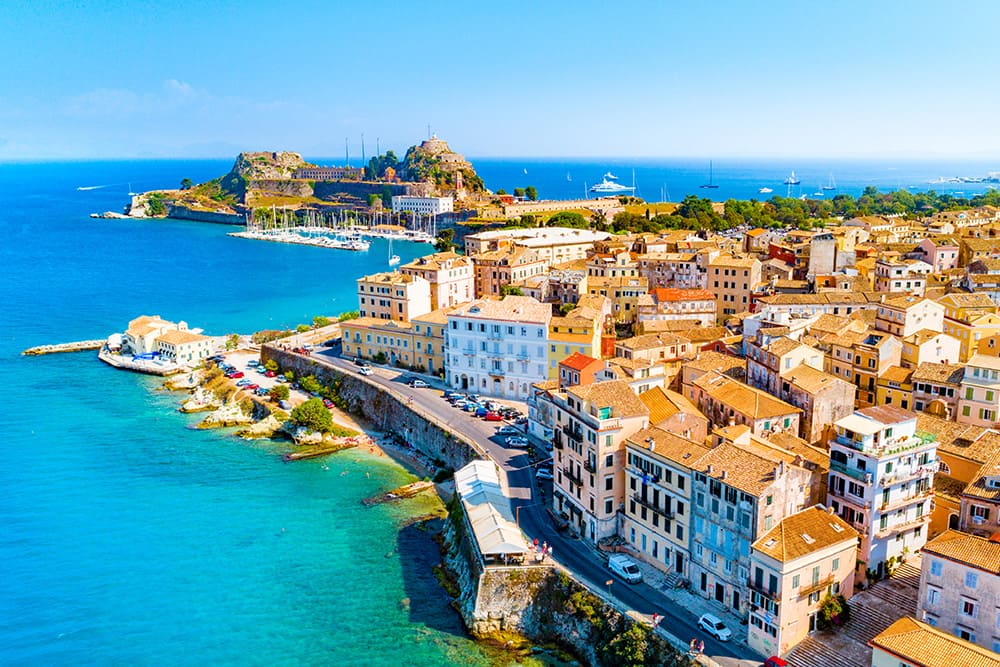 Argostoli
Argostoli calls the Ionian island of Kefalonia home. Argostoli presents a modern face due to a devastating earthquake in 1953 that destroyed most of the island's significant structures. Despite its lack of historical architecture, Kefalonia offers plenty of contemporary charm and is brimming with eateries, boutiques, and terraces. Explore a 12th-century Byzantine castle and marvel at the stunning 16th-century frescoes. Or visit the subterranean Lake of Melissani, where ancient stalactites and light streams transform the water into a vivid shade of blue.
Rhodes
Rhodes was once the home of the Colossus of Rhodes, one of the original Seven Wonders of the World. The island features a captivating walled city that merits a visit if your Norwegian Greek Isles itinerary includes a day here. Excursions on Rhodes include the ancient town of Lindos with its beautiful acropolis or the majestic Grand Masters Palace. Alternatively, consider a journey to Ancient Lindos and Medieval Rhodes. Book a sailing trip along the eastern shore with a swimming and snorkeling stop if you'd like to explore Rhodes from the water.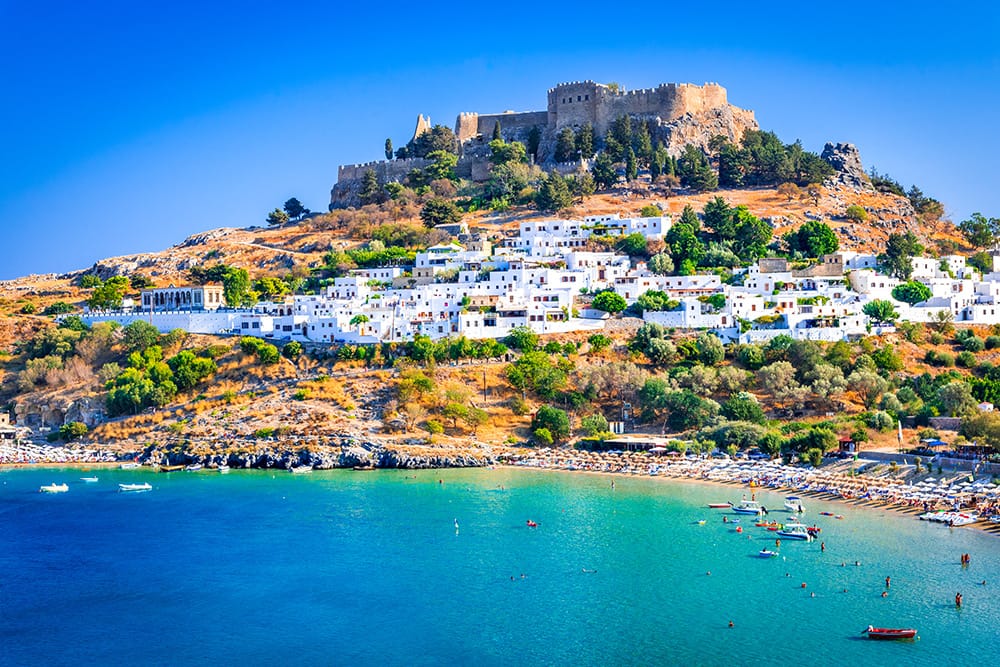 Heraklion
Situated on the island of Crete, Heraklion boasts abundant ancient Venetian architecture from the 13th century, including imposing fortified walls. This city is also the gateway to the Minoan Knossos Palace, the alleged birthplace of the mythological Minotaur. Shore excursions on Crete may include visits to Knossos and Heraklion or traditional villages. If you're a wine enthusiast, consider a tour of the renowned wine-producing region of Peza.
Patmos
Patmos offers an abundance of natural beauty and religious history. Some biblical scholars believe John, one of Jesus' apostles, penned the Book of Revelation here. As a cruise passenger, you can visit the Monastery of Saint-John the Theologian, where you'll find the chapel built above the cave where St. John lived and received the revelation. Immerse yourself in Patmos' natural splendor and visit the island's picturesque pebbled beaches and serene villages.
Olympia
Katakolon serves as the port of call for Olympia, the dwelling of Greek gods and the birthplace of the Olympic Games. Situated on the Ionian Sea, Katakolon and Olympia offer passengers on a Norwegian Greek Isles cruise an opportunity to step back into some of the most significant historical sites in the Mediterranean.
Are you still deciding which Greek Isles cruise suits your preferences and schedule for your cruise vacation? Remember to sign up for Norwegian's cruise deals to receive the latest offers and specials directly in your inbox.