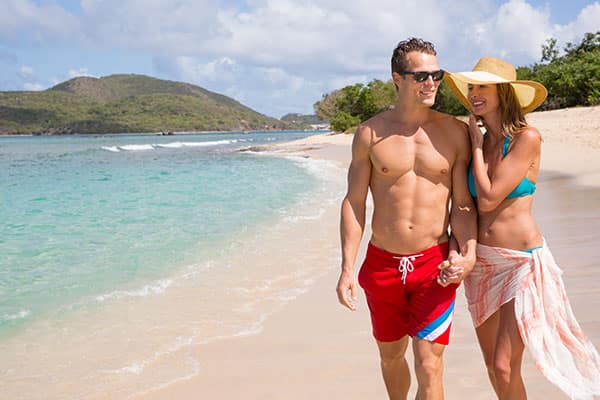 When I think of the perfect date spot in The Caribbean, I immediately picture a romantic beachside dinner for two with a stunning sunset on the horizon. With so many tropical islands to choose from, this could apply to almost any island in the Caribbean but these are my favorite picks for the Caribbean's most romantic date spots!
Ready to start planning? Explore all Caribbean cruises.
St. Lucia
When you cruise to the eastern Caribbean island of St. Lucia, you'll find a diverse country offering gorgeous white sand beaches, volcanic peaks and lush rainforests. With so much to see and do, your romantic St. Lucia date could include a catamaran sail along the coast to view the striking Pitons, horseback riding or even rum tasting. But my favorite romantic date spot in St. Lucia has to the Calabash Cove Resort & Spa in Gros Islet, where you can enjoy fine wines and dining with picturesque sea views. It truly is breathtaking! From the port of Castries it's a quick 4 mile taxi ride to the resort.
St. Maarten
Comprised of French St. Martin and Dutch St. Maarten, this unique Caribbean island offers a 2-for-1 cultural experience with amazing restaurants and seemingly endless duty-free shopping. Even though I love to eat and shop, my favorite St. Maarten date spot is Orient Beach, better known as the Caribbean's French Riviera. While it's a European-vibe clothing optional beach, it's 1.5 mile length dotted by swaying palms offers plenty of space for those who are more clothing dedicated. Dig your toes in the sand, soak up the rays, sip a tropical drink with one of those little umbrellas and enjoy time your significant other.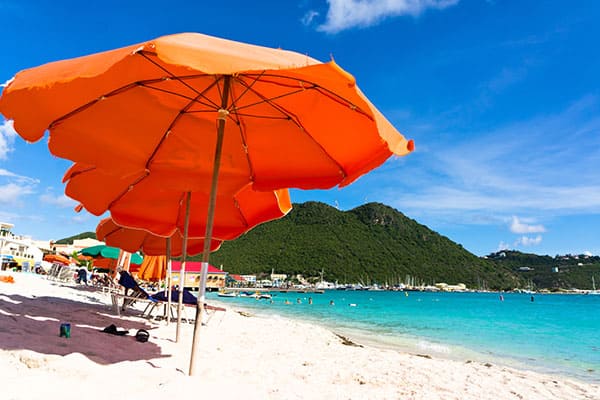 Jamaica
The beautiful island of Jamaica is another Caribbean destination where you can definitely get your adventure on. But if you're foodies, there's nothing more romantic than cooking a meal together, so be sure to check out the Flavors of Jamaica excursion when you're in Ocho Rios. You'll visit a historic Great House where you'll prepare spicy jerk chicken, shrimp and a callaloo vegetable dish to be savored when you're finished. If you'd rather leave the meal prep for someone else, check out Bamboo Beach or Reggae Hill where you can groove to the reggae rhythms while enjoying Jamaican cuisine and refreshing drinks like Jamaican mojitos. When I cruise to Ocho Rios, a personal favorite of mine is grabbing lunch at the beachfront Bamboo Blu on Mammee Bay. It's casual, but yet so romantic as you listen to the gentle waves while savoring scrumptious seafood dishes like grilled lobster. It's a quick 5 mile taxi ride away from Ocho Rios.
Grand Cayman
Cruise to Grand Cayman and spend a late morning/early afternoon relaxing on the world famous Seven Mile Beach. Before it gets too warm in the Caribbean sun, head on over to the Cracked Conch & Macabuca Bar & Grill, about 5 miles north. Here you can enjoy a fantastic cocktail at the tiki bar (sunsets here are dazzling!), followed by a romantic seaside lunch of delectables such as coconut shrimp and blackened fish tacos, so delicious!
British Virgin Islands
When I cruise to Tortola, I make sure to visit the striking Baths at Virgin Gorda. Here you'll see gigantic granite boulders jutting out of the shoreline - it's an impressive sight! If you're looking for something a little more secluded and romantic, I'd head up 2.5 miles up the coastline to Little Dix Bay, where you can laze about on the stunning white sands till your hearts' content, or at least until your ship sails!