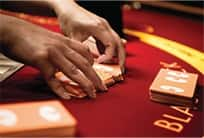 Blackjack is one of the world's most popular casino games, where everyone plays against the dealer. The object of the game is to draw cards that bring you closer than the dealer to a total point value of 21, without going over or "busting".
Add a little more excitement to your Blackjack game - we offer very popular side bets.
Lucky Ladies
This very popular optional bet on Blackjack, has a side bet of $1 up to $10. If the players cards total 20 with the first two cards dealt then they win the side bet paying 4 to 1, ( $4 for every $1 staked). If the player had a pair of Queen of Hearts and the dealer gets a Blackjack, then the side bet pays 1000 to 1 up to a maximum payout of $5,000. Available on all ships.
Wheel of Madness
A bonus wheel on the Blackjack table, this side bet gives a special bonus if the player is dealt a natural Blackjack. The optional side bet is from $1 up to $10. If a player gets a natural Blackjack they get to spin the wheel. Whatever number the wheel stops on is multiplied by the side bet for a maximum payout of $5,000. Not available on Norwegian Epic, Norwegian Breakaway or Norwegian Getaway.