Are you planning a cruise with a group of friends or your family? Planning games onboard can really make your Norwegian cruise experience even more special. One of the most fun options you can try is to plan a cruise scavenger hunt.
Scavenger hunts can be easy to execute, and you can tailor them to the group participating and the Norwegian cruise ship you're on. Follow these tips to plan the ultimate cruise scavenger hunt:
1. Start by Picking a Scavenger Hunt Type
You can choose from two main types of scavenger hunts: photo and object. Alternatively, you can do a combination of both, depending on the situation. Object scavenger hunts are usually more difficult, so you need to allow a longer time for completion, perhaps at least 24 hours.
2. Plan a Themed Scavenger Hunt
Consider choosing a theme to make your scavenger hunt even more fun or challenging. Some ideas include the following:
Christmas
Other holiday or seasonal theme
Cultural/country theme based on what ports-of-call the cruise is visiting
Cartoon character
Nautical
All-star
3. Create a Fun Graphic
Don't just write your scavenger hunt list down on a piece of paper and photocopy it or type it on a word processing program and print it out. Make your scavenger hunt visually appealing by using fun graphics and colors. Even if you don't have a lot of graphic design skills, you can use one of several free online programs, download a template, or turn to sites like Pinterest for visual inspiration.
4. Use Clues
Rather than simply stating items to find or photograph, make your scavenger hunt more challenging by only providing clues. One option is to use photos as the clue. You can alter the photograph depending on the age of the participants to make it easier or more challenging.
Another idea is to cut photos into pieces so that people must reassemble them to find the clue. You can use three to four pieces for a child or maybe 15 to 20 pieces for adults. Teenagers and young adults might enjoy a scavenger hunt based on clues using emojis and puzzles.
5. Ideas for Photo Scavenger Hunt Pictures
No matter what Norwegian ship you're cruising on, you can find numerous photo opportunities to include in your scavenger hunt. For instance, you can ask participants to take pictures of the following:
The ship's steering wheel
A ship team member with a chef hat on
Another cruise ship
Someone playing the piano
Decorations on a stateroom door
Fruit carved into an animal shape
Photo of an empty pool
Something that starts with a certain letter of the alphabet
Bouquet of flowers
The license plate of a vehicle from one of the countries on the cruise
Architectural column
Selfie with the DJ or a musician on board
Frozen drink
Selfie with certain food
Feet in the sand
Ship lit up at night
Police vehicle
Newspaper
6. Ideas for an Object Scavenger Hunt
If you opt for an object scavenger hunt, you can choose from countless items that should be available on every Norwegian ship. Here are a few examples:
Casino chip
Autograph of the ship's captain
Drink umbrella
Currency from another country on your cruise
Bingo card
Recipe for the drink of the day
Napkin signed by the piano player
Spa brochure signed by a spa employee
Clothing with the ship's logo on it
Souvenir drink cup
Seasick bag
Copy of a dinner menu
Port activity guide signed by the cruise activities director
Seashell
Luggage tag
Deck of cards from the ship
Newspaper
7. Create a Cruise Scavenger Hunt Just for Kids
Are you traveling with some kids and want to include them in a scavenger hunt as well? Consider creating an educational hunt during a family cruise that will keep them entertained but also educate them about some cruising terms. For instance, you could have them take pictures of or related to the following:
Aboard
Aft of the ship
Ashore
Bow
Cruise director
Deck
Dock
Where you embark/disembark
Head
Muster station
Porthole
Port-of-call
Promenade
Ship's wheel
Verandah
8. Norwegian Ship-Specific Scavenger Hunt Items
Personalize your scavenger hunt and include specific items and/or landmarks on your Norwegian cruise ship. This will get people out exploring the ship in more depth too. Here are a few ideas:
Photo of chicken pot pie from The Local pub on Norwegian Bliss
Selfie from Norwegian Dawn's Oasis Pool with Sprinkles Ice Cream Bar in the background
Photo of someone going down the Epic Plunge on Norwegian Epic, the first bowl slide at sea
Selfie with the drink of the day at Shakers Martini & Cocktail Bar on Norwegian Jewel
Photo from the Tivoli Pool on Norwegian Spirit
You can also make your scavenger hunt objectives more specific and difficult by turning them into questions that people have to answer.
What color is a particular restaurant sign?
How many barstools are in a certain bar?
How many smokestacks does the Norwegian ship have?
How many stairs are in the atrium staircases?
What is the highest cabin number on a particular deck?
What flavors of ice cream are in the ship's cafe?
Where is the ship's cruise director from?
What are the hours for the pool and hot tub?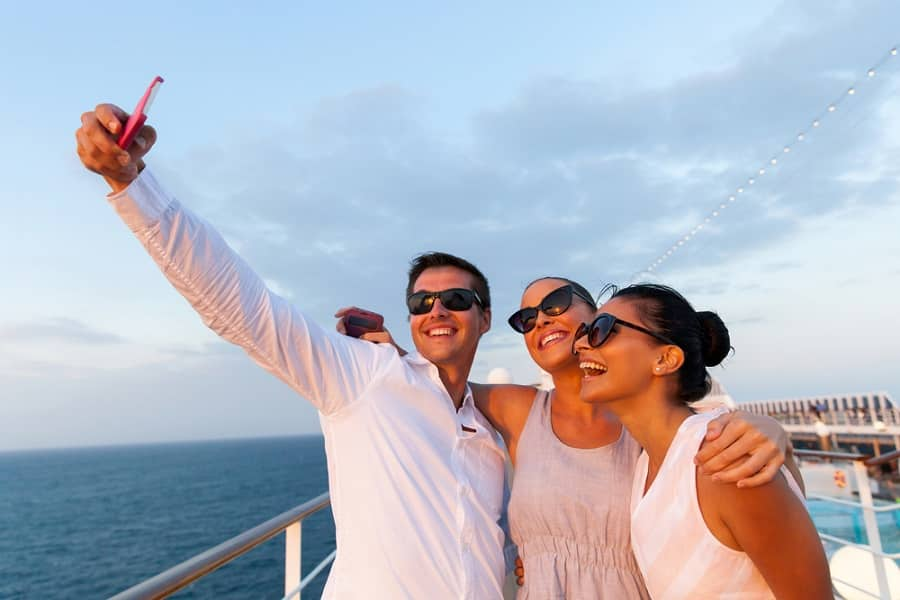 No matter what type of scavenger hunt you choose or how you set it up and carry it out, this is a fun way for families to bond. For groups of friends traveling together, it can be a great source of friendly competition. Personalize it for the Norwegian cruise ship you're on and the cruise destinations you're visiting, and you have the makings for the ultimate cruise scavenger hunt!